Trump Responds After Mook Says Clinton Approved Leak of Russia Allegations
Former President Donald Trump on Saturday responded to a claim that Hillary Clinton was responsible for leaking a story about his alleged ties to a Russian bank in 2016.
Clinton's former campaign manager, Robby Mook, testified Friday that the then-Democratic presidential nominee signed off on the release of information allegedly connecting Trump to Russia's Alfa Bank ahead of the 2016 election. His testimony came as part of the ongoing trial of Clinton campaign lawyer Michael Sussmann, who has been accused of lying to the FBI about working for Clinton while turning over data about Trump.
"This is one of the greatest political scandals in history," Trump said in an interview with Fox News digital. "For three years, I had to fight her off, and fight those crooked people off, and you'll never get your reputation fully back."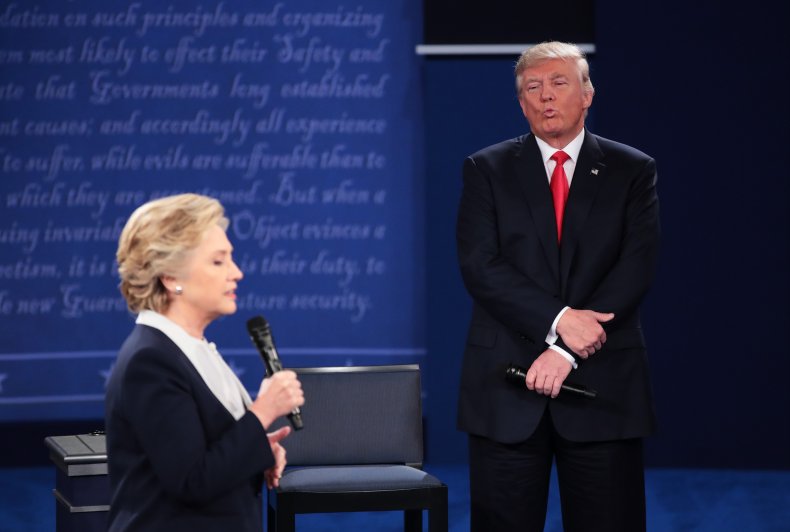 "Where do I get my reputation back?" he asked, adding "if we had real leadership, instead of people like Mitch McConnell, they would do something about it. And guys like Bill Barr. They would have done something about it."
During his testimony, Mook said the Clinton campaign was not "totally confident" in the legitimacy of the data before releasing it to the media. He said the campaign decided to contact a reporter so they could "run it down" themselves and decide if it was "accurate" before printing it.
"We thought this was highly suspect, and, if it was true, we wanted the American public to know about it for sure," he testified, adding that the campaign had not thought the allegations would become a "silver bullet."
When the story was leaked, senior policy adviser Jake Sullivan released a statement from Clinton's campaign stating, "This could be the most direct link yet between Donald Trump and Moscow. Computer scientists have uncovered a covert server linking the Trump Organization to a Russian-based bank." The story was heavily promoted on Clinton's social media just days before Americans hit the polls, and has been seen as an attempt to sway voters away from Trump.
Former FBI general counsel James Baker testified on Thursday that he was "100 percent confident" that when Sussman approached him with information on Trump he said he was not working on behalf of a client. Sussman has pleaded not guilty to the charges.
Trump, for his part, has long referred to the allegations of a Russian collusion as a fabricated "witch hunt." The FBI ultimately determined that the information shared by Sussman showed that "there was nothing there" to criminally link him to Moscow.