Trump Retweets Doctored Photo Of Nancy Pelosi Wearing Hijab In Front Of Iranian Flag to His 70 Million Followers
President Donald Trump drew strong criticism from Muslim Americans and commentators on Monday after he re-tweeted a doctored photo of Democratic Minority Leader Chuck Schumer and House Speaker Nancy Pelosi wearing a turban and hijab, respectively, standing in front of an Iranian flag.
Right-wing pundits and some Republican lawmakers have lashed out at Democrats in Congress for criticizing Trump's decision to carry out a military drone strike that killed Iranian military commander Qassem Soleimani after he arrived in Iraq on January 3. The original poster of the image, whose Twitter handle is @D0wn_Under, shared similar frustrations with his tweet.
"The corrupted Dems trying their best to come to the Ayatollah's rescue," the Twitter user wrote, sharing the doctored image.
Newsweek has reached out to @D0wn_Under, Pelosi, Schumer and the White House for comment.
In a follow-up tweet, Trump wrote: "The Democrats and the Fake News are trying to make terrorist Soleimani into a wonderful guy, only because I did what should have been done for 20 years."
"It is unconscionable that an American president would mock Islam and Muslims in such a derogatory manner," Ibrahim Hooper, national communications director for the Council on American-Islamic Relations (CAIR), the nation's largest Muslim civil rights and advocacy organization, told Newsweek in an emailed statement.
"This type of bigoted message promoted by the President of the United States will serve to further endanger American Muslims, Sikhs and members of other faiths who wear recognizable religious attire," he warned.
Defending the president's retweet in an interview with Fox News, White House Press Secretary Stephanie Grisham said: "The president is making clear the Democrats are parroting Iranian talking points and almost taking the side of terrorists and those out to kill Americans."
Others strongly criticized the president's decision to share the image with his more than 70 million Twitter followers.
"The President of the United States is engaging in hate speech against an entire religion. And because he is President, it is in our name. It is on all of us - especially our elected officials- to demand that it stop," Dana Shell Smith, the former U.S. ambassador to Qatar tweeted. "And to demand that @Twitter put an end to it."
"Why the actual hell is the president of the United States using the way I and millions of other Americans dress and the religious beliefs that We hold as a slur," Libyan-American Twitter user Hend Amry, who describes herself as a "citizen and refugee" wrote. "This absolutely must be condemned by congressional lawmakers on both sides of the aisle."
"I'm sure everyone who said Omar was making remarks tinged with anti-Semitism will immediately condemn Trump's anti-Muslim retweet," journalist Glenn Fleishman tweeted. He was referencing previous controversies, when Democratic Representative Ilhan Omar of Minnesota was accused by many Republicans, and some Democrats, of making anti-semitic remarks.
Radio host and columnist Dean Obeidallah responded to @D0wn_Under's original tweet, noting that Trump has banned Iranian's from obtaining visas to the U.S.
"Trump cares sooooo much about Iranians that he has banned them ALL From America," he tweeted. "In fact 14 Iranian families are suing the Trump administration for the hardships and 'unbearable burdens' they've experienced stemming from Trump's travel ban."
Democrats, and some Republicans, have strongly criticized Trump's decision to take out an official of a sovereign government. Some have argued that the strike on the Iranian commander has made Americans "less safe," while others have said that there was no legal justification, calling Soleimani's killing an "assasination."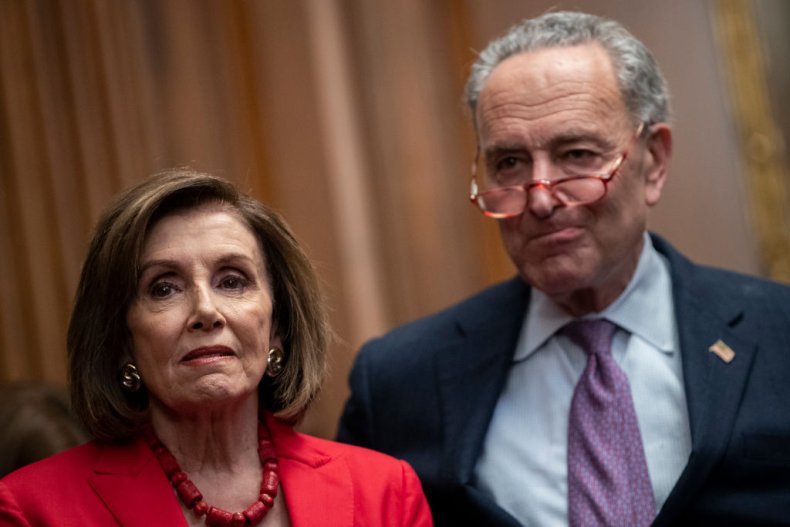 Trump and his administration have argued that there was an "imminent" threat targeting Americans, but the president and other top officials have struggled to maintain a consistent narrative. While Trump said he believed four U.S. embassies would be targeted, Defense Secretary Mark Esper told CBS News' Face the Nation on Sunday that he "didn't see" specific intelligence with that information. Secretary of State Mike Pompeo has argued that the threat was "imminent" but said he didn't know "where" or "when" it would take place, which many critics have pointed out does not match the definition of "imminent."
Last week, Democrats in the House of Representatives, joined by three Republicans and one independent, voted to censure Trump's ability to carry out acts of war against Iran. Democratic presidential candidate Senator Bernie Sanders, an independent from Vermont, and Republican Senator Mike Lee of Utah have put forward similar bipartisan legislation in the Senate.
This article has been updated with a comment the White House press secretary made on Fox News when asked about the president's retweet.