Trump Says Caravan Asylum Seekers Will Be Detained: 'We're Going to Build Tent Cities'
President Donald Trump, in an interview with Fox News host Laura Ingraham on Monday, said that his administration planned to build "tent cities" for thousands of Central American migrants making their way through Mexico to the U.S.
"If they apply for asylum, we're going to hold them until such time as their trial takes place. We're going to hold them. We're going to build tent cities. We're gonna build tents all over the place," said the president.
"We're not going to build structures and spend all of these hundreds of millions of dollars. We're going to have tents. They're going to be very nice, and they're going to wait, and if they don't get asylum they get out."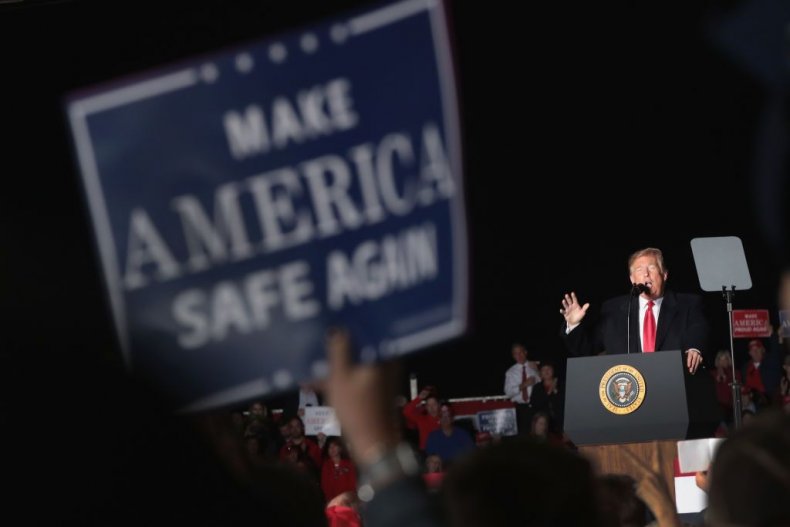 Under the protocol of previous administrations, asylum applicants were released pending court dates as asylum applications were processed. Trump said that asylum applicants would remain in detention while their claims were processed—a move that he said would deter other applicants.
"If you wanna wait, they don't usually get asylum. You know that. The problem is they release them in and then they have the trial, three years later, and nobody shows up.
"But we are gonna, unlike Obama and unlike others, we're going to take the people, we're going to put them in, and they're gonna wait. When people find out that happens, you're gonna have far fewer people come up," Trump said.
With midterm elections a week away, Trump has used the caravan of about 3,500 migrants, which is making its way through Mexico, to stoke fears, describing it as an "invasion" and claiming, without citing any evidence, that "gang members" were among its members.
On Monday, the administration announced that 5,200 U.S. soldiers would be sent to the U.S.-Mexico border as part of Operation Faithful Patriot to help secure key points of entry to the U.S.
Critics have accused the president of exaggerating the threat posed by the migrant caravan, which is still weeks from reaching the perimeter of the U.S. The Honduran ambassador to Mexico, Alden Rivera, said on Friday that the caravan had 3,500 people, and about two-thirds of them were Hondurans, The Guardian reported.
At a campaign event last week, former President Barack Obama accused Trump of fear mongering. "Now the latest, they're trying to convince everybody to be afraid of a bunch of impoverished, malnourished refugees a thousand miles away—that's the thing, it's the most important in this election?" Obama said. "We're scare-mongering people on the border."
Meanwhile, the president is under pressure over his response to a mail bomb campaign that targeted critics of his presidency, including prominent Democrats and CNN, claiming the media were to blame. Following Saturday's attack on a synagogue in which 11 were killed, the Pittsburgh affiliate of Bend the Arc, a national organization for progressive Jews, has told Trump he is not welcome in Pittsburgh until he denounces white nationalism.