Trump Says 'Prosecutorial Misconduct' Responsible for Contempt Charge
Former President Donald Trump has blamed "prosecutorial misconduct" for New York Attorney General Letitia James' push to have him held in contempt for refusing to turn over documents.
James announced on Thursday that she was taking legal action against Trump for failing to comply with a subpoena she issued as part of New York State's civil investigation into his financial dealings. The attorney general filed a motion for contempt with the New York County State Supreme Court, seeking to fine the former president $10,000 for every day that he persists in refusing to produce documents.
A short time later, Trump issued a statement that argued he was a victim of "horrible and unfair political harassment and persecution," while describing James' contempt charge as a "violation of my civil rights."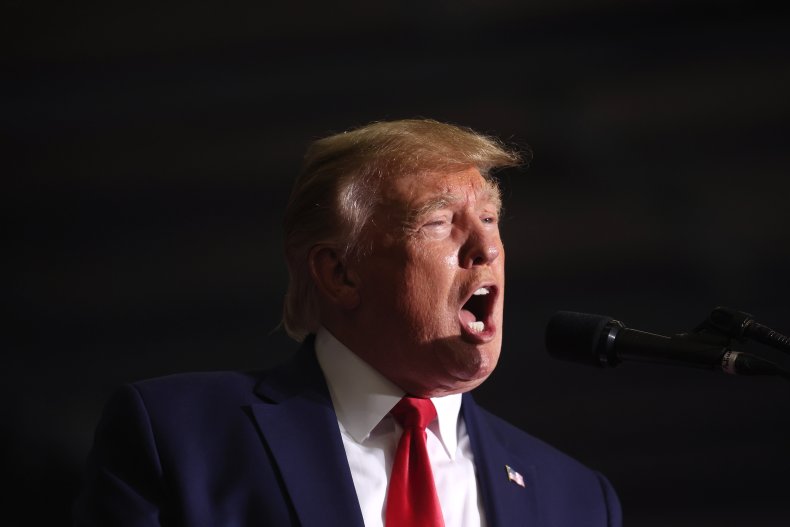 "This is just a continuation of the greatest Witch Hunt of all time, by a failed Attorney General, who continues to use her office for political gain following a disastrous and embarrassing attempt to run for Governor," Trump's statement reads. "This Democrat prosecutorial misconduct began the second I came down the escalator in Trump Tower, and has continued in an attempt to silence a President who is leading in every single poll."
"I've been investigated by the Democrats more than Billy the Kid, Jesse James, and Al Capone, combined," it continues. "This has been going on for years, and in all cases, I have been innocent.... Letitia James is no longer working as Attorney General, she is an operative for the Democrat Party in a political prosecution. New York has been through hell, and she is an embarrassment to our legal system."
Trump's statement also touted his record as a "popular former President." A Gallup poll released at the end of Trump's presidency found that he had the lowest approval rating of any president ever polled, finishing at 34 percent approval by the time he left office.
The investigation led by James is focused on allegations that the Trump Organization artificially altered the value of its assets for financial gain. She subpoenaed Trump to produce relevant documents earlier this year but he refused to comply and launched objections to the subpoena.
New York Supreme Court Justice Arthur Engoron rejected Trump's objections and ordered the former president to "comply in full" with the subpoena. Trump launched a new rounded of objections on the day of the extended deadline to comply, March 31. James' office issued a statement calling the new objections "baseless."
The attorney general's investigation is happening alongside a parallel criminal investigation led by Manhattan District Attorney Alvin Bragg. Earlier this year, Trump accused James and Bragg, both of whom are Black, of taking part in a "political and racist attack" against him.
When filing the contempt motion on Thursday, James explained in a statement that her office was "seeking the court's immediate intervention because no one is above the law."
"The judge's order was crystal clear: Donald J. Trump must comply with our subpoena and turn over relevant documents to my office," said James. "Instead of obeying a court order, Mr. Trump is trying to evade it."
A spokesperson for the Trump Organization said in a statement to Newsweek that the contempt motion was "completely baseless," describing it as "just more harassment and the latest chapter in the AG's continued witch hunt."
The spokesperson added that Trump left the organization in 2017 "and any responsive documents were previously provided to the AG by the Trump Organization."
Newsweek reached out to James' office for comment.