Trump Should Be More Worried About This Lawsuit: Former Prosecutor
Former President Donald Trump should be concerned about the ongoing defamation lawsuit against him involving E. Jean Carroll, according to Charles F. Coleman Jr., a civil rights lawyer and former prosecutor.
Carroll, a longtime journalist and magazine columnist, alleged that Trump raped her in a New York City department store during the 1990s. She is suing the ex-president after he called her a "liar" over the accusation. Trump has denied any wrongdoing.
The lawsuit is one of several legal troubles faced by Trump, who is also under two Department of Justice (DOJ) investigations, as well as being investigated by the Manhattan district attorney's office and Georgia's Fulton County district attorney's office. He has maintained his innocence in each case.
Coleman, during an appearance on MSNBC's The Saturday Show, warned that Trump should be more worried than he is about this lawsuit since its results could take a hit on his reputation.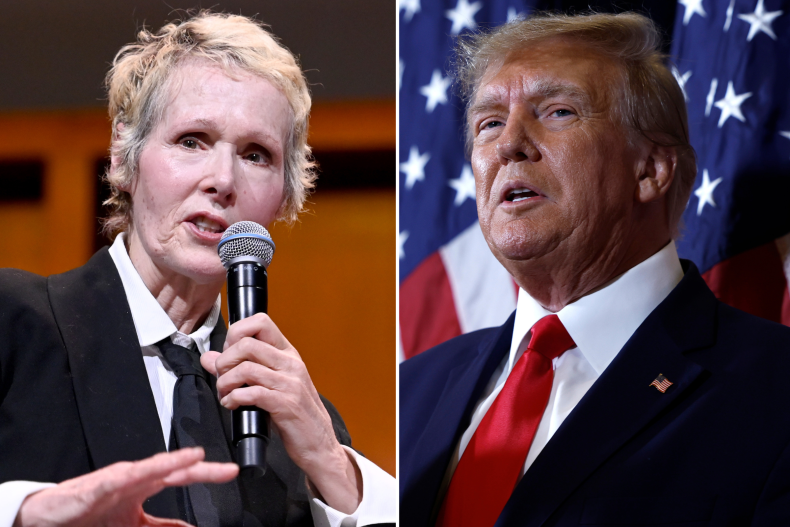 "I think that ultimately this is not a case that Donald Trump is sweating as much as he needs to. I think that he should probably be paying a lot more attention to this because it again has greater implications not only for his presidential run from a reputational standpoint," Coleman said.
Meanwhile, Coleman told Newsweek on Saturday that the lawsuit will serve as a "distraction" for voters as Trump seeks the 2024 GOP presidential nomination.
"It becomes another distraction for him to contend with and will make it harder to believe that his latest campaign isn't still a Circus that most still have fatigue from the first go round," he said.
Coleman added that Trump should also be concerned about the case because of potential financial repercussions.
"It is a civil trial, so there's not going to be a criminal trial, so there's not going to be a criminal penalty as far as him going to jail. But it could hit him in the pockets where it hurts," he said. "It's possible he stands to take a financial hit from a judgment, but I doubt that whatever that might mean in terms of a payout is troubling him. He will make it painfully difficult to recover anything should he lose the case."
Judge Ruling 'Not a Good' Sign for Trump, Coleman Says
Coleman's warning comes only a day after a federal judge ruled that Trump's remarks about women in the infamous Access Hollywood tape, as well as the testimony of two other women who have accused Trump of assault, can be heard during the trial, according to the Associated Press.
In the Access Hollywood tape, Trump was heard boasting about how celebrities can molest women. He said, "When you're a star, they let you do it. You can do anything. Grab 'em by the p****. You can do anything."
Coleman said this ruling likely does not bode well for Trump.
"This ruling from the judge around the Access Hollywood tape is not a good sign for him," he said.
Trump has previously apologized for the "locker-room talk."
Newsweek reached out to Trump's press office via email for comment.