Conservatives online shared aggrieved reactions to former President Donald Trump's response to a question about transgender people during an interview with Megyn Kelly.
Trump is currently the leading candidate for the 2024 Republican presidential primary, leading the rest of the crowded field by a wide margin as he seeks a second term in the White House. According to FiveThirtyEight's national polling average for the race, Trump has roughly 55 percent support from likely Republican voters, while his nearest competitor, Florida Governor Ron DeSantis, has only around 14 percent.
On Thursday, Trump sat for an interview with former Fox News anchor Kelly, years after he famously made derogatory comments about her after a 2015 presidential debate that she moderated. During the discussion on her SiriusXM podcast The Megyn Kelly Show, Kelly at one point raised the topic of transgender people, noting that in 2016, Trump said that he would allow former Olympian and outspoken transgender Republican Caitlyn Jenner to use the women's restrooms at Trump Tower.
When pressed about whether or not he believed a man could "become a woman," Trump gave a hesitant and slightly evasive answer that raised the ire of several conservatives online.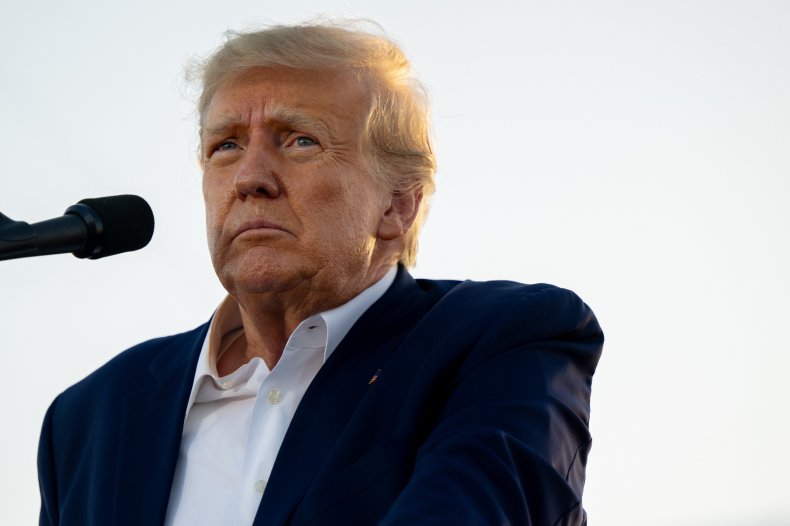 "In my opinion...I think part of it is birth," Trump said. "Can the man give birth? No. Although they'll come up with some answer to that also. I heard just the other day, they have a way that now the man can give birth. No, I would say. Yeah, I'll continue my stance on that."
Elsewhere in the interview, the former president said his views on the matter had evolved since 2016 and claimed that the topic of trans people was a "brand new subject" at the time. He also dismissed the idea that he had "reversed" his past views, claiming that the matter was too small at the time to have a fully-formed opinion on and asserting that his policies as president should speak for him.
Opposition to transgender people has, over the last few years, become a prominent stance among conservatives, particularly those on the further-right fringes of the political spectrum. The foregrounding of the topic has notably led conservatives to call for boycotts of prominent companies and brands that embrace the trans community in their marketing efforts, most of which had little long-term impact.
Early on in his political career, Trump expressed softer stances on gender and sexuality issues, notably saying that he supported gay marriage prior to the 2016 election. His stances later became less inclusive after he took office, where he notably signed a ban on openly transgender individuals serving in the military, which was later reversed by President Joe Biden.
Among the conservative reactions to the interview, Turning Point USA contributor Jon Root called Trump's answer to the question "downright terrible" in a post to X, the platform previously known as Twitter, on Friday.
Others, like X user Morgan Ariel, raised the specter of Trump's past comments about Jenner.
"Trump won't even say a man can't become a woman without tip toeing around the question," Ariel wrote. "Probably because he's too busy letting Bruce Jenner into the ladies bathroom at the Trump hotel."
"Is anyone else surprised by Donald Trump's weak response here on what should have been an EASY answer?" a political account going by "Proud Elephant" wrote. "The answer should have been 'NO' without hesitation."
"Why all the silence the last 24 hours from the Ultra MAGA influencers?!" gay conservative commentator Dave Rubin asked in his own post.
Newsweek reached out to Trump's office via email for comment.
One X user, responding to Root's post, called out the consternation from Republicans as a reach based on how slowly Trump came to an answer.
"You're reaching very hard right here," user KingAmis wrote. "He very clearly says there are men and women. The 'uhh' wasn't because he was stumped. It was because it's a wild question because we live in wild times, as you very well know."