Trump Special Counsel's Wife Prompts Ginni Thomas Comparison
Criticism of newly appointed Special Counsel Jack Smith's wife has included people comparing her to Virginia "Ginni" Thomas, the conservative activist married to U.S. Supreme Court Associate Justice Clarence Thomas.
Katy Chevigny, who is married to Smith, has become the focus of attention because she served as a producer on the 2020 Michelle Obama documentary Becoming.
Publicly available records from the Federal Election Commission (FEC) show Chevigny gave two separate donations of $1,000 each in support of President Joe Biden's 2020 campaign.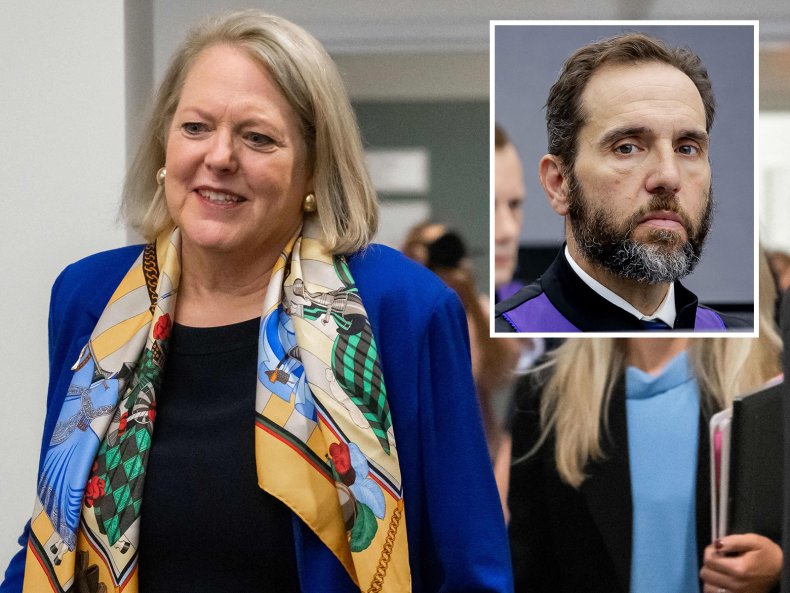 Smith, a career prosecutor, has been tasked with weighing whether the Department of Justice (DOJ) should bring charges against former President Donald Trump. His purview will include an investigation into the handling of classified documents at Mar-a-Lago as well as aspects of investigations into efforts to overturn the results of the 2020 presidential election.
Newsweek has asked the DOJ for comment on the matter.
Critics were quick to take aim Chevigny and Smith for the apparent connection to the Democrats, and some social media users responded by pointing to the controversy surrounding Thomas.
Clarence Thomas is now the most senior member of the Supreme Court and the leading figure in its conservative majority.
"Jack Smith, the special counsel appointed by AG Garland to go after President Trump, is married to a woman who was not only a donor to the Biden campaign, but also a producer of the Michelle Obama documentary. CANT MAKE THIS STUFF UP!" tweeted veteran James Bradley.
New York soccer agent Ron Waxman replied: "Two words: Ginni Thomas."
Ginni Thomas has long been the center of controversy over her conversations with former White House chief of staff Mark Meadows, where she encouraged him to continue efforts to overturn the 2020 election results.
In September, she testified before the House of Representatives Select Committee investigating January 6, 2021, and reportedly maintained in her testimony that the 2020 election was stolen from former President Donald Trump.
Writer Rich Campbell also responded to Bradley's tweet on Monday, writing: "Now do Ginni Thomas. CAN'T MAKE THIS STUFF UP!"
"Is Jack Smith married to Ginni Thomas?" Twitter user @GqpSlayer joked.
Charlie Kirk, founder and president of conservative group Turning Point USA, wrote: "Of course the wife of Jack Smith, the special counsel appointed by Merrick Garland to investigate President Trump, was one of the producers of the Michelle Obama documentary. But don't worry guys, the DOJ has not been weaponized against conservatives. Everything is fine!"
The official Twitter account of the band Wheatus replied to Kirk: "You took so long to get to the point that Ginni Thomas and her snitch husband had time to overthrow the government."