Trump's Spiritual Adviser Claims Ocasio-Cortez Is Lying About Migrant Detention Centers, Defends Facilities
Pastor Paula White, who serves as a spiritual adviser to President Donald Trump, has accused Democratic Representative Alexandria Ocasio-Cortez, other Democratic members of Congress and journalists of lying about the poor conditions in migrant detention centers.
"Honesty means very little these days when you want to get your point across. Negativity sells and truth doesn't, plain and simple. Accurate reporting isn't sexy and certainly doesn't emotionally move people," the Christian religious leader wrote in an op-ed published by The Hill on Thursday. "Such is the case when it comes to the reporting of our detention facilities housing migrant children, family units and the border patrol agents taking care of them."
White claimed that many in America "have taken the words of agenda-driven journalists as gospel and have drank their kool-aid without questioning the legitimacy of their claims." She also took aim specifically at Ocasio-Cortez.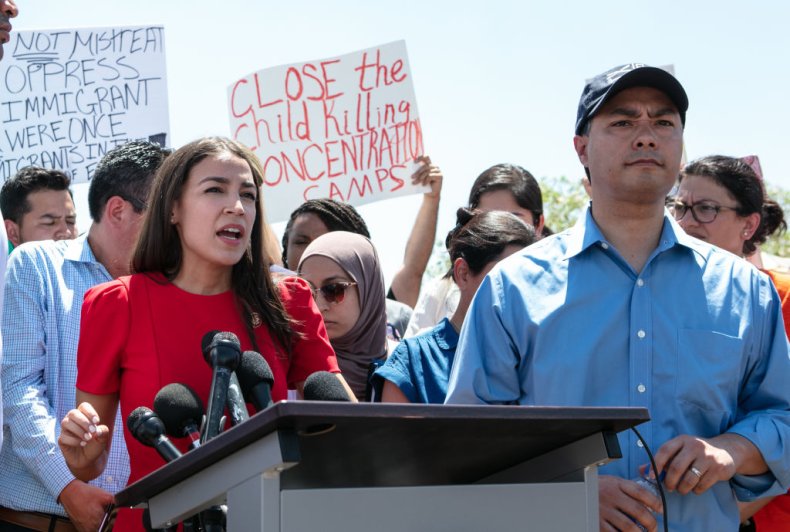 "Sorry AOC, but children aren't forced to drink water out of a toilet. (You are insulting the intelligence of Americans with that absurd accusation)," she wrote.
The Christian pastor claimed that she had spent more time visiting the migrant detention centers than most journalists or members of Congress. Although White admitted they were overcrowded, she argued that the Customs and Border Patrol agents were caring for those in their detention in a loving manner, while also claiming that the facilities are well-cleaned on a regular basis. Those claims go counter to what members of Congress, physicians and even a current CBP agent have said they have personally witnessed at the facilities, however.
A veteran CBP agent who spoke to CNN this week on the condition of anonymity described the facilities where he worked as "filthy." While he said there was a maintenance cleaning crew, he pointed out that he'd never seen them cleaning vital parts of migrants' cells.
"I have never seen them cleaning counters, or cleaning toilets in the cells, or cleaning sinks in the cells," the agent explained. He went on to say that many detained migrants were forced to keep "wearing the same clothing for days." Additionally, he claimed that his supervisor had joked about "running over illegals" and had also suggested that migrants' lives weren't valuable.
Ocasio-Cortez explained that women she talked to said that CBP agents had instructed them to drink from the toilets in their cells. She said that sinks attached to the toilets in the cells she visited did not work.
"What's haunting is that the women I met with today told me in no uncertain terms that they would experience retribution for telling us what they shared," the congresswoman tweeted on Monday. "They all began sobbing - out of fear of being punished, out of sickness, out of desperation, lack of sleep, trauma, despair."
Dolly Lucio Sevier, a physician who toured detention facilities, told ABC News last month that they "felt worse than jail." The medical professional also wrote that: "The conditions within which they are held could be compared to torture facilities."
The inspector general of the Department of Homeland Security also corroborated some of the details reported by journalists and members of Congress in a report published this week. "Urgent issues... require immediate attention and action," the report said. "Specifically, we encourage the Department of Homeland Security (DHS) to take immediate steps to alleviate dangerous overcrowding and prolonged detention of children and adults in the Rio Grande Valley."
"At one facility, some single adults were held in standing room only conditions for a week and at another, some single adults were held more than a month in overcrowded cells," the report said.
Many Republicans and right-wing pundits have blasted Ocasio-Cortez in particular for her criticism of the detention facilities. But the Congresswoman pushed back with a Tuesday tweet.
"The right is responding to what's been exposed at the border by denying it & saying I'm lying," the congresswoman wrote. "Hard to assert when the details I shared are corroborated by other members of Congress, court documents, migrant testimony, and now photos released today by the Inspector General."