Trump Suggests Supreme Court Is 'Going Out Of Their Way To Hurt Us' Amid Election Setbacks at D.C. Rally
President Donald Trump suggested at a rally in Washington D.C. Wednesday that the Supreme Court is going "out of their way," to hurt his fight to overturn the results of the presidential election.
"I'm not happy with the Supreme Court. They love to rule against me," he said, after referencing three Supreme Court justice nominations that he made throughout his presidency. "I picked three people, I fought like hell for them but they couldn't give a damn.
"It almost seems like they're all going out of their way to hurt all of us, to hurt our country," he added.
Trump's statements come after the Republican-led court rejected to hear an election lawsuit last month that sought to overturn the election results in his favor.
In September, Trump selected Judge Amy Coney Barrett as his third nomination to the Supreme Court in under four years. Barrett joined Trump's other appointments, Justices Neil Gorsuch and Brett Kavanaugh, to form a 6-3 conservative majority.
Trump said at the Wednesday rally that the three justices sought to break away from his influence by ruling against him.
"The story is that they're my puppets. And now the only way to get out, because they hate that, is to rule against Trump," he said.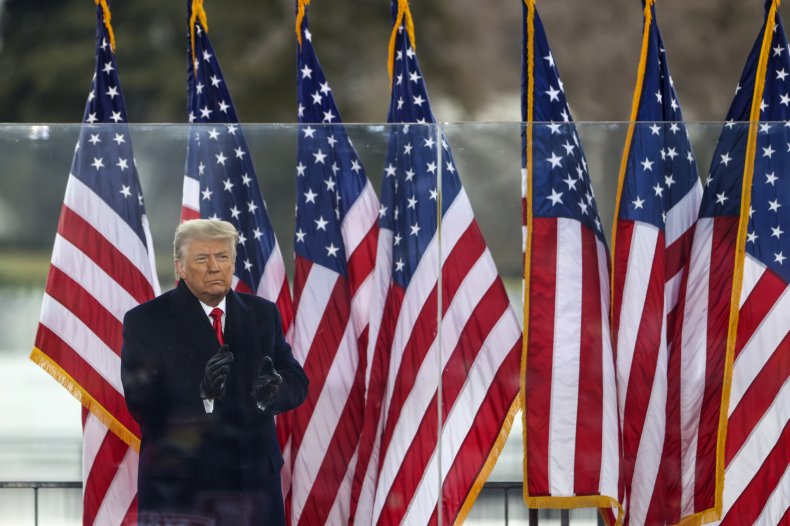 The decision for Senate Republicans to fast-track Barrett to the court in the final months of Trump's term was highly controversial. In 2016, Senate Majority Leader Mitch McConnell denied confirming Merrick Garland to the court, after he was appointed by President-Barack Obama toward the end of his term.
On Wednesday, President-Elect Joe Biden announced that he would appoint Garland as his attorney general.
Trump's D.C. rally was a last-ditch effort to plead with Republican lawmakers to object the Electoral College vote that certified the election for Joe Biden during a joint session on Wednesday.
"We will never give up, we will never concede. Our Country has had enough, we will not take it anymore. We will stop the steal," Trump declared on Wednesday.
Over 100 Republican House members have publicly backed an effort to block the certification, along with at least 13 senators. Other high-profile GOP leaders, including Senate Majority leader Mitch McConnell and Senator Lindsey Graham have considered the attempt to be a futile political stunt.
Trump added a last-ditch plea to Vice President Mike Pence, insisting that he can take action to block the election results.
"I hope Mike is going to do the right thing," Mr. Trump said. "I hope so, I hope so, because if Mike Pence does the right thing, we win the election," he added.
The congressional plan is widely expected to fail, but thousands of Trump supporters have gathered at the nation's capital in protest.
By Wednesday afternoon, hundreds of the president's supporters stormed Capitol Hill, demanding that the election results be overturned.
Newsweek reached out to Trump for additional comment but did not hear back in time for publication.