Trump Supporting Texas Women Say 'the Squad' Doesn't Like White People: 'They're Racist!'
A Republican woman from Texas who supports President Donald Trump accused the group of progressive Democratic congresswomen, dubbed "the squad," of disliking white people, arguing that they're "racist."
On Wednesday, CNN's New Day aired a segment featuring a panel of eight Republican women from Texas, all who said they continue to back the president. They discussed Trump's attacks on the squad and their view that the president telling the four women of color to "go back" to their countries is not racist.
"It's idiotic what they're saying," Peaches McGuire Coates argued. "So it doesn't matter whether they're white, man, woman, brown, yellow, anything."
Dena Miller then chimed in, asking: "Why are they not racist? How come they haven't befriended one of their white female congresswomen colleagues and let her join ..."
"They don't like white people," she asserted. "Come on, they're racist."
The four congresswomen are Representatives Alexandria Ocasio-Cortez of New York, Ilhan Omar of Minnesota, Rashida Tlaib of Michigan and Ayanna Pressley of Massachusetts. Despite Miller's assessment, they have consistently worked with white colleagues in Congress on various legislative efforts. Ocasio-Cortez and Omar also happily tweeted on Wednesday that Democratic Representative Bill Pascrell of New Jersey, a white 82-year-old member of Congress, was welcome to join the so-called squad.
"Our squad includes any person committed to building a more equitable and just world," Pressley asserted in a press conference this week "And that is the work that we want to get back to. And given the size of this squad and this great nation, we cannot, we will not, be silenced," she added.
But the GOP women who spoke to CNN appeared to have their minds set that the four congresswomen were the problem. Kathleen Lieberman argued that the representatives' criticism of Trump is "a demonstration of how their ideology spills over, even though they're American now, so to speak, they're not acting American."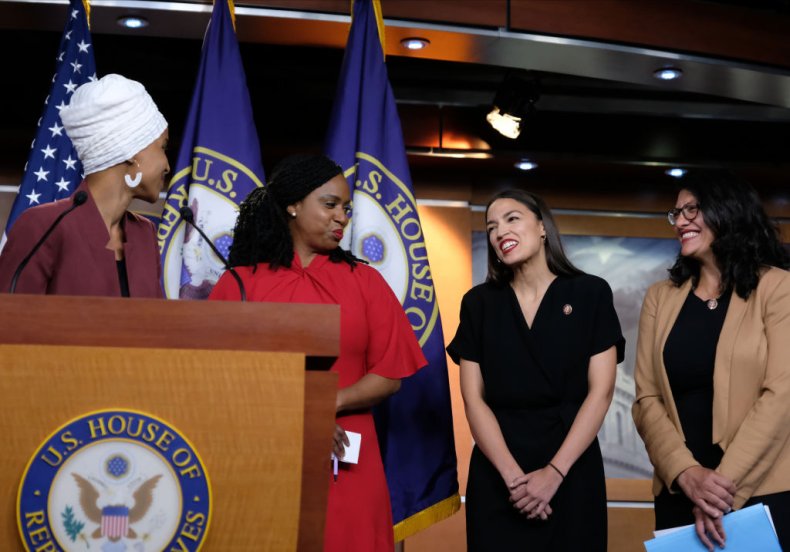 Three of the four women were born American citizens in the U.S. Omar was born in Somalia and immigrated to the U.S. when she was a young girl. She became a naturalized American citizen in 2000, nearly two decades ago. But Trump has insisted that these women should "leave" the country because he does not like their complaining. He has falsely claimed that they "hate" the U.S., when they have repeatedly voiced their love for their country and their hope to build a better future for all Americans.
On Tuesday, the House of Representatives voted to officially condemn the president's racist comments. However, only four Republicans and Representative Justin Amash, who declared his independence from the GOP earlier this month, voted in favor of the resolution with their Democratic colleagues.