Trump Tampa Rally Quotes: 'It's a Lot Easier to Act Presidential Than to Do What I Do'
President Donald Trump's campaign-style rally in Tampa, Florida, Tuesday night was designed to prop up Representative Ron DeSantis, who finds himself in a heated primary battle to become the Republican nominee for state governor.
But with little mention of DeSantis, the president instead briefly took aim at Democratic Senator Bill Nelson, who is running against current Governor Rick Scott, while largely talking about himself and his record.
Here are some of the factually incorrect statements, along with the more interesting ones that riled thousands of his supporters in the packed venue at the Florida State Fairgrounds.
"It's a lot easier to act presidential than to do what I do"
The president has often faced criticism for his off-the-cuff remarks and lack of ability to stick to the script. But his political base has lapped up the unpredictability of Trump standing behind a podium in front of a large crowd.
Trump didn't divert from that reputation Tuesday night, boasting that, "It's a lot easier to act presidential than to do what I do."
At one point, he joked about being a boring politician and pretended to end his speech and walk off stage. Trump has continued to tell crowds at rallies that he's proud to have never been in political office.
Trump said Democrats want to "give illegal immigrants the right to vote" and that even in grocery stores "you need ID"
Those two claims were some of the most factually incorrect statements from Trump's Tuesday night speech.
His first claim was on the topic of immigration, claiming that "in some states, Democrats are even trying to give illegal immigrants the right to vote."
This same false claim was made under former President Barack Obama, saying that Obama encouraged "illegal aliens" to vote. Law forbids undocumented immigrants and even non-citizens to vote in federal elections.
Trump then went on to claim the need for enacting stricter voter I.D. laws, which a number of conservative-led states have already done.
"We believe that only American citizens should vote in American elections," Trump said. "Which is why the time has come for voter ID."
The president then falsely claimed voter ID is necessary because you need it if "you go out and you want to buy groceries, you need a picture or a card. You need ID."
You do not need any form of I.D. to go grocery shopping.
"I am for 'America first'"
The president has repeatedly touted his "America First" policy before and during his time in office. But do his actions match his words?
Last month, the president's exclusive Florida golf club, Mar-a-Lago, requested 78 temporary foreign work visas. The request to the Department of Labor was for H-2B visas, which requires companies to first try and fill the open jobs with Americans. If the company still cannot fill the available positions, the Department of Labor can provide temporary work visas for foreign people to come to the U.S. or for immigrants who are already here legally.
For the past few years, Mar-a-Lago, also dubbed the "Winter White House" has consistently requested dozens of the temporary visas, claiming it can't find American workers to fill the positions.
And despite footage showing "Keep America Great" banners being mass-produced out of a factory in China, Trump's re-election campaign has denied products for the 2020 campaign are being made overseas and went so far as to call the suggestion "fake news."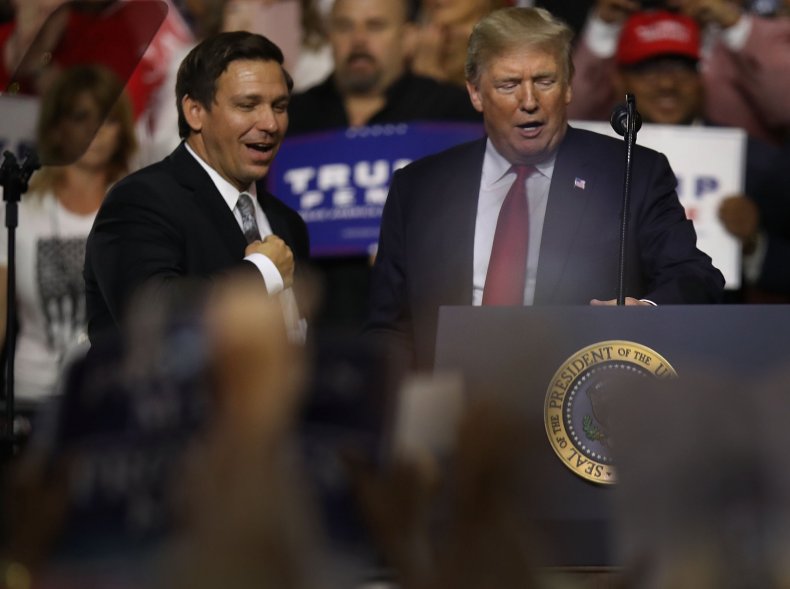 "The most popular president in the history of the Republican Party is Trump"
Tuesday night was not the first time the president has falsely claimed he is the most popular president in the history of his party.
Earlier in July, Trump claimed a poll showed he beat President Abraham Lincoln in popularity—but presidential polling did not exist during the 16th commander-in-chief's time.
"You know, a poll just came out that I am the most popular person in the history of the Republican Party—92 percent. Beating Lincoln," Trump told The Sun in an interview hours before he landed in the United Kingdom for a two-day visit. "I beat our Honest Abe."
A Gallup poll from mid-June did show that 90 percent of Republicans approved of his performance. Even still, that would make Trump the second most popular modern president within his party at this point in his term, after President George W. Bush, according to The New York Times .
"I was probably in Washington, my entire life, 17 times"
It's no secret the president likes to brag about his lack of political career prior to being elected to the White House. Trump again touted the uncommon trait, saying that out of his 17 trips to the nation's capital prior to taking office, he'd never stayed overnight.
"I've been there 17 times, never stayed there at night, I don't believe," Trump said. "I didn't know anybody in Washington, but now I know everybody in Washington. I know the good ones, I know the bad ones. I know the wonderful people, and I know the scum."