Trump Tells Gay Supporter 'You Don't Look Gay' at Mar-a-Lago Fundraiser
Former President Donald Trump told a gay supporter that they did not "look gay" during a Wednesday fundraiser at his Mar-a-Lago club in Florida.
Trump held the fundraiser for Michigan Republican congressional candidate John Gibbs, who is opposing freshmen GOP Representative Peter Meijer. Gibbs served in the Trump administration as an official at the Department of Housing and Urban Development. Meijer drew Trump's ire after he joined nine other House Republicans in voting to impeach the then-president in January 2021 for inciting his supporters to attack the U.S. Capitol.
During remarks at the event, the former president asked the crowd gathered for the fundraiser, "Where's gays for Trump?"
A video of the interaction was shared on Twitter by Patriot Takes and has more than 69,000 views.
Someone in the audience responded, "We're over here." Trump then replied, pointing in their direction, "You don't look gay." The comment drew loud laughter from the audience.
As the laughter died down, Trump said, "We did great with the gay population, as you know."
Peter Boykin, the founder of the Gays for Trump organization, told Newsweek in a Thursday email those who associate with his group "probably wouldn't 'look gay' because it's a stereotype that fits more with the typical 'look' of leftist LGBT. Not saying some of us might look fabulous and 'gay.'"
"Otherwise it was a suit and tie event, so unless one of us was wearing a joker suit, meh," Boykin wrote. He added that "Gays For Trump is a nationwide movement full of various types of gays and the gay community has a lot of diversity—the difference is the Gays for Trump lean right."
Many within the LGBTQ+ population find it offensive to be told that they "look" or "don't look" gay.
"But what of that statement? 'You don't look gay.' How are we supposed to react to that?" David Hudson, deputy editor of Gay Star News, wrote in a 2018 opinion article. "Is it being offered as a statement of surprise? Or as a clunky and misguided compliment? At the very least, it would suggest the person saying it thinks gay people look a certain way."
Trump has faced substantial criticism from many in the LGBTQ+ community since he launched his 2016 presidential bid. However, the former president courted LGBTQ+ voters by waving a rainbow flag during an October 2016 event in Colorado. The flag had the words, "LGBTs for Trump" written on it. Some openly gay individuals also served in high-level positions within the Trump administration.
The White House under Trump also took numerous anti-LGBTQ+ stances on various legal cases making their way through the courts. In particular, Trump voiced support for several anti-transgender measures being pushed forward by Republican leaders in conservative states.
Regardless, the former president does have a number of LGBTQ+ supporters. The organization Gays for Trump continues to back the former president. The prominent conservative LGBTQ+ group the Log Cabin Republicans endorsed Trump's reelection in 2020, although it declined to back his candidacy in 2016. Prominent transgender former Olympic athlete Caitlyn Jenner initially supported Trump during his 2016 presidential campaign, but later condemned his administration's policies she saw as targeting the transgender community.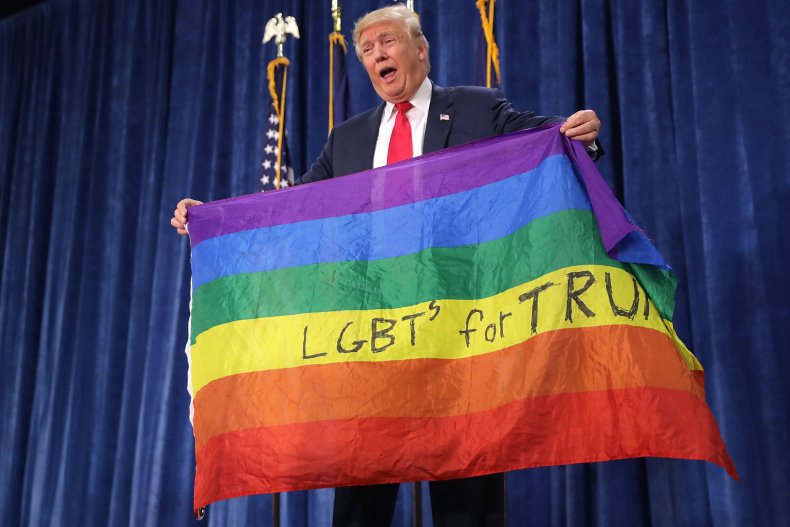 "These individuals that I work with in this building don't treat me any differently because I'm gay," Judd Deere, who served as Trump's White House Deputy Press Secretary, told BuzzFeed News in 2019.
Richard Grenell, who is openly gay, served as an ambassador under Trump and also was appointed as the acting director of national intelligence from February 2020 to May 2020. Although he was never officially confirmed by the Senate, this made Grenell the first openly gay individual to serve in a Cabinet-level position in U.S. history.
"Growing up in America, we are extremely lucky to have a very supportive society. Many Americans have differing public policy positions on issues impacting the LGBTQ+ community, but travelling a lot has helped me put this in perspective. The United States is the best country in the world for gays and lesbians," Grenell said in a July 2020 Q&A by the Office of the Director of National Intelligence for Pride month.
Update: 03/31/22 p.m. ET: This article was updated with comment from Gays for Trump founder Peter Boykin.