Trump Thanks FBI, DOJ After Passports They 'Stole' Are Returned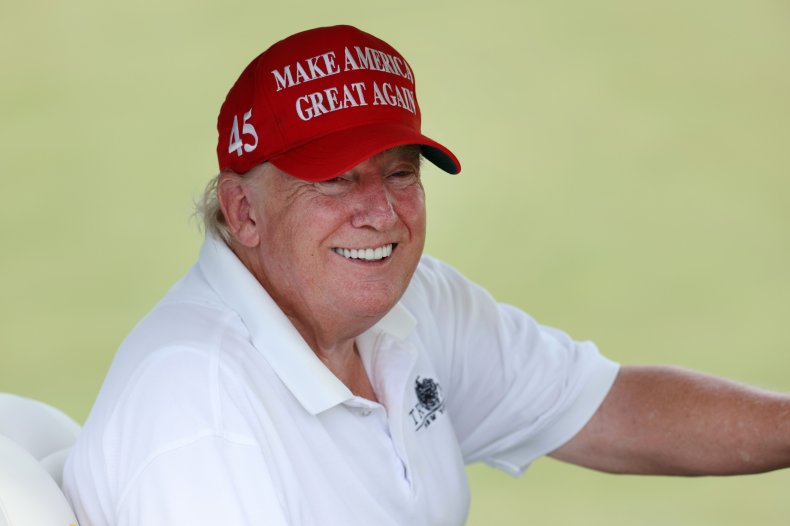 Former President Donald Trump has thanked the FBI and the Department of Justice (DOJ) for returning passports that he said they "stole" during last week's raid of his home.
In a Truth Social post on Monday, the former president accused the FBI of stealing three of his passports while executing their search warrant, calling it "an assault on a political opponent at a level never seen before in our Country." Trump thanked the agency, while also accusing agents of behavior like that of "a common criminal," as he announced that his documents had been returned in a post on Tuesday evening.
"The DOJ and FBI just returned my passports," Trump wrote. "Thank you! Unfortunately, when they Raided my home, Mar-a-Lago, 8 days ago, they just opened their arms and grabbed everything in sight, much as a common criminal would do. This shouldn't happen in America!"
Taylor Budowich, Trump's director of communications, shared to Twitter on Monday a redacted email that appeared to confirm the passports had been taken by authorities during the raid.
The email from Jay Bratt, head of counterintelligence in the DOJ's national security division, stated that "filter agents seized three passports from President Trump" while informing Trump's representatives that the passports would soon be available to pick up.
Budowich shared the email in response to a tweet from CBS News anchor Norah O'Donnell, who had claimed that a "DOJ official" informed her that "the FBI is NOT in possession of former President Trump's passports."
"This is how Fake News works, folks. Biden admin actively feeds half truths & lies that the media willingly amplifies—advancing a partisan narrative to attack Trump," Budowich wrote while sharing the email. "@NorahODonnell, did your 'source' read you this email? Did you bother asking if they indeed seized the passports?"
NBC News reported later on Monday that a DOJ official had said the passports were not in the FBI's possession because they had been returned to the former president's team.
Soon after, O'Donnell retweeted the following FBI statement: "In executing search warrants, the FBI follows search and seizure procedures ordered by courts, then returns items that do not need to be retained for law enforcement purposes."
The passports taken from Trump apparently included two expired passports and the former president's still-active diplomatic passport.
It is not uncommon for former presidents and some other government officials to hold multiple U.S. passports. In addition to diplomatic passports, "official" passports and the more common tourist passports may be issued.
Other items seized during the raid include 11 sets of classified documents, four of which are marked "top secret." Newsweek has reported that the documents could reveal informants on the U.S. payroll. Others might include nuclear secrets, according to The Washington Post.
The warrant that allowed agents to search Mar-a-Lago was unsealed at the DOJ's request last week. However, the affidavit in support of the warrant remains sealed, despite the demands of Trump and many of his allies.
The DOJ is opposing the release of the affidavit, arguing that making the document public could "cause significant and irreparable damage to this ongoing criminal investigation." A court hearing on the potential release of the affidavit is set for Thursday.
Newsweek has reached out to the DOJ and FBI for comment.