Trump Boasts About Cognitive Power, Then Confuses J.D. Vance With His Rival
Former President Donald Trump, after boasting about an "aced" cognitive test, said he endorsed "J.D. Mandel" at a Save America rally on Sunday in Nebraska in an apparent reference to Ohio candidate J.D. Vance.
The blunder came after he also made fun of President Joe Biden stumbling over a word in a video clip. The former president was listing candidates he is supporting when he made the gaffe.
"You know, we've endorsed Dr. Oz, we've endorsed JP, right? JD Mandel, and he's doing great. They're all doing good," Trump told the crowd at the I-80 Speedway in Greenwood.
Vance is running for the Republican Senate nomination in Ohio against Josh Mandel and Mike Gibbons in Tuesday's primary.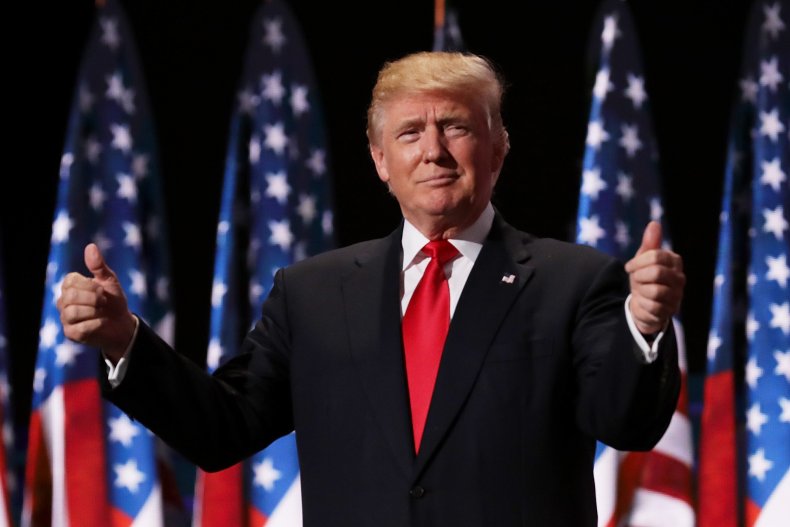 The error came after Trump called for Biden to undergo cognitive testing and bragged about his own perfect results.
"Once and for all, Joe Biden should put the question to rest by taking a cognitive test ... releasing the results for the entire world to see," Trump said.
Trump bragged about the results of his own cognitive test and said former White House physician Dr. Ronny Jackson once called him a "perfect specimen."
Trump said he took the test to "end this bulls--t" of people calling him names, and that Jackson told him the test was "tough."
"I aced it," Trump said. "Every question right. One person said 'I've never seen anybody ace it before.'"
Earlier in the rally, Trump described Biden as someone who "embarrasses our country."
"Meanwhile, we have a president who has no idea what's happening, who is shaking hands with the air, while Putin talks about nuclear weapons all the time," Trump said.
Trump also showed a clip of the president speaking last week in which Biden fumbled over the word "kleptocracy." Biden speaks openly about his stuttering, a struggle since his childhood.
Trump was in Nebraska supporting gubernatorial candidate Charles Herbster, who made headlines in recent weeks for accusations of groping eight women, including Republican State Sen. Julie Slama in 2019.
Nebraska's primary is May 10.
Earlier in the rally, Herbster's speech focused on immigration, China and critical race theory.
"The illegals are coming after us, the drug people are coming after us," Herbster said. "It's happening in Nebraska. We have to stop it. I'll meet them at the border."
Herbster said he supports "legal immigration," but offered a "checklist for Nebraska" for those interested in living there, saying they need to "honor god, our flag and you need to learn to speak English."
Regarding education, he pledged to end critical race theory and to take sex education out of schools.
"There will be no critical race theory in any school system, including the university," Herbster said.
Herbster called China the "very worst enemy outside the borders of this country."
"China, listen to me very carefully, China wants to take us down. Do you understand that? Every single day...infiltrating the United States of America. As your governor, China will not buy one acre of land in the state of Nebraska."
Trump's rally was postponed from Friday due to severe weather. He is expected to hold another rally Friday in Greensburg, Pennsylvania, in support of Dr. Mehmet Oz, who is seeking nomination for the seat of retiring U.S. Senator Pat Toomey in the May 17 primary.
Newsweek reached out to Trump for comment.