Trump Rally-Goers Blast 'Demonic' Media, Await 'God or the Aliens'
Some supporters of former President Donald Trump described the media as "demonic" while one said she is awaiting "God or the aliens" prior to a Selma, North Carolina, rally on Saturday.
Trump travels to the state this weekend to drum up support for Republican candidates he's endorsed ahead of the southeastern state's primaries in May. Many supporters of the former president arrived hours early, as they eagerly waited for his arrival. The event held at The Farm at 95 is scheduled to begin at 7 p.m. ET.
A reporter with Right Side Broadcasting Network (RSBN), which generally streams Trump rallies live online, spoke with a number of Trump supporters at the event to get their perspective on the state of the country and current events. Two brothers, both wearing red pro-Trump hats, complained about the media, describing it as "disgraceful" and "ungodly." But noted that their support for RSBN is "100 percent."
"We just want to tell the fake news—CNN, MSNBC, all of y'all—y'all are disgraceful to this country and we're gonna come after you," one of the brothers said.
"You're demonic. You're devils. Get saved," the other brother chimed in.
A woman who spoke to RSBN claimed that Democrats "are importing" children from Mexico to exploit sexually. The remark came after the reporter complained about political commentator and HBO host Bill Maher saying that Republicans are "obsessed with pedophilia." Maher made the remark on his Friday program, pointing to high profile GOP lawmakers accusing Democrats of supporting pedophiles in recent weeks.
"God sees all and God will take care of all of this evil," the RSBN reporter said. The woman quickly replied, "We're waiting for either God or the aliens." She then added with a chuckle: "Or a nuke. I'll take one."
Another Trump supporter told RSBN that the January 6, 2021 attack against the U.S. Capitol was actually carried out by Antifa—not supporters of the former president. That conspiracy theory has been widely discredited and debunked.
"There's videos out there that they're trying to suppress that's all on people's TikToks and stuff, where they had Antifa members inside the White House," the man claimed. Notably, the pro-Trump assault was against the Capitol building, not the White House.
Natalie Allison, a reporter with Politico, shared an image from the rally of a man holding a flag featuring a hand pulling up the American flag to reveal a Confederate flag underneath—suggesting that the failed Confederacy of the Civil War-era should reemerge. Another flag waved above the man's head with an image of Trump and the message, "Only God and Trump can save our country."
Conspiracy theories and bizarre claims have been a feature at Trump events across the country. Last week during a Michigan rally for the former president, an attendee argued that the U.S. Space Force would overturn the 2020 election results in Trump's favor.
"The election, I believe, was stolen but we know that. Space Force has it all, Trump has all the information, it is going to be overturned," a woman told RSBN last Saturday at the Michigan event.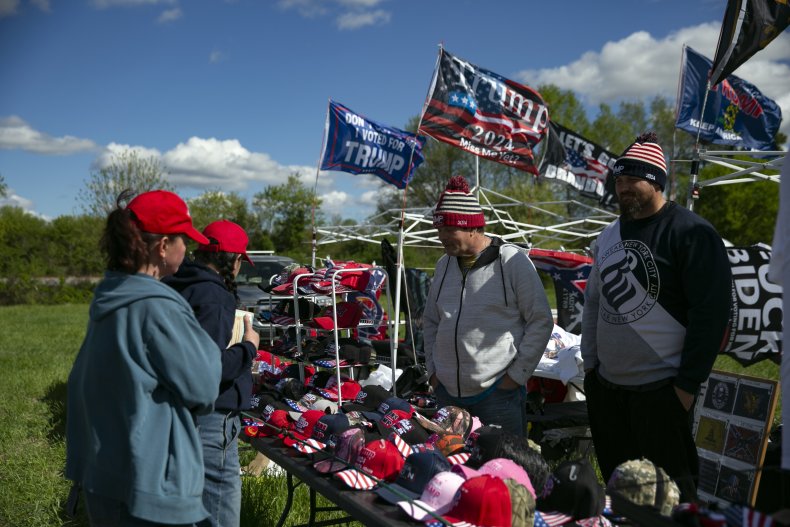 Back in October, a Trump supporter warned that she sees a "civil war" coming during an Iowa rally for the former president.
"They're establishment. They don't care about the American people because they're in their elite little tower," the attendee Lori Levi told MSNBC, referring to Republican lawmakers. "So we're just sick of it, you know, and we're not going to take it anymore. I see a civil war coming. I do. I see civil war coming."
In addition to Trump, speakers at the Saturday rally include North Carolina's Republican representatives Madison Cawthorn, Dan Bishop and Greg Murphy. Representative Ted Budd, who Trump has endorsed in the race to fill North Carolina's Senate seat that will be vacated by retiring Senator Richard Burr, will also speak.
"Getting ready for our big rally tonight in North Carolina. Heavy support for Ted Budd for Senate, big crowd!" Trump said in a Saturday afternoon statement.