Trump Tower, Golf Courses 'At Stake' in N.Y. as Trump Pleads Fifth: Expert
A former assistant attorney general for New York state warned that former President Donald Trump's most prized assets, including Trump Tower in Manhattan and his golf courses, are "at stake" in the civil probe by Attorney General Letitia James.
Trump sat for an hour-long deposition on Wednesday, reportedly invoking his Fifth Amendment right not to answer questions more than 400 times. The investigation involves the valuation of Trump's assets, and whether the former president's business, the Trump Organization, misrepresented the stated valuations of some of its real estate assets for financial gain, including better terms on loans and insurance, as well as tax benefits.
Tristan Snell, the managing partner of mainstreet.law and a former assistant attorney general for New York state, said that the probe is a "big deal" and assessed that Trump pleading the Fifth made James' case "even stronger." Notably, Snell helped lead the successful civil prosecution of the now-defunct Trump University, which ultimately resulted in a $25 million settlement.
"This cuts right to the crown jewel of his real estate portfolio," Snell told Business Insider.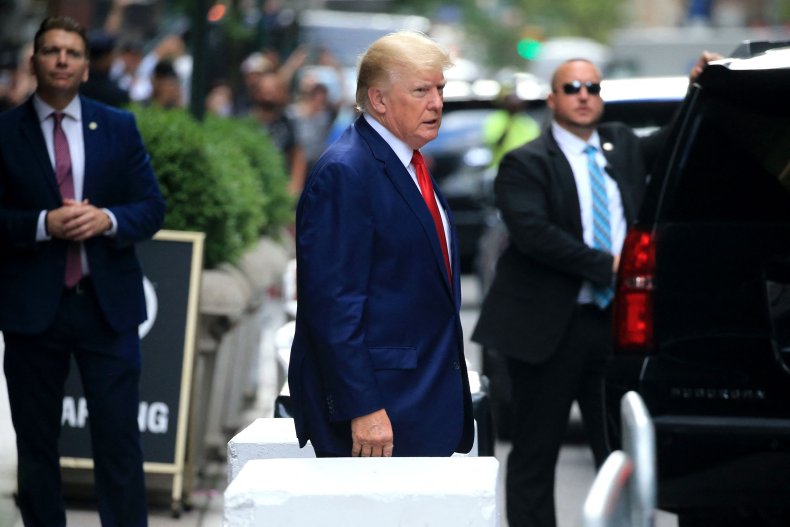 James, a Democrat, has suggested she might seek the dissolution of Trump's businesses through New York's so-called corporate death penalty. The Trump Foundation was previously dissolved after facing prosecution in 2019.
"It's everything, because at issue is Trump Tower [in Manhattan], at issue is 40 Wall Street, which is one of his most beloved properties and probably one of the more valuable ones," Snell told Insider. "All of his golf courses are also at stake, so it's a big deal."
On Twitter, Snell said that Trump pleading the Fifth did not help his case.
"This is a civil case—so the court can draw an inference of liability," he wrote. "This is exactly what the AG was hoping to achieve. The case is now even stronger."
"After Trump took the Fifth today, I would bet that the NY AG will officially commence its lawsuit against the Trumps for tax and financial fraud within the next 3-6 months, maybe much sooner—and likely before the holidays," Snell added in another post.
Trump has strongly denied any wrongdoing. He contends that the New York probe is part of a broader "witch hunt" against him and his allies. He argues that the investigation is politically motivated.
"I once asked, 'If you're innocent, why are you taking the Fifth Amendment?' Now I know the answer to that question," Trump said in a Wednesday statement.
"When your family, your company and all the people in your orbit have become the targets of an unfounded, politically motivated Witch Hunt supported by lawyers, prosecutors and the Fake News Media, you have no choice."
Newsweek reached out to Trump's press office for further comment.
A spokesperson for James' office confirmed that Trump had taken the Fifth Amendment.
"While we will not comment on specific details, we can confirm that today, our office conducted a deposition of former president Donald Trump," the spokesperson said, CNBC reported.
"Attorney General Letitia James took part in the deposition during which Mr. Trump invoked his Fifth Amendment right against self-incrimination. Attorney General James will pursue the facts and the law wherever they may lead. Our investigation continues."