2018 Midterms: How Badly Are Trump's Trade Tariffs Hurting His Rust Belt Base?
When Donald Trump campaigned for the presidency, he promised voters in the rust belt he would put America first on trade if they put him in the White House.
Now president, Trump is living up to his campaign rhetoric, picking trade fights and hiking tariffs on imports in an attempt to bring manufacturing jobs back to America and revive its former industrial heartlands.
Trump believes that by increasing the cost of imports, companies that manufacture goods outside of America will instead relocate their factories inside, bringing with them high-quality jobs. He is also using tariffs as leverage to renegotiate trade deals, such as NAFTA, with Canada and Mexico.
But reality and rhetoric are not often harmonious. That appears to be true of Trump's trade wars against the likes of China and the European Union, which both responded by targeting their retaliatory tariffs against goods made in pro-Trump states.
Tariffs on American goods mean fewer exports because it is more expensive for other countries to buy them, harming manufacturing and agriculture businesses, their supply chains, and the wider economy—potentially meaning job losses and lower tax revenues.
In turn, America's tariffs on imports increase the cost of goods brought in, and their price on the shelves when consumers go to buy them. Trump allies, such as Steve Bannon, speaking to The Economist Asks podcast, believe higher prices are worth paying if it translates to decent manufacturing jobs in struggling communities.
The midterm elections are approaching and much of America's attention is focused on the drama around Judge Brett Kavanaugh, Trump's nominee for the Supreme Court who is facing allegations of sexual assault.
While Democrats and Republicans use the Kavanaugh issue as a political proxy war, it masks a problem for Trump related to his trade policies: The rust belt states he won over, in some cases very narrowly, are losing faith.
This chart from Statista, using polling data from IPSOS and Reuters, shows that across five of the rust belt states won by Trump in 2016 more voters believe the president's tariffs on foreign imports are harmful to their families than beneficial.
The poll was conducted online between September 12-21 with between 1,074 and 1,181 likely voters in each of five states: Indiana, Ohio, Michigan, Pennsylvania and Wisconsin, Reuters reported.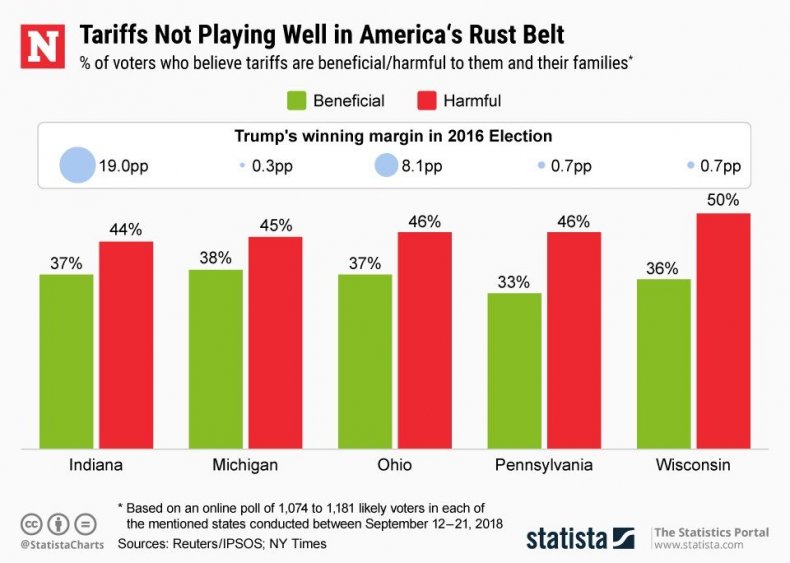 In Indiana, where Trump won by a margin of 19 percent over his Democratic rival Hillary Clinton, only 37 percent of voters polled in mid-September thought the tariffs were beneficial to their families against 44 percent who said they were harmful.
The biggest margin was in Wisconsin, which Trump won by just 0.7 percent, where 36 percent of voters believed the tariffs to be beneficial to their families against 50 percent who said they were harmful.
But it isn't all bad news for Trump ahead of the midterms, in which the Democrats hope to retake control of the House of Representatives, perhaps even the Senate, though the latter is unlikely.
A new poll showed support for Democratic candidates in the November elections halving from the beginning to the end of September.
The Quinnipiac University poll, cited on MSNBC's Hardball with Chris Matthews, had the Democratic lead over Republicans on the question of "Who would you support?" at +7.
That poll was carried out between September 27-30. A poll on the same question taken between September 6-9 had the Democratic lead at +14.