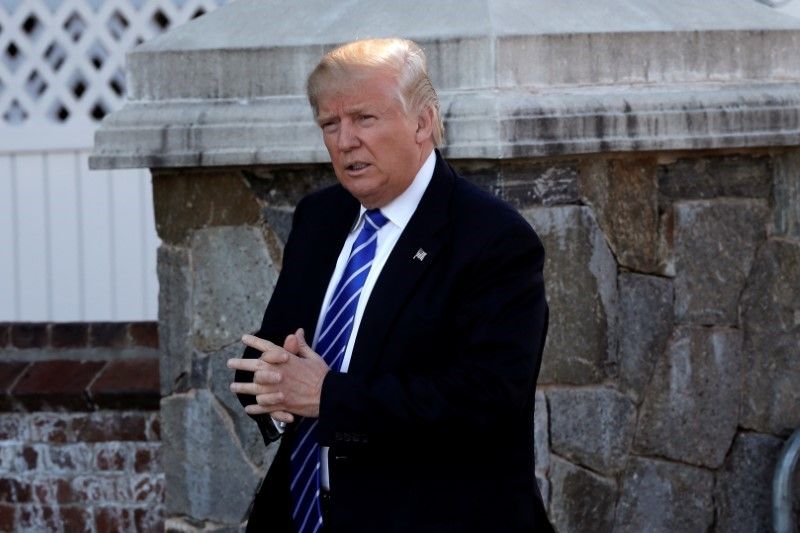 Welcome to Newsweek's daily rundown of President-elect Donald Trump's transition process. There are about 4,000 positions to fill, and we'll be keeping track of appointees through the January 20 inauguration.
Trump announced his latest cabinet nominations on Tuesday night and Wednesday morning. Elaine Chao, former labor secretary under President George W. Bush, is Trump's pick for transportation secretary. It's worth pointing out that the choice of Chao, who is married to Senate Majority Leader Mitch McConnell, is among a handful of picks that hardly fit with Trump's promise to "drain the swamp" of Washington insiders.
Steve Mnuchin has been named as Trump's pick for treasury secretary. Again, this choice could be considered peculiar in light of the promise, given that Mnuchin worked at Goldman Sachs for nearly two decades; Trump said during the presidential campaign that Goldman has "total control over Hillary Clinton," his rival. Mnuchin, who Trump calls "the ideal candidate to serve as secretary of the Treasury," is also known for his financing of blockbuster movies, including Avatar, American Sniper and the X-Men franchise.
Mnuchin's fiancee, Louise Linton, briefly made headlines earlier this year after she published a highly controversial memoir, In Congo's Shadows: One Girl's Perilous Journey to the Heart of Africa. Criticism of the book was swift and resulted in the self-published novel being removed from Amazon.
Related: Who will be in Trump's cabinet? Here's a list of possibilities.
Trump has also nominated Wilbur Ross for the position of commerce secretary. A billionaire private equity investor and former banker, Ross made his fortune by flipping formerly bankrupt companies for profit. Trump and Ross are long-standing friends, and Ross lives in a 16,000-square-foot estate in Palm Beach, Florida, near Trump's Mar-A-Lago resort. Pending Senate confirmation, Todd Ricketts, co-owner of the Chicago Cubs, was named by Trump as his choice for deputy commerce secretary.
During the campaign, the billionnaire Ricketts family initially supported Wisconsin Governor Scott Walker in his run for president, and funded anti-Trump advertisements that saw women repeat insults Trump has called them over the years, including "dog" and "fat pig."
Cabinet nominee tally: 10
Attorney General: Jeff Sessions
CIA Director: Mike Pompeo
U.N. Ambassador: Nikki Haley
Education Secretary: Betsy DeVos
Secretary of the Department of Health and Human Services: Tom Price
Transportation Secretary: Elaine Chao
Treasury Secretary: Steve Mnuchin
Commerce Secretary: Wilbur Ross
White House staff tally: 5
Chief of Staff: Reince Priebus
National Security Advisor: Lt. General Michael Flynn
Deputy National Security Advisor: Kathleen Troia "KT" McFarland
Senior Counselor: Stephen Bannon
Assistant to the President and White House Counsel: Donald F. McGahn
After Trump met with former Massachusetts Governor Mitt Romney on Tuesday night, the Trump transition team said there are four candidates being considered for secretary of state. Romney and former New York City Mayor Rudy Giuliani are among them. No additional cabinet nominess will be announced this week, according to Trump's team.
Meanwhile, because it's another day, Trump has been tweeting. He said he'll "be leaving my great business in total in order to fully focus" on the presidency. Trump claims that he is "not mandated to do this under the law," but he feels "it is visually important, as president, to in no way have a conflict of interest with my various businesses." Trump added that he'll be holding a press conference on December 15 with his children to discuss his businesses.
Trump's tweets come after serious questions have been raised around his conflicts of interest. On Monday, Steven Schooner, a law professor at George Washington University, told NPR that there are particular conflicts of interest with Trump's new hotel, situated blocks away from the White House in the former U.S. Post Office headquarters. Trump signed a 60-year lease with the General Services Administration for the building, although a clause in the contract states that no elected official should be able to benefit from, or have any role in, the lease.
One day after Trump named Georgia Representative Tom Price as his pick to head the Department of Health and Human Services, there have been a number of reports about the already-dire state of women's health care in the U.S. Many groups fear that if confirmed by the Senate, Price will make access to reproductive care even more difficult; these articles signal what might be ahead.
In Texas, state health officials are planning to adopt new rules that require fetal remains to be buried or cremated instead of being disposed of in landfills. Those rules, which do not apply to miscarriages or abortions performed at home, take effect on December 19. In Tennessee, a woman is facing felony charges after allegedly attempting to abort her fetus at 24 weeks using a coat hanger.
Daily Swamp-o-Meter
As Trump's cabinet appointments pick up speed, we'll be looking at the picks that aren't exactly contributing to the "swamp draining" the president-elect repeatedly promised on the campaign trail. The recent handful of names—Chao, Price, Ricketts, Ross and Mnuchin—are either Washington and Wall Street insiders or billionaire supporters of Trump. Asked about this conflict on Wednesday, Jason Miller, the transition spokesman, said during the daily press call that Ross and Mnuchin are people who "have helped to save companies and create jobs."
With Ross, "there's nobody better to understand how the tax codes work, to understand how our trade policies work, to understand just how American workers have been treated unfairly in recent years and what's needed to go on," said Miller.
"These are experts," said Miller. "These are experts who know how to win."
Trump also announced that he and Vice President-elect Mike Pence will be in Cincinnati on Thursday night for the first stop of their "thank you tour."
Read more on Newsweek.com
-Today in Trump transition: President-elect announces key health care posts
-Trump transition raises hopes of immigration hardliners
-Internet non-profit plans archive to 'keep stuff safe' from Trump