Today in Trump Transition: Meeting With The New York Times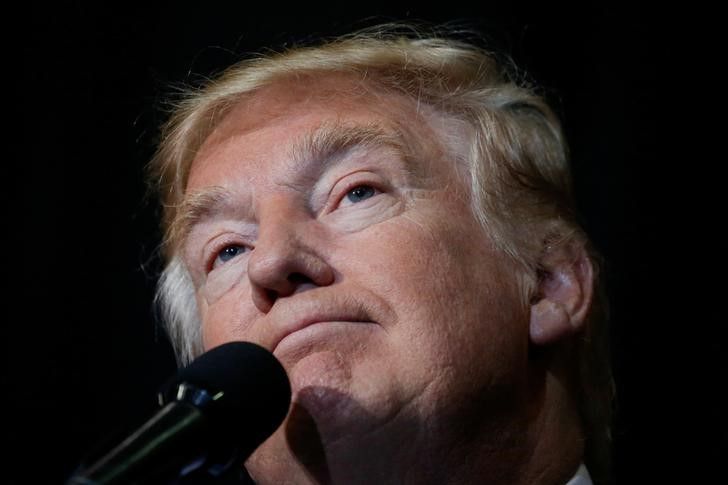 Welcome to Newsweek's daily rundown of President-elect Donald Trump's transition process. There are about 4,000 positions to fill, and we'll be keeping track of appointees through the January 20 inauguration.
Cabinet nominee tally: 2
Attorney General: Jeff Sessions
CIA Director: Mike Pompeo
White House staff tally: 3
Chief of Staff: Reince Priebus
National Security Advisor: Lt. General Michael Flynn
Senior Counselor: Stephen Bannon
Donald Trump will meet with reporters and editors with The New York Times on Tuesday, after canceling and then uncanceling a planned meeting.
Trump has frequently made his feelings toward the newspaper clear, tweeting last week that the "failing" media outlet "is so totally wrong on transition." On Tuesday morning, Trump tweeted that he canceled the meeting "when the terms and conditions of the meeting were changed at the last moment." A few hours later, he tweeted that it's "back on." Trump will have an off-the-record meeting with the Times's publisher and will then speak with journalists and columnists on-the-record, according to Eileen Murphy, spokeswomen for the Times.
According to The New York Times, it turns out that Reince Priebus, incoming White House chief of staff, is the reason for the initial cancellation. Three people told the Times that Priebus urged Trump to cancel the meeting, knowing the president-elect would likely have to face questions "he might not be prepared to answer." Priebus then allegedly told Trump that the Times changed the conditions of the meeting, which it maintains it did not do.
Trump's bizarre flip-flop comes one day after he held a meeting with a number of U.S. media executives, whom he reportedly shouted at for 20 minutes over what he perceived as unfair coverage during the campaign. Among his complaints were the selection and use of photographs showing him with multiple chins. Attendees of the meeting spoke to The New Yorker on Tuesday, with one calling Trump's behavior "totally inappropriate" and "fucking outrageous." Another said that Trump "truly doesn't seem to understand the First Amendment."
Trump 'Doesn't Wish' to Lock Her Up
So much for "lock her up." Donald Trump's spokeswoman, Kellyanne Conway, appeared on MSNBC's Morning Joe on Tuesday morning and said that Trump won't pursue charges related to Hillary Clinton's use of a private email server or the activities of the Clinton Foundation—despite Trump making the persecution of Clinton a cornerstone of his campaign.
"Look, I think he's thinking of many different things as he is preparing to become president of the United States, and things that sound like the campaign aren't among them," Conway went on to say. The disappointment was palpable on the homepage of Breitbart News, the right-wing news website whose former chief executive, Steve Bannon, is now a senior Trump adviser. The website's homepage declared Trump's decision a "broken promise."
The decision not to go after Clinton was not mentioned in Tuesday's transition team daily press call. Sean Spicer, communications director at the Republican National Committee, said Trump will travel to his Mar-a-Lago resort in Palm Beach, Florida later Tuesday for Thanksgiving and will release a Thanksgiving video message on Wednesday. Trump will hold a handful of meetings on Tuesday, including with Ben Carson, Mike Pence and Dr. Seema Verma, founder and CEO of SVC, a health policy consulting group. The Trump transition team declined to go into detail about the meeting between Trump and Verma.
Trump Outlines First 100 Days
Amid calls for him to hold a press conference, Trump outlined legislative priorities for his first 100 days in office in a video published on Monday afternoon, nearly two weeks after being elected president. In the two-and-a-half-minute video, Trump said he hopes to take a number of executive actions on the first day of his presidency to "restore our laws and bring back our jobs." That Trump chose to upload a video instead of holding a conference and taking questions from the press could signal a precedent that would be worrying to some.
Related: Trump Foundation's 2015 tax form says it violated 'self-dealing' prohibition
In the video, Trump said he intends to withdraw from the Trans-Pacific Partnership and instead "negotiate fair, bilateral trade deals that bring jobs and industry back onto American shores." He intends to cancel "job-killing restrictions on the production of American energy, including shale energy and clean coal," and for every new regulation, two old regulations will be eliminated, he said. Additionally, he hopes to develop "comprehensive plan to protect America's vital infrastructure from cyber attacks and all other form of attacks" and will call on the Department of Labor to investigate visa programs that he said undercut American jobs. Trump said he will also impose a five-year ban on officials working as lobbyists after they leave the administration.
The video included a "partial list" of actions Trump is planning to take, Jason Miller, communications director for the Trump transition team, said during the press briefing on Tuesday. Trump did not mention his most contentious proposals, including replacing and repealing the Affordable Care Act and establishing a registry of Muslim immigrants to help implement his promise of "extreme vetting" certain groups who come to the U.S., namely Syrian refugees.
Neo-Nazis Salute Trump
On Monday, disturbing footage of a neo-Nazi gathering in Washington, D.C. was published by The Atlantic. The video, recorded at a meeting of the National Policy Institute, a white nationalist "think tank," shows its founder, Richard Spencer, saying "Hail Trump" as attendees give the Nazi salute. Spencer also questioned whether Jewish people "are really people at all."
Trump's transition team released a statement after the footage was published, saying that "Trump has continued to denounce racism of any kind." The statement, however, does not explicitly denounce the actions and words said during the meeting.
Amid a flurry of activity on Monday, Trump found the time to tweet his support of Nigel Farage as potential British ambassador to the U.S. Farage, leader of the U.K. Independence Party, was the first foreign leader to meet with Trump, visiting his gilded Manhattan penthouse a few days after the U.S. election. The British government quickly rejected Trump's suggestion, as British Foreign Secretary Boris Johnson on Tuesday told Parliament there is "no vacancy for that position."
After Trump's suggestion of Farage as ambassador, the hashtag #BetterAmbassadorsThanFarage began trending on Twitter. Users suggested people or objects they believed would be a better ambassador than Farage, including Larry the Downing Street cat; the Monty Python character Mr. Gumby; a single brick; and a Brussels sprout.
Read more from Newsweek.com:
President-elect to release video outlining 'legislative priorities'
Trump recommends Farage for U.K. ambassador to U.S.
TPP: With U.S. out, China is in as trade leader