Trump put U.S. Troops in a 'Very Bad Position' by Politicizing His Iraq visit, Retired General Says
President Donald Trump politicized his visit to troops in Iraq, putting the soldiers in a "very bad position," according to a retired general.
Mark Hertling, who formerly served as a lieutenant general and the commanding general of U.S. Army Europe and the Seventh Army, appeared on CNN on Wednesday to share his perspective on the president's surprise trip to Iraq. Speaking to host Don Lemon, Hertling was highly critical of how Trump handled the troop visit.
"What [presidents] don't do is politicize the event, and unfortunately as we saw some of the commentary by the president today, that's exactly what he did," Hertling pointed out. "It puts the soldiers—truthfully, all of the military personnel—in a very bad position," he added, "because the military has regulations against doing exactly that."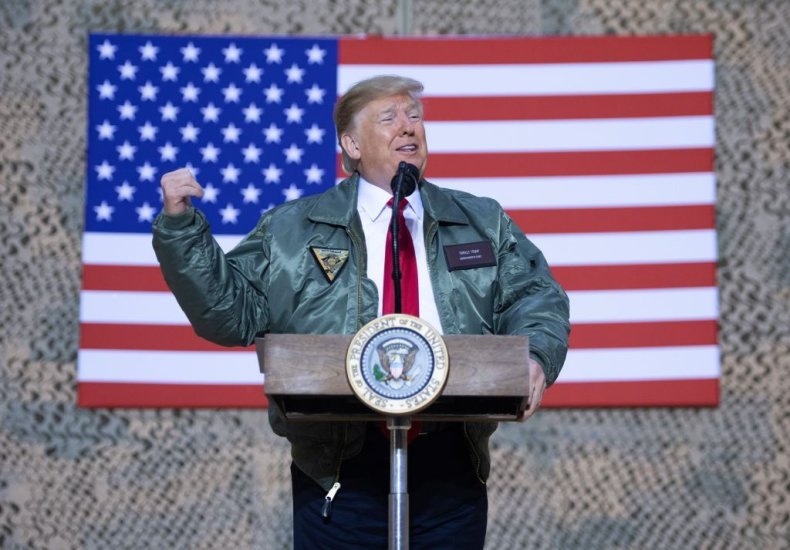 Although Hertling also admitted that presidential visits generally create excitement among U.S. forces, he raised specific concerns about "lies" the president told about military paychecks and the Islamic State (or ISIS).
Trump falsely told service members at Al Asad Air Base that he'd gotten them their first pay raise in 10 years, saying it was more than 10 percent. In reality, service members have received a pay raise every year over the past decade, ranging from 1 to 3.9 percent. The raise for 2019 is just 2.6 percent, or about 0.2 percent more than 2018.
The president also again suggested that ISIS had been defeated in Syria, defending his decision to withdraw 2,000 troops and U.S. military efforts in the country, The Guardian reported. But experts, politicians, allies and some within Trump's own administration have pushed back, pointing out that sizable pockets of the extremist organization still operate there. Many have also raised concerns that the U.S. withdrawal will embolden the group.
Also sharing his perspective with CNN, Retired Major General James "Spider" Marks, said that Trump should have focused solely on the troops. "Make it about them," he said, "don't put the spotlight on you."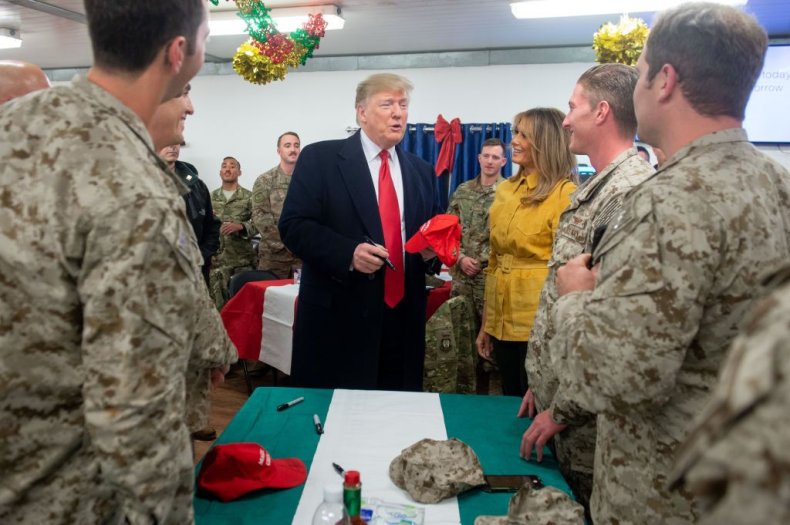 Iraqi lawmakers also took aim at Trump's visit, arguing it was a violation of their country's sovereignty.
Sabah al Saadi, the leader of Iraq's Islah parliamentary bloc, called for an emergency session of parliament to "discuss this blatant violation of Iraq's sovereignty and to stop these aggressive actions by Trump, who should know his limits," Reuters reported. "The U.S. occupation of Iraq is over," he said.
Leaders of the Bina bloc, which stands in opposition to Islah, blasted the president's Iraq trip as well. "Trump's visit is a flagrant and clear violation of diplomatic norms and shows his disdain and hostility in his dealings with the Iraqi government," the political group said.