President Trump Probably Retweeted a Bot and Hasn't Realized Yet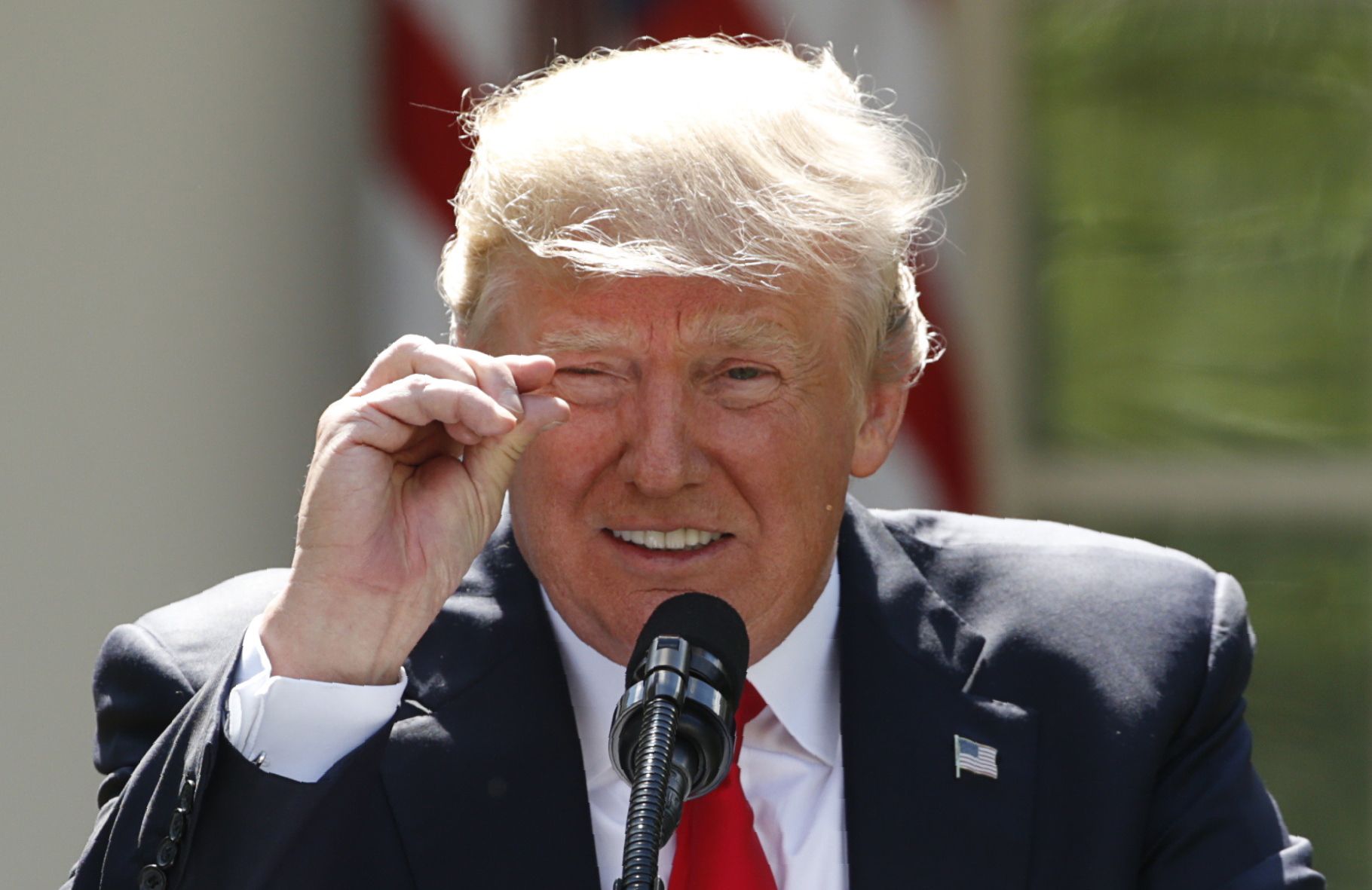 President Donald Trump is staunchly proud of his use of social media.
The 45th president of the United States has defended his habit of tweeting about policy changes and using the platform to throw barbs at foreign rivals as being "modern-day presidential." Trump, who has more than 35 million Twitter followers, has said the medium allows him direct access with the American people without having to pass through the prism of what he dubs the "fake news media."
But perhaps Trump is not the Twitter expert he claims to be. In his haste to share a positive message from a purported supporter on Saturday, he appears to have retweeted a bot, or at the least, a fake account. More than a day later, the message is still up on the president's timeline.
The account retweeted by the president used the handle @protrump45 and was run under the name Nicole Mincey. As of Monday, the account has been suspended. A Twitter spokesperson told Newsweek: "We do not comment on individual accounts for privacy and security reasons." Twitter regularly suspends fake accounts or accounts that have been hacked.
The original tweet showed an image of the president emblazoned with the message "Trump fights for us." The user had shared the image in a reply to Trump that read "Trump working hard for the American people....thanks," followed by emojis of a heart and the U.S. flag.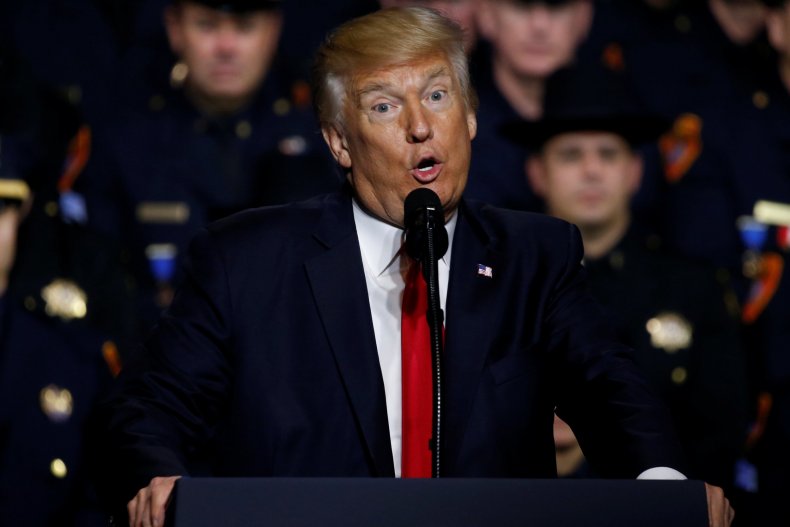 Soon after Trump had shared @protrump45's tweet late on Saturday, other users began to suspect something was awry. A Twitter user with the handle @Rschooley, linked to American screenwriter Bob Schooley, posted a thread that appeared to show that @Protrump45 was a bot account created to share pro-Trump messages. @Protrump45 regularly tweeted messages criticizing the "fake news" of outlets such as CNN or The Washington Post—both of which have been criticized by Trump in the past—and appeared to use a stock image as its profile photo.
Eliot Higgins, a senior fellow at the Atlantic Council's Digital Forensic Research Lab, said the Twitter user appeared to be running an advertising campaign linked to a site selling pro-Trump merchandise.
After Trump retweeted the message, the user @Protrump45 changed its handle to @AlexandriaM0ra. The account also removed the name Nicole Mincey, replacing it with a single period before it was suspended.
The account was linked to a website, protrump45.com, which sells merchandise associated with the Trump campaign, such as T-shirts and hoodies carrying messages like "Make America Great Again!" or "Deplorable Lives Matter." The website also has a blog consisting of a collection of posts celebrating Trump's actions as president and decrying the mainstream media's coverage of him. Many of the posts are written by users with Twitter handles—such as @bryant4trump, @kendra_manii and @mtsaintmarys—that have been suspended by the social media site.
A June 22 blog post says that protrump45.com was created by Nicole Mincey, described as "an african american trump supporter...from Camden NJ and humble beginnings." Mincey is described as an "ex democrat who switched to republicanism due to the failures of the obama administration."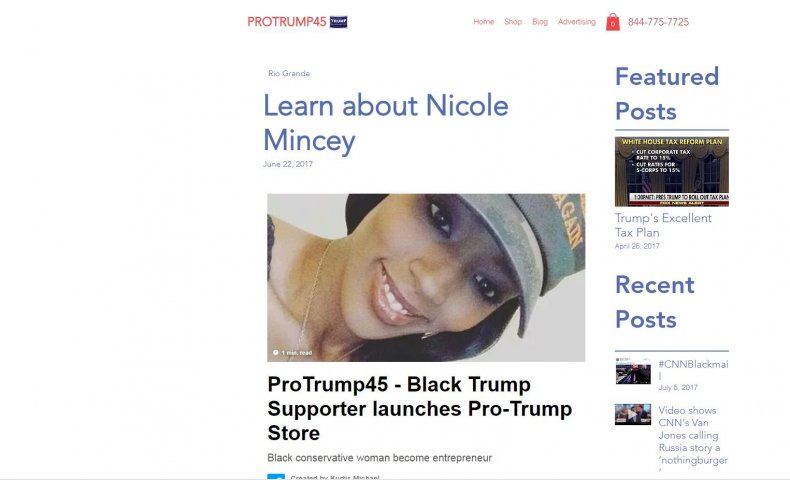 It is not clear yet whether the @Protrump45 account was run by a bot or a real person using it to promote the merchandise. According to Heavy.com, the account was originally created under the name of a New Jersey college student who said her identity had been stolen. The student told Heavy.com that her real name and Facebook account had been used to set up pro-Trump sites and social media accounts under the persona of Nicole Mincey.
A press release announcing the unveiling of ProTrump45 appeared on media networking site Digital Journal on July 4, listing Nicole Mincey as the media contact. Newsweek called the listed contact number and left a message and emailed the listed address, but received no replies.
A significant proportion of Trump's social media following is thought to be bots and fake accounts used to promote the president's agenda. A Newsweek investigation in May found that of the 31 million accounts following Trump at the time, 49 percent (or more than 15 million) were fake.
Cybersecurity experts warned of an uptick in Russia propaganda accounts and fake profiles on social media well in advance of the 2016 U.S. presidential election. Pro-Trump bots and fake accounts are extremely active and have regularly targeted articles published by media outlets, dubbing them fake news while seeking to defend Trump against attacks.
The president regularly uses Twitter to engage with followers and share favorable coverage of his administration. But after jumping into the rabbit hole associated with @Protrump45, Trump may wish he wasn't so "modern-day presidential."