Trump Urges Death Penalty for Drug Dealers: 'China Has No Drug Problem'
Former President Donald Trump says the U.S. should model its response to the illegal narcotics trade on China, where he said accused drug dealers are executed after swift trials.
Trump made the remarks in a speech he delivered in Las Vegas, Nevada, Friday during a rally for his endorsed candidates in the state's gubernatorial and Senate races. The speech was marked by two recurring themes for Trump: a demand for law and order, as well as an admiration for heavy-handed governance.
Addressing what he's characterized as an alarming wave of violent crime, Trump prefaced his praise for China by saying he would either "get a standing ovation" or "people are going to walk out of the room."
"If you look at countries all throughout the world ... the only ones that don't have a drug problem are those that institute the death penalty for drug dealers. They're the only ones, you understand that? China has no drug problem," Trump said to applause.
During his speech, Trump recalled asking Chinese President Xi Jinping if his country had a drug problem. "I innocently and perhaps naively asked [if there was] much of a drug problem in China. Why would you ask? He didn't say this, but I'm saying what he was thinking.
"Why would you have such a dumb question is that no, no, no, we don't have a drug problem. Why would we have a drug problem? There is no problem. Drug dealers get the death penalty. The trial goes very quickly. So instead of coming into China, they go someplace else. We've had big drug problems over the centuries, but we don't have a drug problem at all. Now, they don't deal in China," the former president said.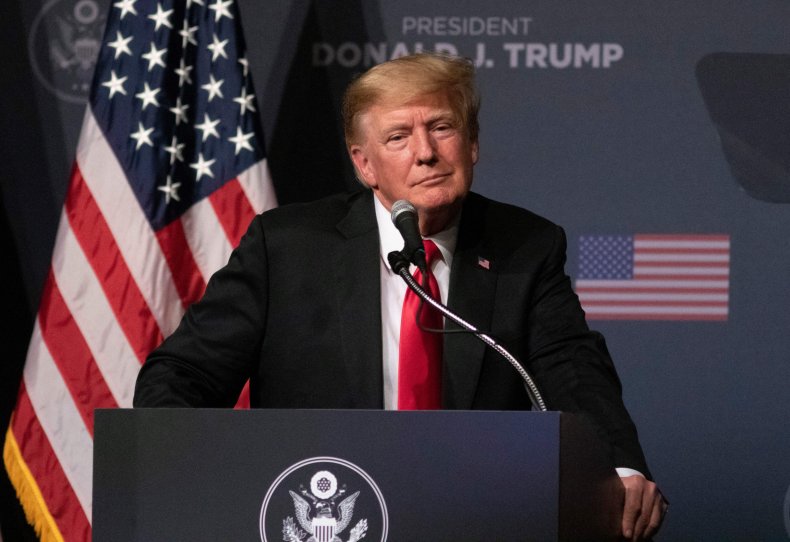 However, there is evidence that China does indeed have a drug problem. The number of drug users in China rose to 2.51 million by the end of 2016, a 6.8 percent year-over-year jump, according to a National Narcotics Control Commission, reported on by Xinhua.
A report from U.S. think tank Brookings Institution found a similar rise in drug use in China. The report noted that in China, "drug addiction does not receive much public sympathy or priority in government funding."
Ruled by the authoritarian Communist Party, Chinese authorities have openly sentenced suspected drug dealers to death. In 2009, China caused diplomatic uproar by executing Akmal Shaikh, a mentally ill British citizen, for smuggling more than 8 pounds of heroin into the country.
A United Nations human rights agency concluded in a 2015 report that using the death penalty for drug-related offenses doesn't meet international standards. The report notes that authorities can use drug laws to single out marginalized communities.
Yet, at least 131 people were executed for drug crimes in 2021, a more than threefold increase from the previous year, according to a report from advocacy group Harm Reduction International. The report states that 35 countries use the death penalty for drug offenses, particularly authoritarian countries including Iran, Vietnam, North Korea and China.
Amnesty International noted in its 2021 report on executions that China and Vietnam keep data on the death penalty secret. The Congressional-Executive Commission on China has also noted that China lacks an independent judiciary.
Previously, Trump has praised China's strict approach to drug crimes, once in a 2020 meeting with U.S. governors. A year earlier, he said he was "excited" about China sentencing fentanyl dealers to death.
Newsweek has reached out to Trump for comment.