Trump 'Vicious Animal' Who 'Poisoned Democracy': Ex-GOP Sen. Alan Simpson
Alan Simpson, a former Republican senator from Wyoming, had harsh words for former President Donald Trump and his impact on American democracy, according to a new book.
Simpson served in the United States Senate from 1979 to 1997, during which time he also served as a whip for the Republican Senate from 1985 till the end of his tenure under the leadership of Bob Dole. Now 90 years old, his new comments about Trump emerged in the recently released book, Thank You for Your Servitude: Donald Trump's Washington and the Price of Submission, by Mark Leibovich, who is a staff writer for The Atlantic.
Deriding Trump as a "vicious animal," Simpson accused him of "poisoning democracy" in the U.S. and turning the Republican Party into a "cult," according to Insider. He furthermore insisted that he would not endorse him as a presidential candidate if he runs again in 2024, having voted for him in 2016, but opting not to in 2020.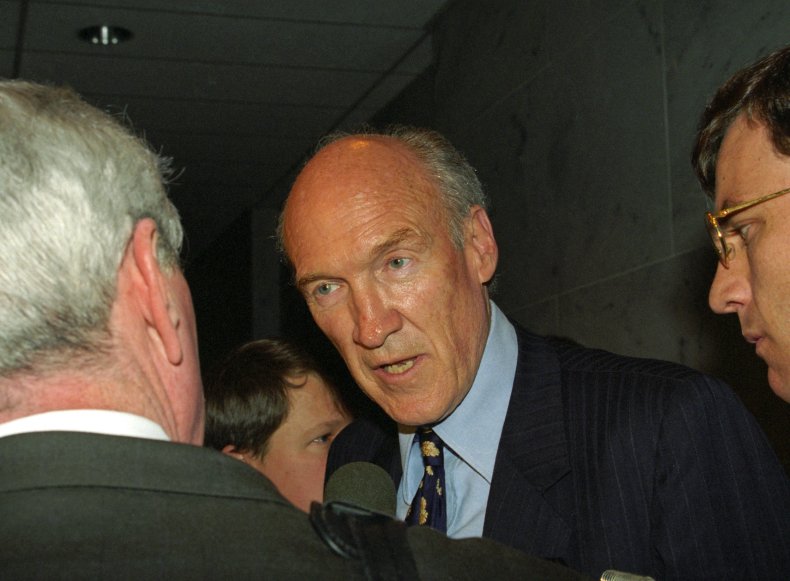 "We're not really talking about common sense or even politics anymore in my party," Simpson is quoted saying in the book. "...This is not a Republican Party anymore. It's a cult."
Outside of the new quote, Simpson has frequently aligned himself against the Trump wing of the Republican Party in his recent public actions. Recently, he appeared in a campaign ad for current Wyoming Representative Liz Cheney, who is one of the most prominent GOP critics of Trump and is currently facing stiff reelection odds against a Trump-backed primary opponent in this year's midterms. Simpson, a longtime friend of her father, former Vice President Dick Cheney, also endorsed her in the 2016 election in which she was first elected to office.
Simpson has also spoken out in defense of Cheney as she faced fierce party backlash for her opposition to Trump, which included being censured by the Republican National Committee (RNC), and being unrecognized as a member of the Wyoming Republican Party.
"She's not after Trump or hating Trump, she is stating what is obvious to many Americans: That this is a wrecking ball of democracy," Simpson said in a June interview with NBC News. "This guy is so full of himself that he would overturn every kind of rule of law or Constitutional process because of his own ego, which is twisted."
Simpson also has a notable history of recognition and collaboration with Democratic presidents. In 2010, former President Barack Obama named him co-chair of the National Commission on Fiscal Responsibility and Reform. On July 1, he was among the individuals chosen by President Joe Biden to receive the Presidential Medal of Freedom.
Newsweek reached out to Trump's office for comment.