Donald Trump Repeats 'Spy' Attack on Ukraine Whistleblower at Campaign Rally: 'We Have To Know This'
Donald Trump repeated his suggestion that the Ukraine scandal whistleblower is a "spy" in front of thousands of supporters at a campaign rally last night.
The president attempted to discredit the whistleblower's accusations and demanded that their identity be revealed during his stump speech at the American Airlines Center in Dallas, Texas.
He also raised questions about Intelligence Community Inspector General Michael Atkinson, who is investigating the first whistleblower complaint and reportedly interviewed a second whistleblower earlier this month.
It was revealed last month that the first whistleblower alleged that President Trump tried to pressure Ukrainian President Volodymyr Zelenskiy into investigating his political opponent Joe Biden in a July phone call.
A transcript of the phone call was released by the White House after House Speaker Nancy Pelosi announced that the Democrat-led House was opening an impeachment inquiry into the president.
At his Dallas campaign rally, Trump wrongly told supporters that the initial whistleblower "got it all wrong"—despite the fact the White House's own transcript of the call with Zelenskiy shows Trump did urge the Ukrainian President to investigate Joe Biden.
Speaking to his Dallas crowd, Trump said: "What about the whistleblower? The whistleblower got it all wrong. Who's the whistleblower?"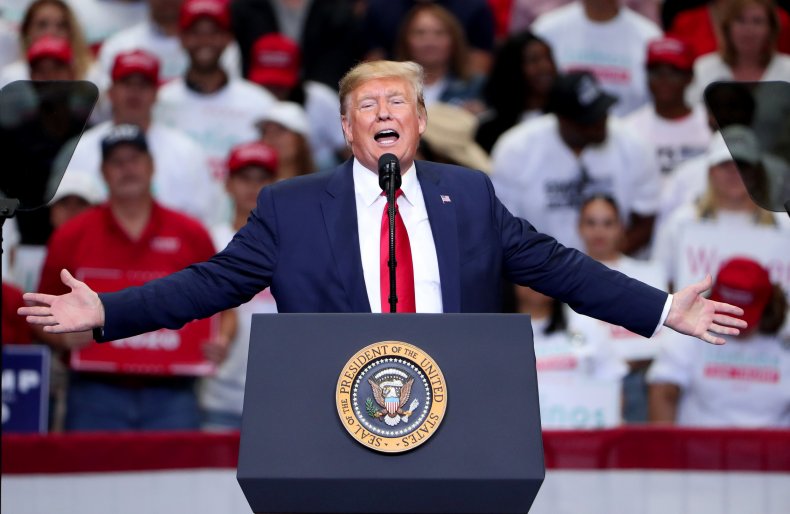 After repeatedly asking who the whistleblower was, the president added: "We have to know this. Is the whistleblower a spy?
"And who is the IG [inspector general] who did this? All he had to do was look at the tape or look at...the transcribed version of the phone call.
"Compare that to the whistleblower's account, and you see that it had nothing to do with it. So why does the IG allow a thing like this to happen to our country?"
It is not the first time this week that Trump has demanded that the anonymous whistleblower be identified. On Monday, he tweeted that the whistleblower "must testify to explain why he got my Ukraine conversation sooo wrong," and asked whether House Intelligence Committee Chairman Adam Schiff "told him to do that."
The president's latest attack on the Ukraine whistleblower came on the same day his own acting chief of staff, Mick Mulvaney, shot down an argument made by Trump and other Republicans that there was "no quid pro quo" in the Ukraine scandal.
Mulvaney told reporters at the White House that military aid to the country was withheld to pressure Ukraine into investigating a conspiracy theory that the Democratic National Committee hack in 2016 originated from there and not Russia.
A recent poll by Fox News found that a majority of Americans wanted to see Trump impeached and removed from the White House.