Trump, Who Refused to Disavow QAnon, Accepted $1 M Donation from Supporters of the Conspiracy
Two believers in QAnon, the widespread conspiracy theory that Republican President Donald Trump refused to disavow during his Thursday night Miami town hall, have reportedly given Trump over $1 million in donations.
Recently released campaign finance disclosures show that Caryn and Michael Borland, a couple who regularly share QAnon posts on social media, donated $1.03 million to Trump in late August. Their son also donated $508,000 to Trump around the same time, according to the Associated Press.
The couple had intended to host a September 14 fundraiser for Republican Vice President Mike Pence in Montana, but he and three other Republicans running for office in the state canceled after the press revealed the hosts' beliefs in the conspiracy theory.
QAnon believers think that Trump is waging a secret war against Democrats who oversee an international child trafficking ring involving cannibalism and Satanic worship. QAnon has also been linked to death threats and murders, and was listed by the FBI as a domestic terror threat in August 2019.
At Thursday's Miami town hall, moderator Savannah Guthrie asked Trump, "Can you just once and for all state that that is completely not true and disavow QAnon in its entirety?"
"I know nothing about QAnon," Trump said. "I know nothing about it. I do know they are very much against pedophilia, they fight it very hard, but I know nothing about them."
After Guthrie briefly described the group's beliefs, Trump told her that she didn't know what she was talking about.
QAnon believers are regular fixtures at Trump rallies and right-wing protests. At least 11 Republican congressional candidates up for election in 2020 have publicly espoused a belief in the conspiracy theory, according to Axios.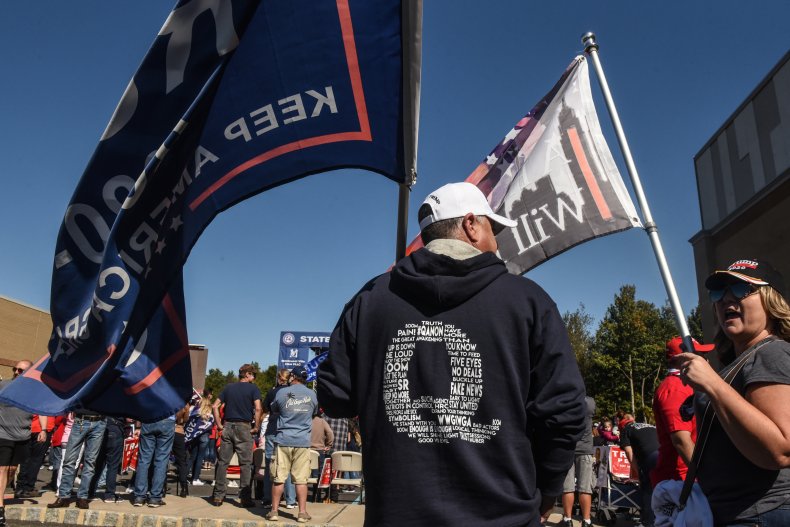 QAnon believers have also issued death threats to Democratic politicians.
In early September, Democratic Minnesota Representative Ilhan Omar, a Muslim woman of color, received death threats after a QAnon-believing Republican congressional candidate in Georgia, Marjorie Taylor Greene, posted a campaign poster of herself holding a rifle and standing next to Omar and several other Democratic female politicians of color.
In early August, QAnon supporters also sent death threats to gay, Jewish Democratic California State Senator Scott Wiener after he introduced legislation to reform the state's sex offender registry. One threat read, "You're dead. Dead. Dead. Dead. I'll publicly execute you. I'm gonna embarrass you. Pedophile."
The watchdog group Media Matters, noted that as of October 15, Trump has promoted posts from QAnon social media accounts at least 258 times from around 150 different accounts to his 87.2 million followers.
QAnon believers have also committed at least two murders, a child kidnapping, set one California wildfire blaze, plotted to assassinate Joe Biden and threatened to shoot up a gay-owned pizzeria in Washington D.C. according to journalist David H. Freedman.
Newsweek contacted the Trump campaign for comment.