Trump to Unveil Supreme Court Nominee 'Sometime Next Week'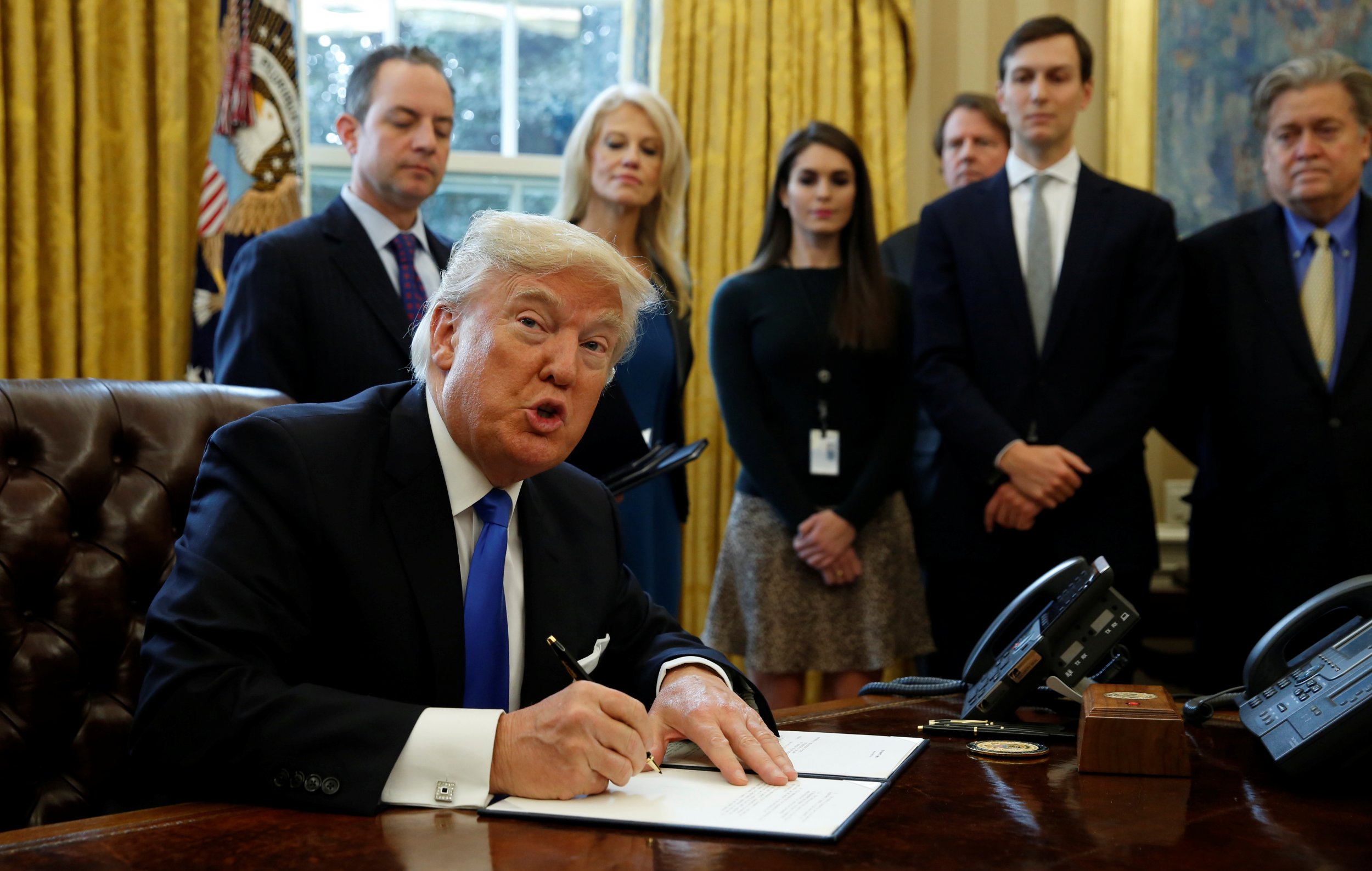 President Donald Trump says he will announce his choice to fill the vacancy on the U.S. Supreme Court "sometime next week." He is scheduled to meet with Senate leaders on Tuesday afternoon to discuss the seat, which has been open for nearly a year following the February 13, 2016, death of Justice Antonin Scalia.
Related: A profile of William Pryor, Trump's possible SCOTUS nominee
"I'll be making my decision this week, will be announcing next week," Trump told reporters Tuesday morning, after he signed executive actions to advance the construction of the Keystone XL and Dakota Access oil pipelines. "We have outstanding candidates, and we will pick a truly great Supreme Court justice."
While speaking on the Senate floor on Tuesday morning, Majority Leader Mitch McConnell said Trump invited him, along with Minority Leader Chuck Schumer and Senators Chuck Grassley (R-Iowa) and Dianne Feinstein (D-Calif.) to the White House to start a discussion about who should fill the seat, "as part of his ongoing consultations with members of the Senate." Grassley and Feinstein are top members on the Judiciary Committee.
Trump's supporters are counting on him to choose a staunch conservative, much like Scalia. Schumer has vowed to confirm Trump's nominee only if he or she appeals to both Republicans and Democrats. Otherwise, Schumer says, he will hold open the vacant seat, as the GOP did in reaction to Barack Obama's pick.
Since last February, top Republicans have refused to hold a hearing on Obama's choice, federal appeals court Judge Merrick Garland. They argued that the seat shouldn't be filled during an election year. As a candidate, Trump was among the outspoken Republicans who said the next president should nominate the justice. The nine-justice court currently is evenly divided between four conservative and four liberal justices.
As president, Trump is also expected to nominate hundreds of federal judges and potentially other Supreme Court justices, as three of the sitting justices are in their late 70s and early 80s.
Trump's comment on Tuesday morning came a day after Press Secretary Sean Spicer told reporters on Monday that Americans should have an update on his nominee "in the next week or so."
Ahead of the election, Trump released the names of 21 potential picks, and he promises to draw only from that group to replace Scalia. Since Trump won the election, his team reportedly has narrowed down that list to just a handful of finalists. Trump met with 11th U.S. Circuit Court of Appeals Judge William Pryor two weeks ago during the transition process ahead of his inauguration, the Associated Press reported. In the past, he has said Pryor and Diane Sykes, of the 7th Circuit, are two of his favorites.
Tuesday's meeting will be held in the Roosevelt Room at the White House.