White House's Sean Spicer Accuses Press of Undercutting President Trump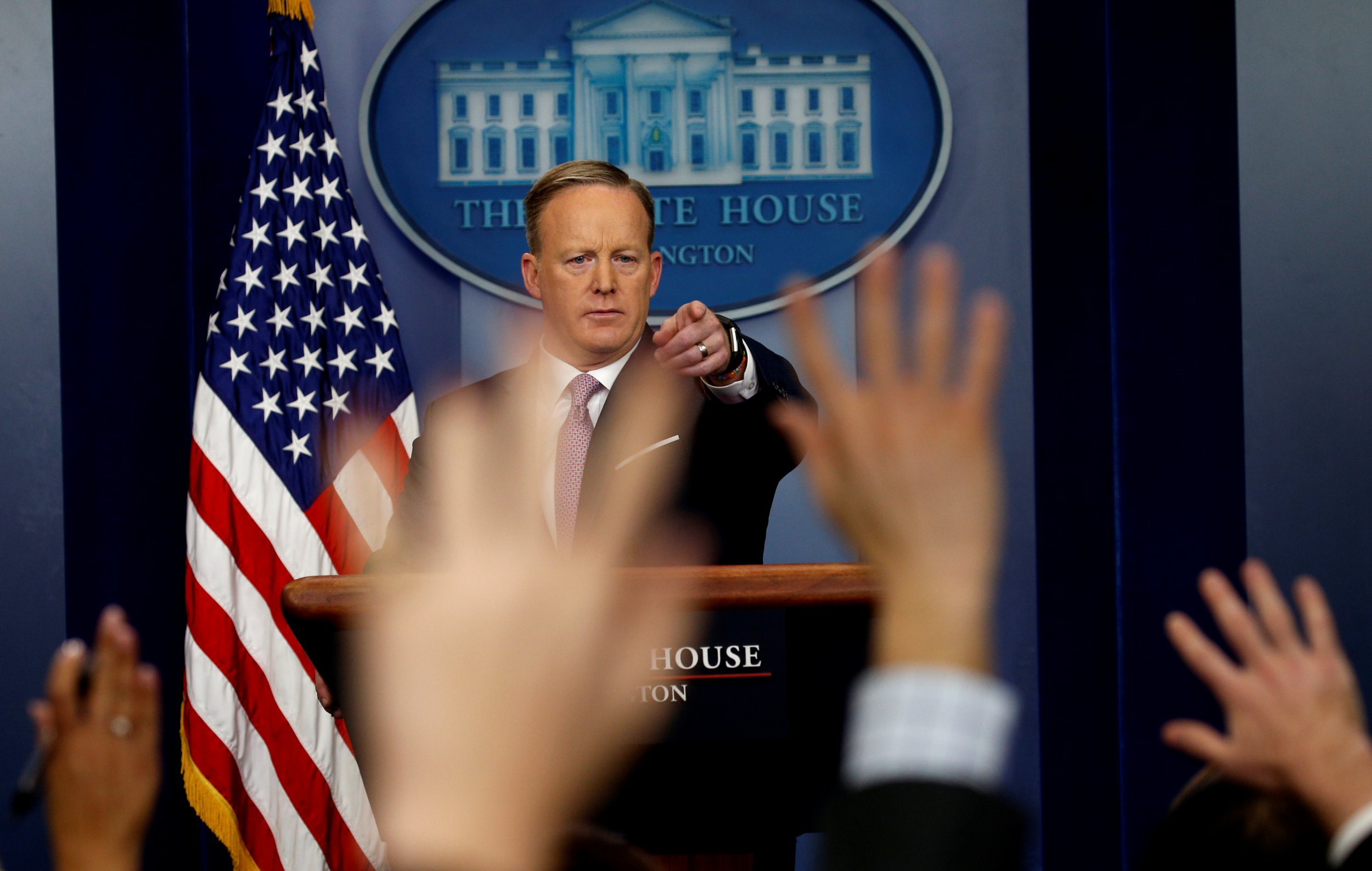 The White House press secretary on Monday maintained that he wants to ensure a "healthy and open dialogue" with the press corps, in his first full news conference at the start of President Donald Trump's first full week in office.
Related: White House accuses media of lying about Trump crowd size
Both Sean Spicer and members of the press used the robust 80-minute event to start defining their roles in the new administration. It was Spicer's first time facing reporters since Saturday, when he came under fire for blasting the media for what he said was inaccurate reporting about the crowd size at Trump's inauguration. Trump adviser Kellyanne Conway later defended Spicer, saying on Sunday's Meet the Press that his statement was an attempt to offer "alternative facts" about the supporters who gathered in Washington for the 45th president's swearing-in ceremony on Friday.
On Monday, Spicer used his first minutes in the James S. Brady Press Briefing Room to make light of the situation, saying he had emailed his predecessor, Josh Earnest. "I shot Josh an email last night letting him know that he can rest easy that his title is secure for at least the next few days," Spicer said, to a few laughs from the press corps.
It didn't take long for several reporters to question the new press secretary about the statement he made on Saturday. He said he believes the administration must be honest with Americans, but there are times when mistakes may be made—as, he noted, also happens in the media. "Sometimes we can disagree with the facts," he said. "But our intention is never to lie to you."
He also defended his statement by saying Trump's ceremony "was the largest watched inauguration ever," both in person and around the globe, be it through streaming services online, on TV or via social media. "It's unquestionable," he added. At least one reporter thought he had been referring just to the number of people attending the inauguration; various news outlets published side-by-side photos of Trump's inauguration and former President Barack Obama's in 2009, which clearly appear to show more people on the National Mall eight years ago.
Spicer again criticized Democrats for holding up what he called Trump's "unquestionably qualified" nominees who await Senate confirmation. He similarly defended the racial makeup of Trump's Cabinet choices, during a briefing on the eve of Trump's inauguration last Thursday.
During most of his public addresses since his swearing-in, Trump has reminded Americans about his election win and thanked supporters in his crowds for voting for him. Spicer, meanwhile, criticized the media for what he called rushing to judgment during the Trump campaign—for saying that he wouldn't run for president, or that he couldn't become the GOP nominee or win Pennsylvania or Michigan, among other things. Trump, he said, "has gone out there and defied the odds over and over and over again."
"There is this constant theme to undercut the enormous support that he has," Spicer said about his boss. "I think it's just unbelievably frustrating."
Reporters also questioned Spicer on a wide range of other topics, including talks of moving the U.S. embassy in Israel to Jerusalem, and when the White House's Spanish website will be working again. As planned, the new administration archived all Obama-specific content on the White House website almost simultaneously with Trump's inauguration.
Spicer told reporters the administration later this week will designate four seats in the briefing room for journalists who live outside of D.C., to allow those reporters a chance to Skype into the press briefings.
Also on Monday, a watchdog group sued Trump for illegally accepting payments from foreign governments, and the Senate was on track to vote on the confirmation of Rex Tillerson as Trump's secretary of state, after Florida Senator Marco Rubio changed his view and said he will vote for the former chief executive officer of U.S. oil giant Exxon Mobil. This all comes in the wake of Saturday's women's marches, in which millions of women took to the streets on all seven continents to speak out against some of the promises made by the Trump administration.
In his first meeting with a foreign head of state, Trump will host British Prime Minister Theresa May at the White House on Friday.