Trump's Alleged Abuses Of Power Make 2019 One of the Most Corrupt Years In History, Former Federal Prosecutor Says
Former federal corruption prosecutor Noah Bookbinder penned a stinging editorial for USA Today, arguing that 2019 has been one of the most "corrupt" years in U.S. history due to the actions of President Donald Trump and his administration.
Bookbinder, who is currently the executive director of Citizens for Responsibility and Ethics in Washington, laid out a series of Trump's controversial actions from the past year, alleging that the president behaved unethically, obstructed justice, disregarded the Constitution and attempted to use his office to enrich himself. He also took aim at key members of the president's administration, such as White House counselor Kellyanne Conway.
"The events of 2019, a dizzying year that serves as a microcosm of this ethically challenged administration, show the path to impeachment was paved with ethics lapses, scandals and apparent lawbreaking," Bookbinder wrote in the editorial published on Monday.
The CREW executive director highlighted Trump's documented efforts to obstruct special counsel Robert Mueller's investigation into the Trump's presidential campaign and Russian election interference, the president's payments to his former lawyer Michael Cohen – who is now serving time in federal prison – to pay off an adult film star who claimed she had sex with Trump, the White House efforts to stonewall the Democratic-led impeachment inquiry, the president's since withdrawn decision to hold the next G-7 summit at his Doral resort and Trump's pressure campaign toward Ukraine to announce investigations that could damage his political rivals.
Bookbinder also noted that administration officials, such as Conway, had acted in an unethical manner. The White House counselor reportedly violated the Hatch Act more than 50 times on Twitter over the past year, which led to the Office of Special Counsel recommending she be fired in June. The Hatch Act prohibits most executive branch officials from engaging in political activity, but multiple members of Trump's administration have allegedly disregarded the law.
"The president has conducted himself as if he were above the law since he was sworn in. His actions have become more egregious over time, making the past year one of the most scandal-ridden and corrupt in our country's history," Bookbinder argued. However, he noted that other branches of the government and the American people "are refusing to roll over for this behavior and for the pattern of misconduct that led us to this point."
Trump became only the third president in U.S. history to be impeached by the House of Representatives this month. The vote passed largely along party lines, with Democrats harshly criticizing the president while Republicans defended him against the inquiry. While some polls have shown that 50 percent or more of Americans supported the president's impeachment, Trump is finishing out 2019 with his highest approval rating compared to the end of the previous two years of his presidency.
According to Gallup, 45 percent of Americans approve of the job the president is doing. Additionally, a Gallup survey found that Trump is now tied with former President Barack Obama as the most admired man in the country. Both leaders were named by 18 percent of respondents, although Obama was mostly admired by Democrats, while Trump was mostly admired by Republicans.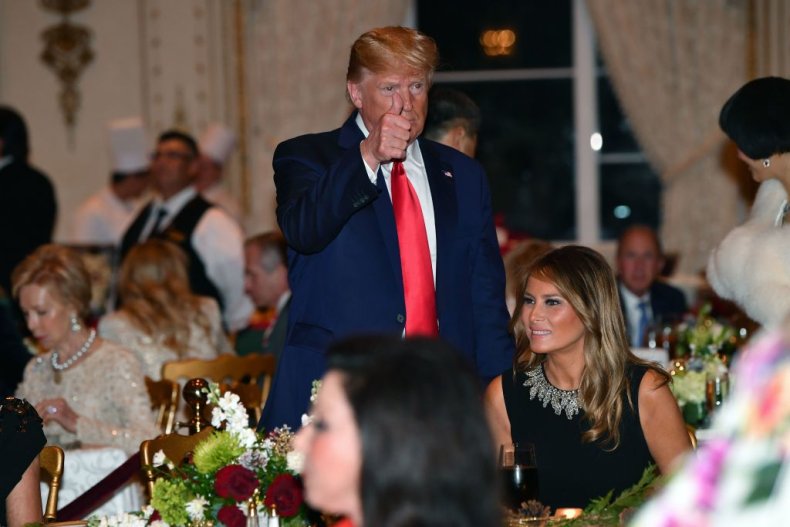 The president and his supporters have dismissed criticism of Trump and his administration as purely "partisan" in nature. Republicans have largely continued to support him, despite numerous scandals. However, many former and current Republicans have harshly criticized the president and supported his impeachment.
Attorney George Conway, who is married to Kellyanne Conway and became an Independent in 2018 after previously identifying as a Republican, has become one of the president's most ardent critics on Twitter. On an almost daily basis, he lobs mockery and criticism at the White House.
The group Republicans for the Rule of Law has also launched a series of ad campaigns criticizing the Trump administration and asking that they cooperate with congressional investigations. The conservative group has also targeted GOP lawmakers, demanding that they hold the president accountable for his actions. In September, former GOP Senator Jeff Flake of Arizona wrote an op-ed for The Washington Post, saying "the president's actions warrant impeachment."
Many other critics have warned that the current administration is corrupt. Senator Bernie Sanders of Vermont, who is currently campaigning as a Democratic presidential candidate, has repeatedly slammed Trump, dubbing him "the most corrupt president in our modern history."