Trump's Attorney Finally Gets Win Amid String of Embarrassments
Despite being admonished by several judges across the nation, former President Donald Trump's legal team scored a win in Wisconsin after a liberal-leaning state Supreme Court justice was warned to "avoid sarcasm" for remarks she directed toward a Trump attorney.
A judicial complaint released over the weekend revealed that state Supreme Court Justice Jill Karofsky was scolded by a state judicial oversight panel after a retired Maryland attorney filed a complaint accusing Karofsky of being hostile to Trump lawyer Jim Troupis during the former president's lawsuit to throw out more than 100,000 votes cast in Wisconsin.
In a letter dated November 17—published by the Associated Press on Saturday—the commission told Karofsky: "Regardless of the nature of the case being addressed by the court, a judicial official should take special care and remain mindful of their role in proceedings as a neutral and detached magistrate, as opposed to an advocate, and avoid sarcasm when making statements from the bench, given their obligations under [the state code of judicial conduct]."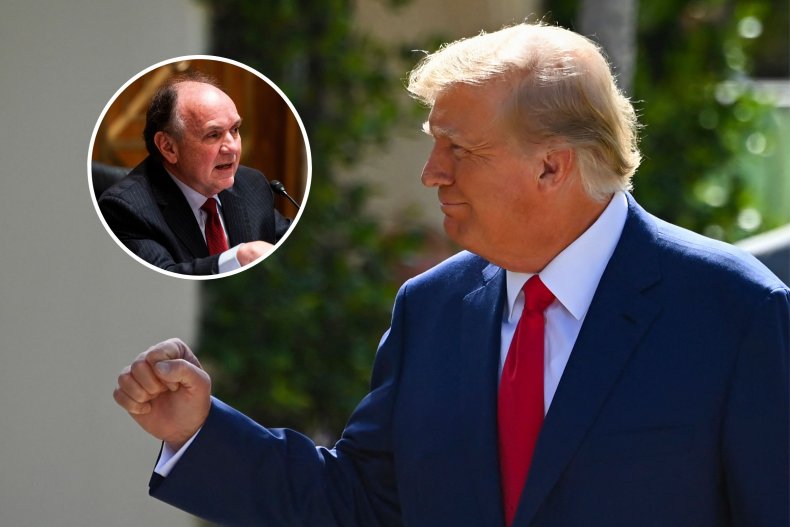 While the nine-member panel reminded Karofsky to act "in a manner that promotes public confidence in the integrity and impartiality of the judiciary," the commission dismissed the complaint against her.
The complaint was made in January 2021 after Karofsky told Troupis during December 12, 2022, oral arguments: "You want us to overturn this election so that your king can stay in power, and that is so un-American."
Despite the warning she received from the oversight panel, Karofsky has stood by her comments. On Saturday, she said she released the judicial complaint records, waiving her right to confidentiality, so that "this campaign of harassment facing me and other public officials across the country, simply for standing up for the rule of law and for our democracy, must stop."
Her attorney also accused the commission of allowing itself to be intimidated by "partisan actors" who wanted to "hijack the disciplinary system," in an effort to silence Karofsky.
The release of the complaint comes amid a flurry of embarrassing court moments for Trump's legal team.
This month, a New York judge chastised Trump's lawyers for filling thousands of unnecessary pages while arguing that the Trump Organization's case against state Attorney General Letitia James' lawsuit, telling the defense: "I don't know how many countless pages—if I was good at math I would have been an accountant—were wasted."
"In my 35 years practicing law, I have never, never...seen a pleading with such excess verbiage as the 300-page-or-so answers of the 15-or-so answers to the complaint," New York Supreme Court Justice Arthur Engoron said in response to a 306-page filing.
Then in Florida, Trump and his lead attorney, Alina Habba, were sanctioned nearly a million dollars in January for allegedly abusing the courts to "dishonestly advance a political narrative" in his "frivolous" lawsuit against Hillary Clinton. Under the order from District Court Judge Donald Middlebrooks, the two are "jointly and severally liable for $9377,989.39" on top of the $50,000 fine he issued in November.
Newsweek reached out to Trump's 2024 presidential campaign team for comment.