Trump's Classified-Docs Scandal Demands DOJ Probe: Legal Experts
Legal experts argued that the Department of Justice should take action against former President Donald Trump and investigate him regarding allegations that he took classified documents with him to Mar-a-Lago in Florida when he departed the White House last year.
The National Archives and Records Administration (NARA) confirmed Friday that classified national security documents were among the records included in 15 boxes taken by Trump when he left office. The records were transported back to the archives after they were sought by the National Archives last month.
"NARA has identified items marked as classified national security information within the boxes," archivist David Ferriero wrote in a letter to the House Oversight Committee. "Because NARA identified classified information in the boxes, NARA staff has been in communication with the Department of Justice."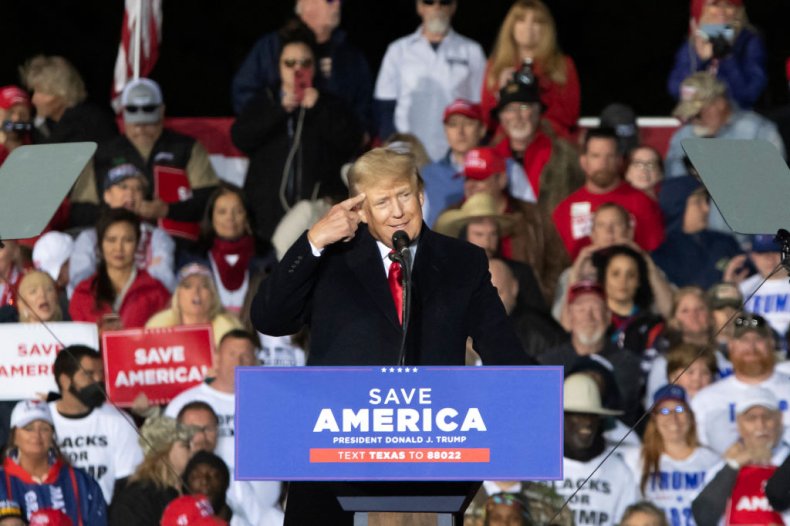 A number of legal experts as well as former federal law enforcement officials quickly weighed in, urging the Justice Department to take the matter seriously.
"Trump should be held to at least the standard for criminal conduct he set for Hillary Clinton. And the FBI should investigate just as vigorously," Joyce White Vance, a professor of practice of law at the University of Alabama, who previously served as the U.S. attorney for the Northern District of Alabama, tweeted.
Clinton was investigated during her 2016 presidential campaign against Trump over her use of a private server she used for emails during her tenure as secretary of state. The FBI determined that classified emails were on the server, and criticized her conduct, but did not press any criminal charges.
"DOJ, this ball is in your court," former FBI Assistant Director Frank Figliuzzi tweeted. He shared a link to The New York Times reporting on the NARA letter confirming Trump had taken classified national security documents.
"The discovery of classified material in 15 boxes illegally taken by Trump should supply probable cause for the issuance of search warrants of Trump's homes/offices for other public records. Of course, that would require @TheJusticeDept to actually do something aggressive," Richard Signorelli, a former assistant U.S. attorney for the Southern District of New York, tweeted.
Shanlon Wu, a former federal prosecutor, told CNN that it would be a "normal process" for the Justice Department to open an investigation. He distinguished the difference between investigating and actually charging the former president with a crime, saying it would be "a dereliction of duty not to investigate."
"It's such an obvious potential violation," he explained.
Asha Rangappa, a former FBI special agent, pointed out why Trump having classified documents could be a significant security risk.
"The fact that Trump had classified documents at Mar-a-Lago is not just a speculative security concern. They were not secured in a SCIF. And foreign spies have *literally* attempted to infiltrate that location before," Rangappa tweeted.
The New York Times first reported earlier this month that Trump had taken classified documents when he departed the White House. Then The Washington Post reported that there were "top secret" documents included in the boxes. The NARA letter on Friday confirmed that there were classified national security documents in the boxes returned by the former president.
Trump released a lengthy statement on Friday, dismissing the scandal as an "ordinary and routine process."
"The National Archives did not 'find' anything, they were given, upon request, Presidential Records in an ordinary and routine process to ensure the preservation of my legacy and in accordance with the Presidential Records Act," the former president said through his spokesperson Liz Harrington.
"If this was anyone but 'Trump,' there would be no story here," he added. "Instead, the Democrats are in search of their next Scam."
Newsweek reached out to Trump's press office for further comment.