Trump's Ex Lawyer Fires Shots at Kari Lake Over 'Lackluster' CPAC Showing
A former lawyer for Donald Trump has hit out at failed Arizona governor candidate Kari Lake, branding her appearance at the Conservative Political Action Conference convention as "lackluster."
Lake praised Ronald Reagan, her ally Steve Bannon and Trump during her speech at National Harbor, Maryland.
But conservative lawyer Jenna Ellis was highly critical of both Lake and her speech and let her views be known on social media.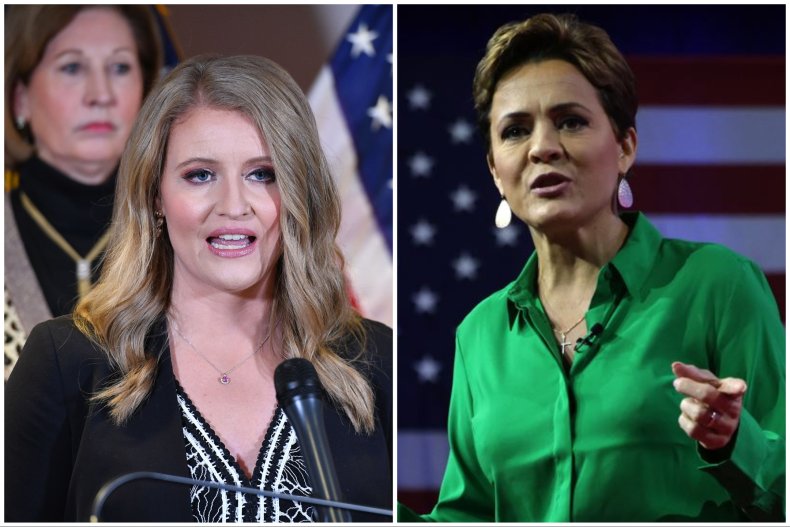 In a March 4 tweet, Ellis posted: "'I stand with JFK (John F. Kennedy), Ronald Reagan, Steve Bannon, and Donald Trump.' Kari Lake's keynote speech is… Lackluster and cringe. Barely any applause."
Ellis, who has more than 953,000 Twitter followers, added: "Sorry not sorry people are so offended by this tweet, including Kari's own 'war room.' It's just true. Honestly, I expected a much better speech from her, because her best asset is media presence."
Lake, who was endorsed by Trump, lost her race to become Arizona governor to Democrat Katie Hobbs by an estimated 17,000 votes.
The former news anchor then claimed that voting irregularities cost her the election and has continued to dispute the final result.
She has claimed there was electoral malpractice, something rejected by Maricopa County judge Peter Thompson following a two-day trial in January.
In February, Lake said she would take her election lawsuit to the Supreme Court—something Ellis also criticized.
Ellis said in a Twitter response: "I endorsed Kari for governor. She isn't a candidate now. She's fundraising off lawfare that will not prevail."
In a separate response to the Kari Lake War Room, Ellis said: "She (Lake) hasn't and won't win any of her lawsuits. It's just fundraising at this point (i.e. grifting).
"I was one of the first that endorsed her and supported her as a candidate, but this will set back the conservative movement for election integrity."
Ellis has previously supported the Supreme Court's decision to dismiss a case aiming to reinstate Trump.
Following his election defeat in November 2020, the former president has made unfounded claims that Democrat Joe Biden won thanks to widespread voter fraud.
In February, Ellis reacted to the outcome that the case, brought by the Brunson brothers of Utah, would be dismissed for a second time. The first denial came on January 9, and the Court also denied the appeal attempt.
She previously told Newsweek the case was "predictably denied." She also tweeted an article about the decision, saying it was the "right call."
Newsweek has contacted Kari Lake for comment.