Donald Trump's Staff Wept Amid 'Funeral' Comparisons at Farewell Event, Hogan Gidley Says
A Donald Trump official wept during his departure ceremony which some present compared to a "funeral," a former White House staffer who attended has said.
Former deputy press secretary Hogan Gidley revealed how one attendee remarked that the ceremony "felt like it was a funeral," while another said "the country died."
Gidley served as press secretary until June of last year and went on to become the press secretary for Trump's re-election campaign. He was among those who attended the event at Maryland's Joint Base Andrews on Wednesday morning.
Speaking on the latest episode of Showtime's The Circus, which aired on Sunday, Gidley recalled conversations he had with others during the event.
"There were a lot of people crying, of course," he told interviewer Alex Wagner.
"I felt one person next to me commented, they felt like it was a funeral. In a way they were at a funeral. A person said, 'In many ways, the country died.'"
Several hundred supporters, including the then-first family and other officials, gathered to hear Trump's final remarks as president.
He began by telling supporters he loved them "from the bottom of my heart" and thanking family members—three of whom serve as his official advisers, which is not typical among first families.
People started crying at that point, Gridley said.
"It was when the president started speaking," he said, "A girl I know that worked with in the White House who all day was like, 'I'm going to be fine. It's all OK, this is how it should be. Everything is fine.'
"As soon as he start speaking, I looked out—tears were pouring out from her glasses, and she said, 'I'm not fine, I'm not fine, I'm not fine.'"
The former president's eldest son Donald Trump Jr., his fiancée Kimberly Guilfoyle, daughter Ivanka Trump, her husband Jared Kushner—who all served as official advisers—attended the ceremony.
They were joined by Trump's youngest daughter, Tiffany, and other Trump family members, including the grandchildren, in a reserved section next to the stage.
Photographs from the ceremony appeared to show Ivanka fighting back tears during her father's speech.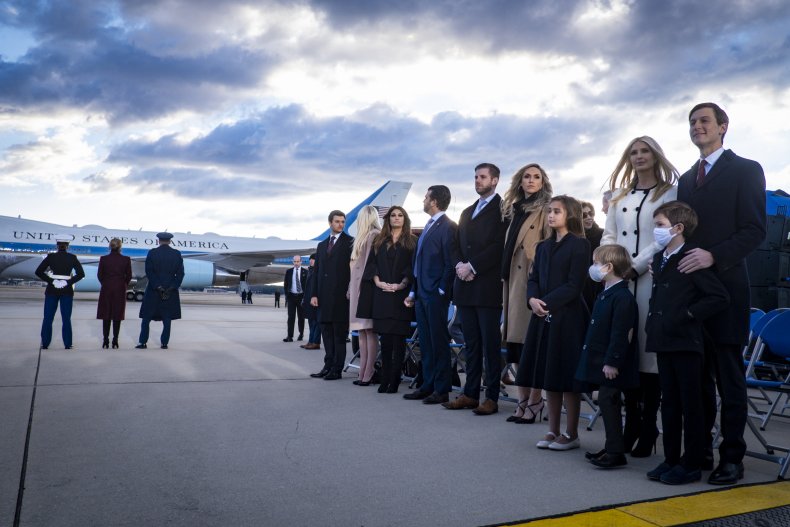 Earlier this month, Gidley called Donald Trump "the most masculine person I think to ever hold the White House is the president of the United States."
The comment was criticized by CNN host Don Lemon, who called it "pathetic" and suggested Trump was the "biggest snowflake" of them all—using a term conservatives have often used for someone deemed overly sensitive.
However, Gidley appeared to double-down on the comments on Sunday, telling The Circus: "The GOP of the 'loveable loser' I think is over," he said.
"I think the self-loathing Republican is not going to have a place in the party, I think, for quite some time."
Asked about the storming of the U.S. Capitol building earlier this month, Gidley said the riot may have been "a black-eye" on the Trump administration's record, but that he did not know if Trump had any regrets.
Trump has been impeached over his alleged incitement of the mob, and is set to face a Senate trial next month.