Trump's Recently Launched TRUTH Social Under Fire for 'Censoring' Members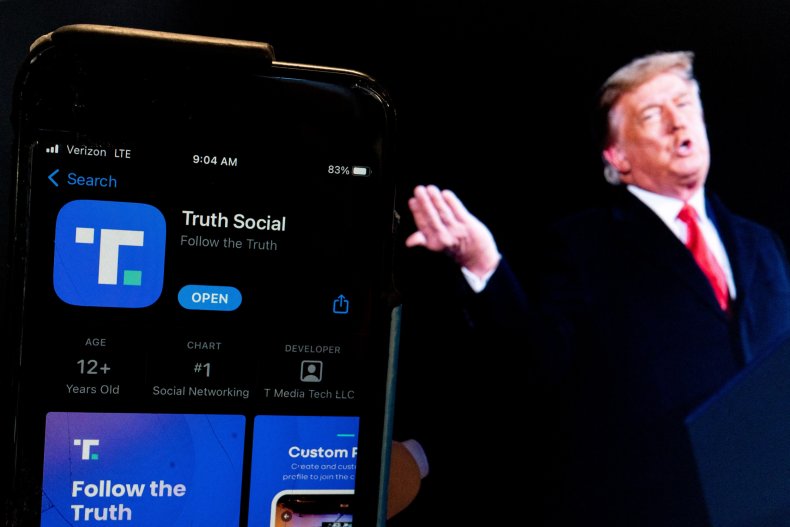 Former President Donald Trump's TRUTH Social, the self-described "big tent" social media platform that the former president has called an antidote to "the tyranny of Big Tech," is under fire for allegedly censoring and banning members.
Trump's alternative to Twitter, the popular platform that he was permanently banned from in the wake of the January 6 Capitol riot, has already attracted multiple complaints of censorship less than a week after a limited launch on Apple's App Store.
Last month, Devin Nunes, former Republican congressman and current CEO of TRUTH Social's parent company Trump Media and Technology Group (TMTG), told Fox Business that the app would be a "very safe place" with "family friendly" content.
On Tuesday, the day after TRUTH Social was launched, self-described "serious internet clown" Matt Ortega tweeted that he might be "the first officially 'cancelled' Truth Social user," while sharing an image suggesting that TRUTH had permanently banned his account for "community guidelines violations."
Ortega's account name was a nod to the Twitter account @DevinCow, or "Devin Nunes' cow," a parody account that inspired Nunes to launch multiple failed defamation suits while he was in Congress.
Right-wing talk show host Stew Peters also complained that the platform had "censored" a post where he falsely claimed that COVID-19 vaccines were "dangerous" while urging executions for those who allow the shots to be given to children.
"I'm ALREADY being censored on Truth Social," Peters complained in a Tuesday post on Telegram, a messaging platform favored by many of those on the far right.
"Want to know what I said?" he continued. "I said, 'The people in our government responsible for allowing our kids to be killed with these dangerous Covid shots, should be put on trial and executed.' Free speech isn't free."
Patrick Hedger, executive director of the conservative group Taxpayers Protection Alliance, told The Washington Examiner that TRUTH Social "isn't a censorship-free experience at all" before suggesting that the platform is hypocritical for not living to its advertising.
"It's rank hypocrisy to ban the DevinNunesCow account," Hedger said. "I think they should abide by how they advertise themselves as a censorship-free platform or recognize that striking a balance between free speech and palatable consumer content is not easy, as other platforms have realized."
In a statement earlier this month, Trump complained that Americans seeking to emulate the recent Canadian anti-vaccine mandate "Freedom Convoy" protest were being unfairly targeted by "Facebook and Big Tech." He vowed that TRUTH Social would offer "open arms to communicate freely" while boasting of what he said were dwindling user numbers on mainstream platforms.
"TruthSocial will fight back against Big Tech so we can protect our rights to free expression," Trump said. "Also, on top of everything, it is big news that Facebook daily users went down for the first time ever, people are tired of biased social media like Twitter and Facebook, and it's showing in their numbers!"
TRUTH Social's community guidelines explicitly state that the platform allows "trolling" and "not safe for work" content, although the site's legal terms of service also includes a long list of prohibitions on posting "offensive" or "false, inaccurate, or misleading" content.
Newsweek reached out to TMTG for comment.