Trump's "Risky Game" With North Korea Could Lead to Unintentional War, Experts Warn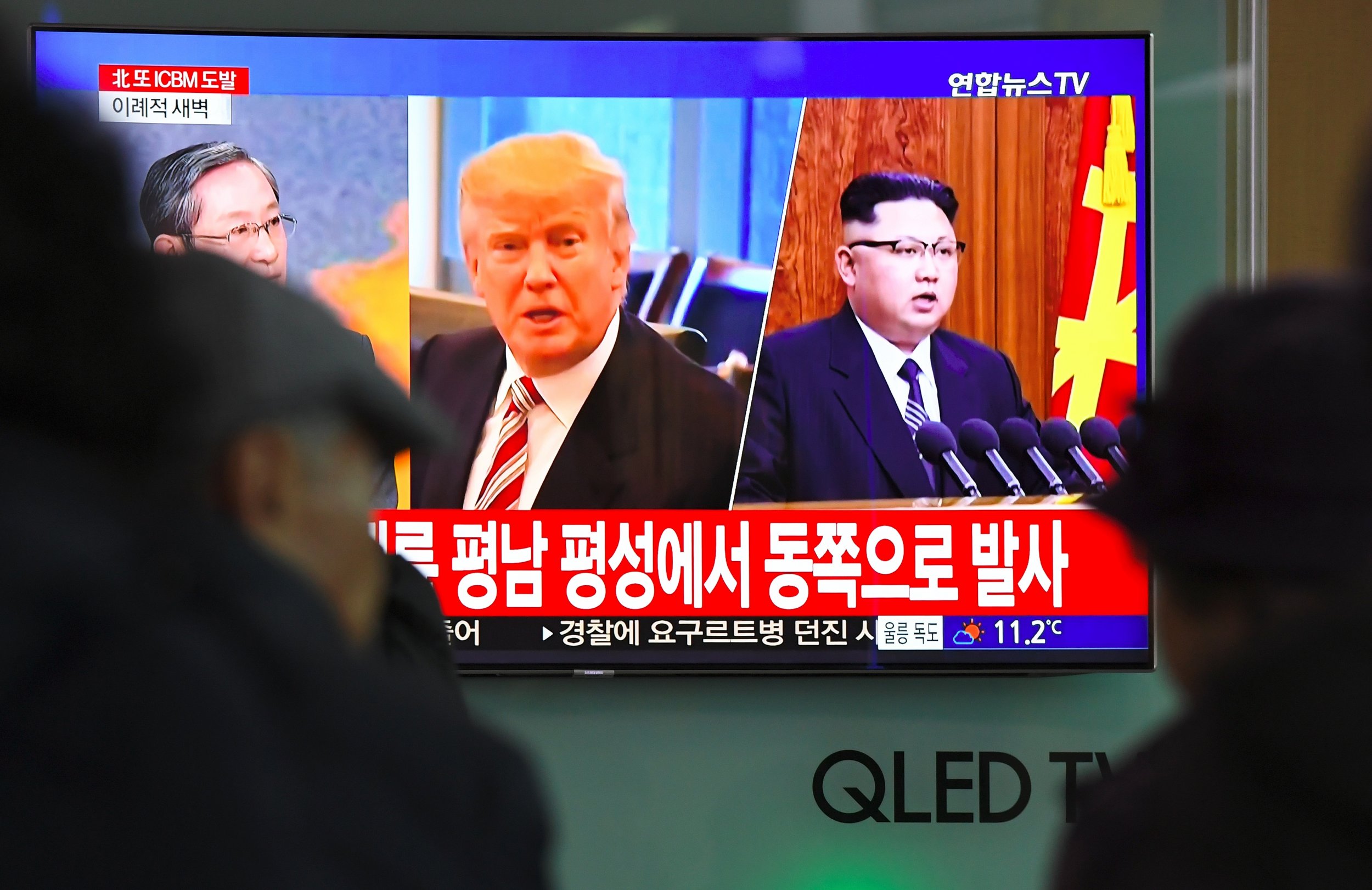 Updated | The Trump administration's increasingly belligerent rhetoric toward North Korea after the isolated nation's latest long-range missile test has started a "risky game" that could cause deadly miscalculations from Kim Jong Un's regime and explode into a full-blown conflict, experts say.
President Donald Trump has been broadly criticized for his war of words with North Korea, which have had no apparent effect in taming tensions. A former CIA analyst even said Trump sounded as if he had hired Kim's speechwriter, since both men have been making identical threats to each other—such as when Trump vowed to reign down "fire and fury" on North Korea if provoked.
Until recently, Trump's top advisers have largely avoided mimicking Kim's tone and tried more diplomatic approaches. But there has been a noticeable shift since Pyongyang launched its most powerful ballistic missile yet last Tuesday.
Last Wednesday, United Nations Ambassador Nikki Haley warned North Korea it would be "utterly destroyed" if it went to war with the U.S., echoing Trump's threat from his first U.N. address to "totally destroy" the country if he had to.
Meanwhile, national security adviser H.R. McMaster said North Korea represents "the greatest immediate threat" to the U.S. while addressing an audience at the Reagan National Defense Forum in Simi Valley, California, on Saturday. McMaster said the potential for war with North Korea is "increasing every day."
A day later, Senator Lindsey Graham, the Republican from South Carolina, said the families of the roughly 28,500 troops stationed in South Korea should be evacuated from the Korean Peninsula for safety. "It's crazy to send spouses and children to South Korea given the provocation of North Korea," Graham, a member of the Senate Armed Services Committee, said on CBS News's Face the Nation. "So I want [the Pentagon] to stop sending dependents, and I think it's now time to start moving American dependents out of South Korea."
Graham added, "We're getting close to military conflict because North Korea is marching toward marrying up the technology of an ICBM with a nuclear weapon on top that can not only get to America but deliver the weapon. We're running out of time."
Such rhetoric is designed for "signaling purposes" to China, Mark Fitzpatrick, executive director of the International Institute for Strategic Studies office in Washington, told Newsweek. According to Fitzpatrick, Trump's team is attempting to "persuade China to get serious about the issue and to coerce North Korea to stand down." China––North Korea's top trading partner and most important ally––could potentially cut off its access to fuel and other resources it needs to build bombs.
"But it is a risky game because the signals can easily be misinterpreted, particularly by the North Koreans, who may believe the U.S. is intent to destroy them," Fitzpatrick said. "They may therefore be inclined to fire first if they think an attack is coming. Comments that the potential for war is increasing could thus become a self-fulfilling prophecy."
It's clear by now that North Korea has little idea what to make of Trump. The Washington Post reported in September that North Korea had been reaching out to Republican analysts in hopes of setting up talks that could help Kim understand how the president thinks.
Foreign policy experts widely agree Kim does not desire a war with the U.S. whatsoever, as his No. 1 goal is perpetuating his rule, and a major military conflict would undoubtedly damage his regime. This might seem contradictory amid North Korea's missile tests and bombastic rhetoric toward the wider world, but some experts believe it is all part of a conscious strategy to deter stronger countries like the U.S. from taking military action. In short, while there's no question he's a repressive, erratic leader, Kim is far more rational than he might seem to the outside observer.
Pyongyang has made major strides with its long-range missile program, but it still doesn't possess the technology to successfully launch a nuclear weapon toward the mainland U.S. and have it reach its desired target. Even if North Korea did have such technology, an imminent attack on the U.S. is unlikely.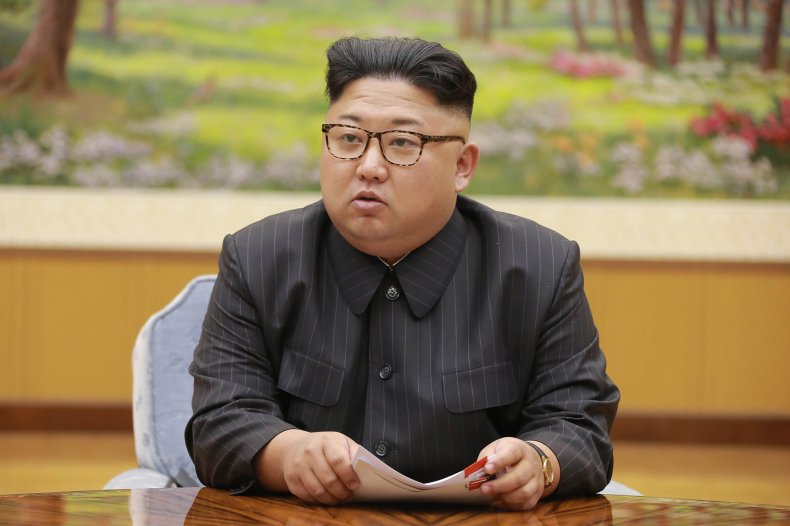 North Korea is believed to have anywhere between 25 to 60 nuclear warheads. Comparatively, the U.S. has roughly 6,800 warheads and a reliable, advanced arsenal of long-range missiles. Top former members of the U.S. military have said America poses an existential threat to North Korea, but not the other way around. In this sense, Pyongyang is much like the annoying dog next door who barks as loudly as possible to ward off potential intruders: It primarily wants nuclear weapons as a deterrent, not as a catalyst for conflict with a major power like the U.S. This is precisely why experts are warning Trump administration officials against embracing talks of war.
"The test of the new, more powerful ICBM-range missile has produced more belligerent rhetoric by [Trump] administration officials and some in Congress, but there are no signs that Kim Jong Un has become more inclined to initiate the use of nuclear weapons or the use of military force in general," Brookings Institution's Robert Einhorn, who formerly advised the Obama administration on nonproliferation, told Newsweek. "Still, the heightened rhetoric could make the North Koreans jittery and increase the likelihood of miscalculation."
Some in Congress are also quite concerned about the Trump administation's stance on North Korea––including Democratic Rep. Ted Lieu, a U.S. Air Force veteran who was at one point stationed in the U.S. territory of Guam, which Pyongyang has threatened multiple times.
"The Trump administration's mixed messages on North Korea are destabilizing an already tense and dangerous situation," Lieu told Newsweek.
The California congressman also warned against Graham's call for U.S. military families to be evacuated from the Korean Peninsula: "Certainly the U.S. should evacuate dependents and other American civilians if war is imminent or likely. Such a move, however, would also be provocative for the reason that it signals to North Korea that war is imminent or likely. What we want to avoid are fatal miscalculations, and both Congress and the Administration need to ratchet down the war rhetoric and aggressive actions."
Lieu, who's been quite outspoken in recent months regarding Trump's demeanor toward Kim's regime, added that the U.S. would be unable to evacuate "most Americans from Guam, Japan and South Korea if North Korea were to launch a pre-emptive, all-out war based on U.S. rhetoric and actions."
As Lieu explained, it would be difficult for the U.S. to quickly build up the necessary forces and evacuate civilians from the Korean Peninsula if war suddenly broke out. This assessment is based off of a letter the congressman recently sent to him from Lt. Gen. Jan-Marc Jouas, the former deputy commander of U.S. Forces in Korea that warned U.S. troops would be "outnumbered" and face many logistical challenges in the event of a sudden armed conflict with North Korea.
"North Korea would likely attack before the U.S. could get very far in either building up forces or evacuating mass numbers of Americans," Lieu said. "That's why we first need to give economic sanctions and diplomacy a chance before going down the bloody and uncertain path of war."
Update: This article has been updated to include comments from Rep. Ted Lieu.