Trump's 'Tone-Deaf' Plan for Jan. 6 Press Conference Slammed by Republicans, Former Aide
Former President Donald Trump plans to hold a news conference on the anniversary of the January 6 Capitol attack, but the prospect has drawn criticism from fellow Republicans and an ex-White House aide who believe he should avoid making controversial remarks.
Last week, Trump said he will speak on the anniversary of the riot and reiterate his claims that the 2020 election was stolen due to widespread voter fraud.
"Why isn't the Unselect Committee of highly partisan political hacks investigating the CAUSE of the January 6th protest, which was the rigged Presidential Election of 2020?" Trump said in a December 21 statement. "I will be having a news conference on January 6th at Mar-a-Lago to discuss all of these points, and more. Until then, remember, the insurrection took place on November 3rd, it was the completely unarmed protest of the rigged election that took place on January 6th."
In response, GOP Representative Liz Cheney, who serves as the vice chair of the House committee investigating the insurrection, said Sunday that Trump's planned remarks are "very concerning."
"I think that it is indeed very concerning, given what we know happened in the lead up to the 6th and what the committee is finding out about the events of that day. But I think that it—it's not surprising," the Wyoming lawmaker said on CBS News' Face the Nation.
"He knows these claims caused violence," she added. "And we've seen now people who were in the Capitol, people who've been arrested because of their activities on that day, they themselves have told us in court filings, they've told us on social media, we've seen it on videos—that they were here because Donald Trump told them to be here."
Alyssa Farah, who worked as the Trump admin's director of strategic communications, told CNN on Friday that it would be "wise" if the former president avoided making a controversial statement on January 6.
"The former president has also announced he'll be hosting a press conference that day, which, I think, if anything proves he's still getting terrible advice from folks around him. This would be a wise day for him to stay silent, to let those who were victims on Capitol Hill talk about that very important and solemn day."
Farah added that if Trump ends up giving a speech in which he continues to promote rigged-election claims, "it's going to put Republicans on Capitol Hill in a very, a very tight position to be in."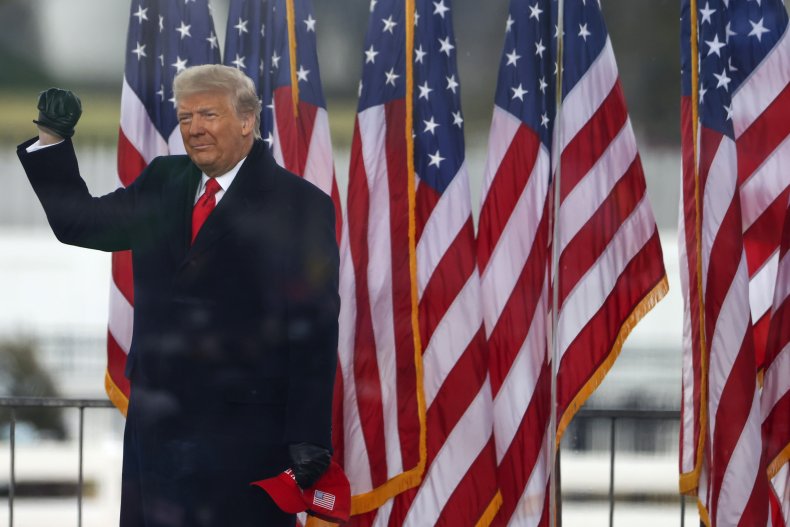 Douglas MacKinnon, a political consultant who worked under Republican presidents Ronald Reagan and George H.W. Bush, wrote in an op-ed that Trump's press conference is not only "tone-deaf" but "downright cruel," noting those who fell victim to violence on that day.
"Simple decency would suggest that he pick another day. But Trump likely chose that day precisely because he wants to rip the scab off the wound to fire up his base and fuel the hate machine in the process. Unfortunately, he'll probably succeed on both counts," MacKinnon wrote in the op-ed, published Saturday in The Hill.
This week will mark the first anniversary of the riot, in which pro-Trump supporters violently stormed the U.S. Capitol building in an attempt to stop the election certification of President Joe Biden. Trump has repeatedly denied his role in the incident, stating that a speech he gave immediately before the attack was "extremely calming" even though he urged his followers to "fight like hell."
The former president was impeached by the House of Representatives for a second time following the attack, and has since been the subject of the ongoing House committee investigation.