'Tuca and Bertie' Season 2: How to Watch the New Season—And Why It's Not on Netflix
Tuca and Bertie may have been canceled after just one season by Netflix in 2019, but the birds have lived to fly another day. In 2020, Cartoon Network announced that it was reviving the show and bringing it back as part of their Adult Swim block of content for more mature audiences like Rick and Morty and The Eric Andre Show.
Though this means that fans of the Tiffany Haddish and Ali Wong show will soon be able to watch new episodes, it also means that Netflix subscribers will be unable to see these new stories.
How to watch Tuca and Bertie Season 2
Unlike Season 1, which dropped all at once on Netflix, Tuca and Bertie Season 2 will air weekly. Episodes start on Sunday, June 13, and will air weekly at 11:30 p.m. ET / 10:30 p.m. CT on Cartoon Network.
Adult Swim offers a simulcast on its website where viewers are able to watch episodes online as they air on Cartoon Network. To access this, viewers have to log in via their cable provider or their online cable alternative like YouTube TV or Hulu Plus Live TV.
After they air, episodes will be available to watch online for free with ads for a certain time. They will then be available only to those who log in with their cable provider details.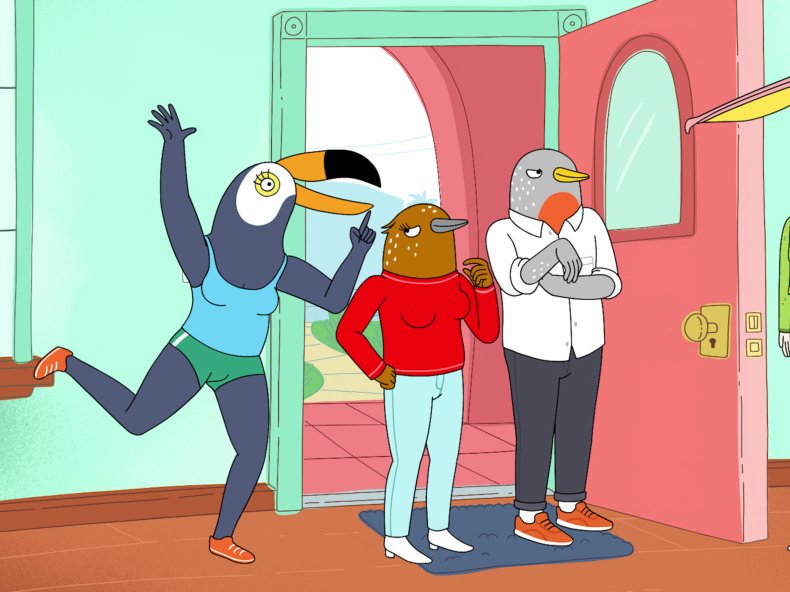 Though the first season was a Netflix exclusive, these 10 new episodes will not appear on that streaming service. Season 2 is an Adult Swim original, meaning the cable network is the only place to watch it for now after Cartoon Network picked up the rights.
Eventually, however, the show will come to streaming. Per IndieWire, the show will eventually come to HBO Max. The streamer, however, has not yet announced exactly when (Newsweek has reached out to HBO Max for comment).
On HBO Max, Tuca and Bertie will join a host of other classic Adult Swim shows on the streamer, including Rick and Morty, Aqua Teen Hunger Force and The Boondocks.
In an Los Angeles Times story about bringing back Tuca and Bertie, Adult Swim exec Walter Newman said: "When Tuca and Bertie became available, I immediately got on the phone, I probably overplayed my hand, but at the same time, I got emails from so many people in our company, asking 'Hey, do you think this is a possibility? Can we get this?' It was something that all of us were really invested in."
The official synopsis for this season reads: "Secure your favorite perch and prepare to caw out loud (col) as new episodes of Tuca and Bertie land Sunday, June 13 at 11:30 p.m. ET/PT on Adult Swim. Tuca (Tiffany Haddish) and Bertie (Ali Wong) are best friends, and they're both full of ghosts! Bertie is busy excavating her inner ghouls with the help of a therapist, while Tuca prefers to stuff hers behind the toilet. She'll deal with them later, right now she's just too busy trying not to be single anymore! Meanwhile, Speckle (Steven Yeun) is building a new house but soon finds he's driven to the brink of insanity...good thing he's just a cartoon. Geese are demonized! Seagulls are romanticized! These episodes are full relatable moments and hilarity. Just be warned, you'll never look at plants the same way again!"