Tucker Carlson's 'Death of Comedy' Slammed by Comic Featured in Documentary
Tucker Carlson's new documentary The Death of Comedy? has been slammed by one of the comedians who is featured in the special.
On Monday night, the Fox News host took to Twitter to share the one-minute trailer for his special, which is set to debut on Fox Nation on Wednesday.
"Comedy is the hallmark of a free society," said Carlson between clips of people apparently reacting negatively to comedians' jokes. "The one thing that people currently in power can't stand is being made fun of...Is that comedy? It is now."
The trailer featured seconds-long quotes from a number of comedians, including Jimmy Dore, Adam Carolla and Louis C.K. A clip of Will Smith slapping Chris Rock at the Oscars after he cracked a joke about Jada Pinkett Smith was also included.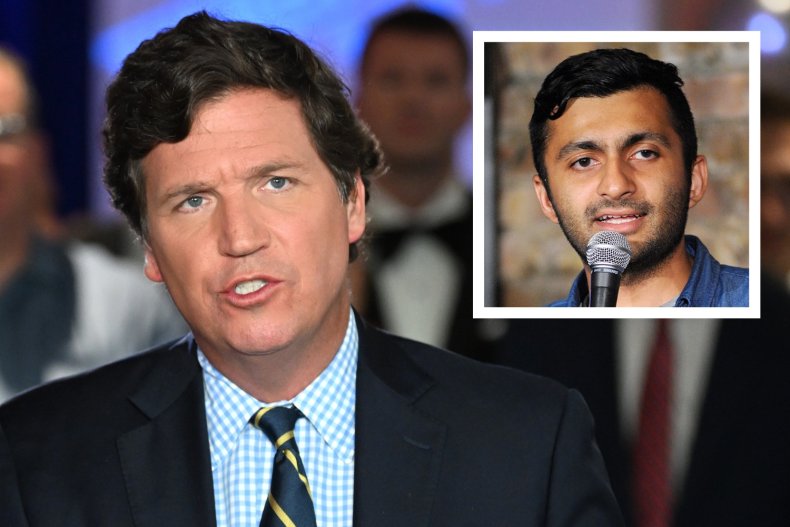 Interestingly, billionaire Twitter owner Elon Musk was also seen weighing in on the matter, saying in a clip added to the trailer: "Wokeness basically wants to make comedy illegal."
Comedian Nimesh Patel is featured in the trailer describing an interaction with a woman who told him: "We don't think you're entitled to be making some of the jokes you're making."
"This is the current state of comedy," Carlson concluded.
When the trailer was shared on Twitter, a number of people expressed agreement with the sentiments expressed. However, there was a sizable pushback from many other Twitter users—including Patel.
"This is nonsense," Patel tweeted. "Comedy is thriving. There was a reason I didn't do @TuckerCarlson back 2018—no one here is a martyr for comedy. Everyone featured in this trailer is selling out theaters and making $$$, myself included. Stop this fake victim BS."
In another post, Patel went on to call Carlson "a loser. Whining about cancel culture while making millions spewing loosely veiled propaganda. Get off your own d*** Tucker."
Ensuring his feelings were further known, Patel commented under Carlson's post regarding the documentary: "Hey clown, your whole documentary is wrong. I see you only used my [Joe] Rogan clip because I said no to your producers. This take is stupid."
"What's your mantra? Mine is: f*** Tucker Carlson," Patel wrote on his own Twitter feed. "I wake up and I think how can I behave today that would bother that bloated bow-tie wearing herb. Then I do that."
"Comedy is thriving and is dead at the same time," Patel added.
Troy Bond, who is another one of the comedians featured in the documentary, also voiced his objection to being included in the lineup.
"Hey @TuckerCarlson go f*** a green M&M you open mouthed dips***," Bond tweeted, in reference to Carlson's outrage over candy mascot the green M&M's image makeover seeing its go-go boots being swapped for sneakers.
"It's funny that you are making a documentary about comedy considering the right wing has no idea how to do it," Bond continued. "You used my clip (without permission) and I will now be joining ANTIFA in retaliation."
Bond also retweeted comments made by Patel in objection to the documentary.
And it didn't end there: Auggie Smith spoke out on behalf of fellow comedian James Inman, who was also featured in the trailer, purportedly without permission.
"Hey @TuckerCarlson if you're going to use all these comedians in your promo you should name them," Smith said. "For example, you showed @_james_inman getting punched at The Underground 25 years ago to make your point about the current state of comedy, you should give him credit."
Rather than address Carlson, Inman used the moment to share the trailer for his documentary Doug Stanhope's The Unbookables, which features boundary-pushing comedians touring modest venues across the Midwest.
"Seems like a good place as any to promote The Unbookables," Inman captioned the trailer. "I thought we already covered this like five years ago."
Elsewhere, another Twitter user commented that the backlash Louis C.K. has faced in recent years had nothing to do with how his comedy was perceived.
"Louis CK is one of the comedians featured here," they wrote. "Just a reminder that he wasn't canceled for jokes. He wasn't actually canceled at all. He stayed home for a few months but he just sold out Madison Sq Garden and has been nominated for 3 & won 1 Grammy all since his 'cancelation.'"
The former Louie star last year won the Best Comedy Album Grammy Award in 2022 for Sincerely Louis CK, his first comedy album after his past sexual misconduct offenses were revealed.