Tucker Carlson Mocks Joe Biden on Cancer, Delaware: 'It Rains Oil'
Fox News host Tucker Carlson has mocked President Joe Biden for suggesting that he contracted cancer due to pollution heavy enough to cause a windshield "oil slick" during his childhood in Delaware.
During a Wednesday speech on climate change in Somerset, Massachusetts, Biden said that he and "so damn many other people" he grew up with in Claymont, Delaware, "have cancer" due to pollution so heavy that oil needed to be wiped off of windshields to drive. While the president does not currently have cancer, he was diagnosed with several "localized, non-melanoma skin cancers" that were surgically removed before he became president.
Carlson began his popular opinion show Tucker Carlson Tonight on Wednesday by insisting that Biden had announced that he was currently afflicted with cancer and had abruptly left the stage while refusing to take any "questions about his condition." However, the president continued to speak on environmental issues for another 11 minutes after making the remark.
Carlson suggested that Biden may have been diagnosed with "dementia" rather than cancer, while also insinuating that Biden had painted Delaware as "such an awful state" that it "rains oil." The Fox News host expressed skepticism about the White House saying that the president was speaking about his past experiences with skin cancer rather than a current diagnosis.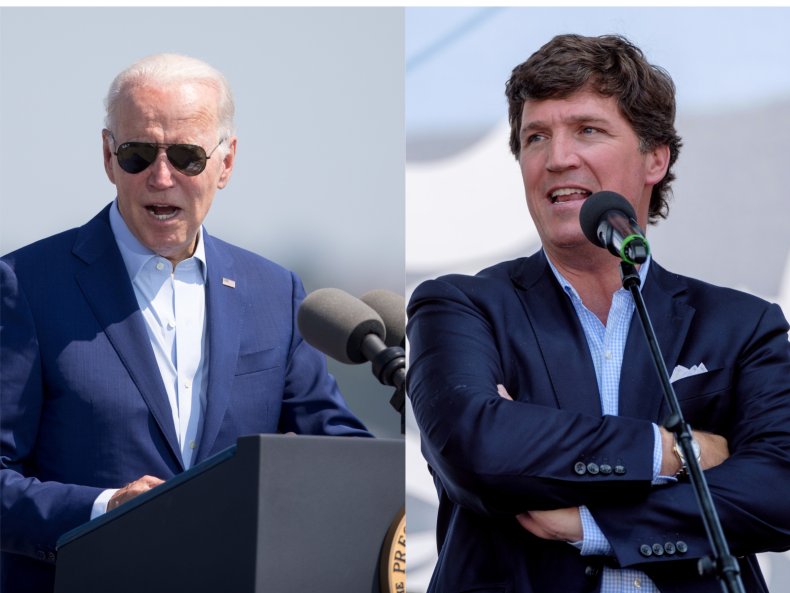 "The president explained that he has cancer because he grew up in Delaware, which is apparently such an awful state that everyone who lives there gets cancer," said Carlson. "In Delaware, it rains oil—that's how dirty Delaware is, it's a great state."
"So, the White House said today, apparently when Joe Biden was announcing that he had cancer, he was talking about a previous skin cancer diagnosis, OK!" he added sarcastically.
During Biden's speech, he recalled that his mother sometimes needed to wipe an "oil slick" of pollution off of the car windshield before driving him to school in the morning. He said that the pollution may have been the reason that he and others later experienced cancer.
Biden recalled a similar anecdote about his mother wiping oil off a car windshield during a speech in April, although at the time he said that the pollution was responsible for the asthma that he and "80 percent" of the people he grew up with had acquired, rather than cancer.
Carlson played a clip from Biden's April speech during his show, prefacing it with the comment that "it turns out when it rains oil, you don't just get cancer, you get other diseases too."
"But the question is, and is this a medical question, what is Joe Biden suffering from?" Carlson asked before welcoming Fox News contributor and physician Dr. Marc Siegel to the show. "Is it cancer, is it asthma [or] is it dementia?"
Siegel said that "oil on the windshield" did not "make sense" as an explanation for asthma. He maintained that he was concerned about the president's potential "cognitive problems," while conceding that Biden probably did not "think" he currently had cancer when he mentioned the condition in the present tense.
Carlson ended the segment by mockingly suggesting that Biden should "avoid" Delaware in the future if his home state was repeatedly causing him health issues.
"He's told us that Delaware gave him asthma and cancer and yet he goes back to Delaware every weekend," said Carlson. "Isn't that kind of like continuing to smoke Camels when you get emphysema? That seems crazy to me, he should avoid Delaware, no?"
"Yeah, and Delaware should avoid him if he keeps bashing them like that," Siegel responded, provoking laughter from Carlson. "He should be proud of his state. If he falls off a bicycle there too, he's gonna blame the pavement next."
Newsweek reached out to the White House for comment.