Tucker Carlson Praises Trump Day After Leaked Texts Revealed His 'Hate'
Fox News host Tucker Carlson has praised Donald Trump for his 2024 plans, despite his recent comments that he "hates" the former president.
Legal documents released as part of the defamation lawsuit against Fox News by Dominion Voting Systems revealed a conversation between Carlson and an unnamed worker.
In these messages from January 4, 2021, Carlson said that he hated Trump "passionately" and was looking forward to no longer having to talk about him on air.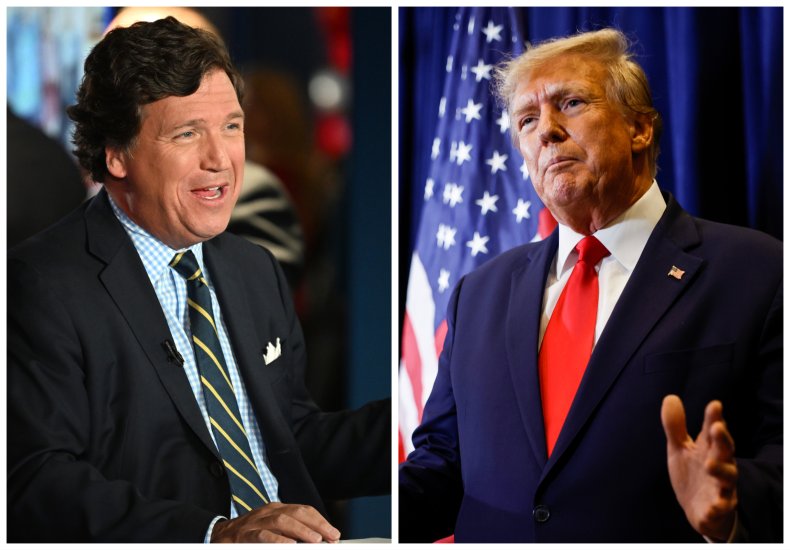 Carlson said: "We are very, very close to being able to ignore Trump most nights. I truly can't wait.
"I hate him passionately. I blew up at [former Trump adviser] Peter Navarro today in frustration. I actually like Peter. But I can't handle much more of this."
Following this leak, Fox News released a statement and accused Dominion of cherry-picking quotes from the host to build a better case.
On his show on Wednesday, Carlson spoke with Fox News journalist Kevin Corke as he discussed some of Trump's latest Truth Social posts and announcements about his plans if he wins the 2024 election.
In a video, released last week, Trump spoke about how he plans to change America for the better if he becomes president again.
"Today, our country has lost its boldness. Under my leadership, we will get it back in a very big way. If you look at just three years ago, what we were doing was unthinkable...our objective will be a quantum leap in the American standard of living," Trump said.
"Almost one-third of the landmass of the United States is owned by the federal government. With just a very, very small portion of that land...we should hold a contest to charter up to 10 new cities and award them to the best proposals for development.
"In other words, we'll actually build new cities in our country again. These freedom cities will reopen the frontier, reignite American imagination and give hundreds of thousands of young people and other people, all hard-working families, a new shot at home ownership, and, in fact, the American dream."
While speaking at the recent Conservative Political Action Conference over the weekend, Trump also announced his plans to have "baby bonuses" for couples.
He said: "We will support baby boomers and we will support baby bonuses for a new baby boom, how does that sound? I want a baby boom."
During his show on Wednesday, Carlson reflected on Trump's plans and said these plans would be good for everyone.
Carlson said: "You wouldn't know it from the news media but Donald Trump is running for President again, you know, 'put him in prison first' which is of course their plan.
"He is saying things that are really interesting, not rehashes at all, he has come up with a bunch of proposals that were so interesting that we thought we would bring them to you."
After listening to Corke explain Trump's goals, Carlson added: "More babies, prettier buildings, cleaner parks.
"Those are achievable goals, ones that would improve everyone's life."
Newsweek has contacted Fox News and Donald Trump's Office via email for comment.