Tulsa Hospital Shooter Targeted Doctor Over Alleged Pain From Surgery
Michael Louis, the St. Francis Hospital shooter identified by Tulsa, Oklahoma police Thursday morning, specifically targeted Dr. Preston Phillips, one of the four victims he fatally shot, police said.
Tulsa Police Chief Wendell Franklin said during a news conference that 45-year-old Louis had a letter that said he intended to kill Phillips and "anyone who stood in the way."
Police said that Louis wrote that he was suffering from pain and asked for relief. Louis was a patient of Philips who had recently undergone back surgery and continued to complain about back pain that he experienced after the surgery.
Louis, 45, killed four people at the hospital's Natalie Medical Building, including Phillips, Dr. Stephanie Husen, Amanda Glenn, and William Love, according to the police.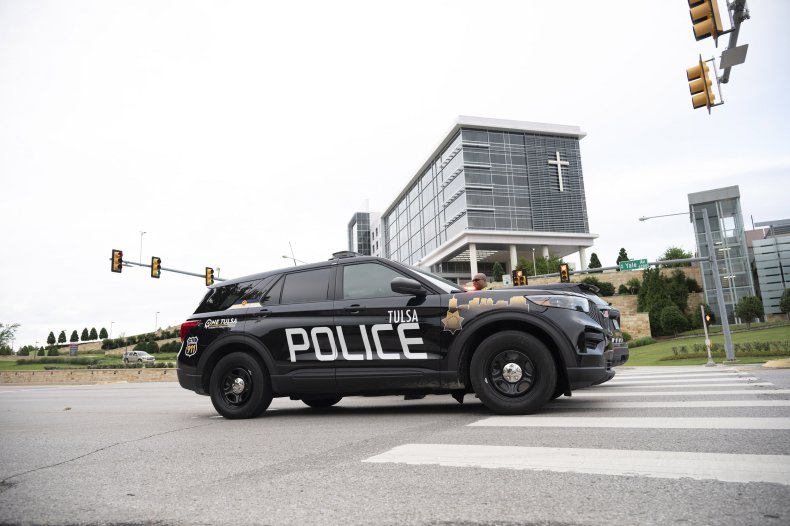 Phillips performed the surgery on Louis, according to Franklin. Louis was later released from the hospital on May 24, but called "several" times complaining about back pain and "wanted additional treatment."
Louis went to see Phillips again on Tuesday for additional treatment and called his office later on Wednesday to complain about continued back pain and asked for additional help.
Louis' niece told the Daily Beast that the police didn't immediately tell her what the note said but "verified" that the shooter was her uncle.
"We are so distraught," said the woman, who asked not to be identified, citing the "heinous" nature of the shooting. "I don't even want to be associated because I'm so disgusted," she told The Daily Beast.
"It's just so shocking. Like, if he had killed himself, OK. But those innocent people, that's what I'm hurting about," Louis' niece added. "No one in our family, like nobody in our family, has this type of behavior. No one."
On Wednesday, the Tulsa Police Department said that officers "responded to a call about a man armed with a rifle at the Natalie Building at St. Francis Hospital" on Wednesday afternoon. Police said that the incident later turned into an active shooter situation.
Later, the Tulsa police confirmed on Twitter that five people were dead, including Louis. Initially, police said four people had been killed in the attack, but about an hour later, they updated the death toll to five.
The police officers, who arrived at the scene a few minutes after the shooting broke out on the second floor of the building, found Louis dead. Police believe Louis took his own life, according to CNN. According to reports, police said that fewer than 10 people suffered non-life-threatening injuries in the attack.
An AR-15-style semiautomatic rifle and a handgun were found next to Louis in the room where he was found alongside two of the victims.
Franklin said on Thursday that Louis reportedly went to a local gun store on Wednesday to purchase the rifle around 2 p.m. before heading to the hospital. According to reports, authorities said that Louis reportedly purchased the handgun on May 29.
Update 6/2/22 1:25 p.m. ET: This story has been updated with additional information.