Who Is Michael Louis? Tulsa Hospital Shooting Suspect Identified
Police on Thursday named 45-year-old Michael Louis as the man they said fatally shot four people Wednesday at the Natalie Medical Building at St. Francis Hospital in Tulsa, Oklahoma.
The suspect was found dead by police officers who arrived at the scene minutes after the shooting on the second floor of the building. Police believe Louis took his own life after shooting the victims, who wereidentified on Thursday as Dr. Preston Phillips, Dr. Stephanie Husen, Amanda Glenn and William Love.
The shooting comes after a number of recent mass shootings that included a gunman who fatally shot 10 Black people at a grocery store in Buffalo, New York, and an 18-year-old who used two AR-15-style rifles, which he legally purchased, to fatally shoot 19 children and two teachers at an elementary school in Uvalde, Texas.
The recent shootings prompted calls for stricter gun laws to prevent future incidents. Many lawmakers are hoping to pass "red-flag" legislation that would allow authorities to temporarily remove firearms from people they believe pose a threat to themselves or others. It is unclear whether there is major support for such a law, but there have been frequent calls for action against gun violence.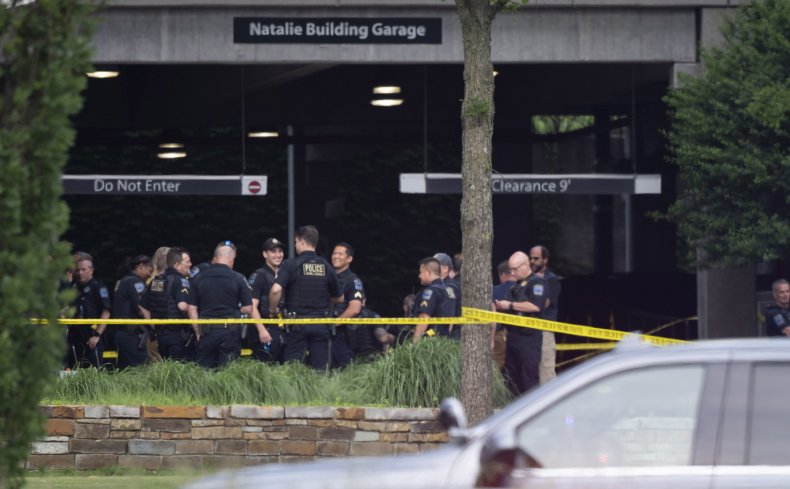 Police said the suspect used a rifle, a long gun and a handgun during the shooting. Authorities said that the firearms were found next to the shooter, who was found dead in a room alongside two of the victims, CNN reported.
Tulsa Police Chief Wendell Franklin said on Thursday during a press conference that Louis had a letter that said he intended to kill Dr. Phillips and "anyone who stood in the way."
Franklin said that Louis went into the hospital on May 19 for back surgery and that Phillips was the performing physician. Louis was released from the hospital on May 24 but called "several" times complaining about back pain and "wanted additional treatment."
Phillips saw Louis again on Tuesday for additional treatment, according to police. The accused shooter called Phillips' office later on Wednesday to express continued back pain and wanted additional assistance.
Louis then went to a local gun store on Wednesday at 2 p.m. to purchase a semi-automatic AR-15-style rifle before heading to the hospital, according to Franklin. He bought the handgun on May 29 from a local pawn shop.
The Tulsa Police Department said on Wednesday that officers "responded to a call about a man armed with a rifle at the Natalie Building at St. Francis Hospital" on Wednesday afternoon. Police said that the incident later turned into an active shooter situation.
"We can confirm ... people are deceased, including the shooter, in the active shooting situation at St. Francis hospital campus," Tulsa police said on Twitter.
Louis is also responsible for causing "multiple injuries," according to police, who said officers were sweeping the building for other possible threats following the shooting. Tulsa Police Captain Richard Meulenberg told CNN that fewer than 10 people suffered nonlife-threatening injuries and that no officers were injured.
"It was just madness inside, with hundreds of rooms and hundreds of people trying to get out of the building," Meulenberg told CNN, adding that this "was not a random shooting."
"He very purposefully went to this location, went to a very specific floor, and shot with very specific purpose," he said, according to CNN.
Tulsa Mayor G.T. Bynum praised the response to the shooting, according to CBS News, and said he wanted "to express our community's profound gratitude for the broad range of first responders who did not hesitate."
Newsweek reached out to the Tulsa Police Department for comment.
Update 6/2/22, 1:02 p.m. ET: This story has been updated with additional information.