Tulsi Gabbard Calls Glenn Youngkin's Virginia Win a 'Victory for All Americans'
Former Democratic congresswoman Tulsi Gabbard has praised Republican Glenn Youngkin's gubernatorial election victory in Virginia following his education-heavy campaign policies as a victory "for all Americans"
The GOP candidate beat the former governor Terry McAuliffe in a tightly contested race.
Youngkin's victory means Virginia will have a Republican governor for the first time since 2009, with critics suggesting the results are a damning indicator for the Democrats ahead of the 2022 midterms.
In a tweet on Wednesday, Gabbard, a 2020 Democratic presidential candidate, suggested the results in Virginia could have a positive knock on effect for the rest of the country, appearing to cite McAuliffe's refusal to be drawn into the debate around critical race theory as a factor for his defeat.
"McAuliffe's loss is a victory for all Americans. Why? Because it was a resounding rejection of efforts to divide us by race, the stripping of parental rights, and arrogant, deaf leaders. This benefits us all," Gabbard tweeted.
Education became one of the key topics during the election campaign in Virginia thanks to Youngkin and other conservative figures stirring up claims that it is being taught in public schools in the state.
Youngkin even promised to ban the teaching of the academic theory which argues systemic racism continues to influence laws and institutions in the U.S. if elected, despite no real suggestion it is currently being discussed in K-12 schools.
Rather than getting fully drawn into the debate, McAuliffe noted that critical race theory is not currently taught in Virginia and described the fury over it as a "racist dog whistle" which has been blown out of proportion.
McAuliffe was also highly criticized by Youngkin for suggesting that parents should not "be telling schools what they should teach" while discussing critical race theory during a debate in September, which the GOP candidate weaponized against him during the campaign.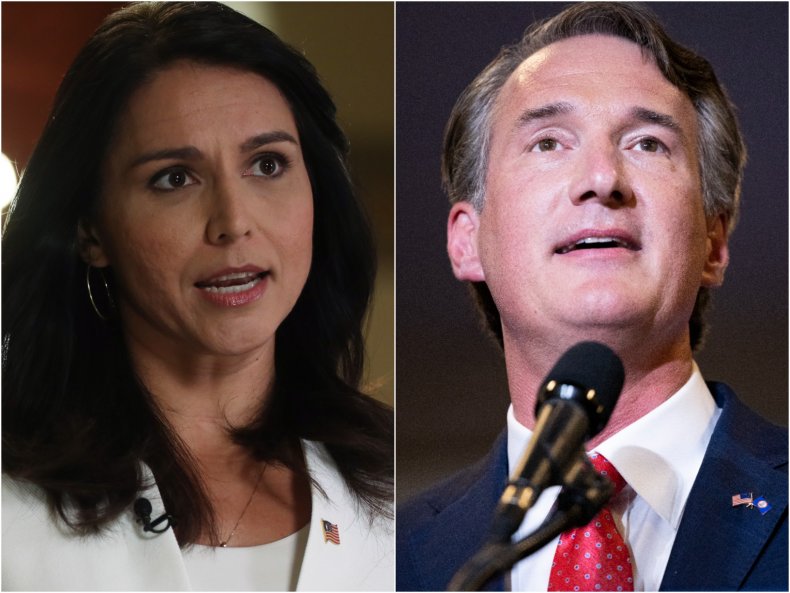 The tactic appeared to work in Youngkin's favor, with a number of voters raising concerns of critical race theory being taught in schools and McAuliffe's dismissal of them as a key influence in how they voted.
"It didn't make me happy that McAuliffe said that parents shouldn't be involved with their children's education," Caryn Vezina, 38, who voted for Youngkin, told USA Today.
Commonwealth University medical student Douglas Hogan, 22, also said education played a key part in his decision to back Youngkin.
"Specifically, not teaching critical race theory, things like that, in our schools," Hogan said. "Teaching kids to think for themselves, not based on their race."
Gabbard has been contacted for further comment.
Correction: A previous version of this story referred to Tulsi Gabbard as a GOP presidential candidate. She was a Democratic presidential candidate.