Jada Pinkett Smith is said to have offended the late rapper Tupac Shakur when she reportedly asked him not to attack Will Smith after they started dating.
Pinkett Smith has spoken on a number of occasions about her close relationship with Shakur, with whom she attended Maryland's Baltimore School for the Arts in the 1980s. Shakur was shot and killed at the age of 25 in 1996.
When Pinkett Smith started dating Smith in 1995, she was allegedly concerned that the romance would anger Shakur, despite the two only being friends.
During an appearance on YouTube's The Art of Dialogue in 2021, Shakur's former Outlawz bandmate Mutah "Napoleon" Wassin Shabazz Beale said that the star was left feeling "hurt" by the purported suggestion he would resort to violence.
"He went to L.A., he was very upset," Beale recalled. "'Pac came in the room and he was like, 'Jada, she gon' contact me and tell me, don't do nothing to Will Smith.'
"So 'Pac was upset. He was like, 'I don't know why she thinks that I would have tried to make some problems with Will Smith.' I guess it kind of hurt him. He had a lot of love for Jada Pinkett and a lot of respect for her."
When asked if Shakur was "cool" with Pinkett Smith dating Smith, Beale responded: "He had no other choice, I think. I think 'Pac respected Jada Pinkett so much where that was her choice. He was the type of person that he was going to support her.
"Like I said, he was offended when she asked him not to do anything to Will Smith, from a standpoint not to be violent towards him. And I think that just probably hurt him more than anything, because he was like, 'What do you think this is? I'm not just walking around being this impulsive, violent individual.' So I think that probably kind of hurt his feelings at that particular time."
Newsweek has contacted a representative of Pinkett Smith for comment.
Pinkett Smith and Smith went on to exchange nuptials in December 1997, more than a year after Shakur's death. At the time that he passed away, Shakur was engaged to Kidada Jones, daughter of Quincy Jones and Peggy Lipton.
Smith's relationship with Pinkett Smith has been under increased scrutiny in recent weeks, after he slapped Chris Rock across the face at last month's Academy Awards in reaction to a joke the comedian had made at his wife's expense.
Earlier this month, a 2018 interview that the couple's son, Jaden Smith, sat down for with Los Angeles radio personality Big Boy was shared on YouTube. During the interview, Jaden Smith said that Shakur had proposed to his mom.
On noticing imagery of his mother with Shakur in the studio, Jaden Smith said: "I'm looking at the picture right here of Tupac on the shirt right there and Tupac asked to marry mom, and she was like, 'Pac, we're best friends.'"
"They say marry your best friend, but I'm glad they didn't," said Big Boy, real name Kurt Alexander, as Jaden Smith nodded in agreement.
In 2018, Red Table Talk host Pinkett Smith described her connection with Shakur as "precious" and admitted that they had kissed but didn't enjoy it.
"You know, it's so funny because now being older, I have more of an understanding of what that was between us," she said, per Pop Sugar.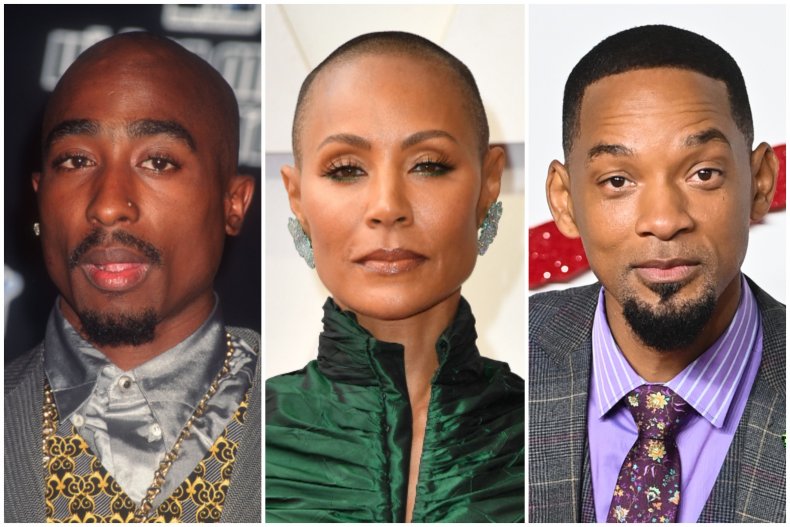 Earlier this month, a letter purportedly written by Pinkett Smith's daughter, Willow Smith, asking Shakur to return and make her mom happy went viral on social media.
The letter was highlighted by internet personality Kevin Samuels, and it was then shared on a TikTok video. The letter sparked debate online and many questioned its authenticity.
Jorge Rivas at ColorLines stated that the letter was added to Instagram in 2012. Willow, who was aged 11 at the time, purportedly added a picture of the letter to her Instagram, saying she wrote it "years" ago. The post appears to have since been deleted.
The letter read: "Dear Tupac, I know you are alive someplace. I think that my mommy really misses you. Can you please come back Can you come back so momy [sic] and me can be happy! I wish you were here... I really do! Love, Willow."
'Raging Jealousy'
King Richard star Will Smith wrote about the "raging jealousy" he felt over Pinkett Smith's relationship with Shakur in his memoir, released in 2021.
"Though they were never intimate, their love for each other is legendary—they defined 'ride or die,'" he wrote in Will. "In the beginning of our relationship, my mind was tortured by their connection. He was PAC! And I was me."
The Smiths' marriage became a talking point in 2020, when Pinkett Smith confessed to having had an extramarital relationship with singer August Alsina. With Smith appearing alongside her on Red Table Talk, Pinkett Smith famously referred to the situation as an "entanglement."
During the special, Pinkett Smith and Smith said that the relationship with Alsina happened while they were on a break. Smith later revealed that he had also sought affection outside of their marriage as their relationship became non-monogamous.