Turkey Becomes Haven for Superyachts Owned by Sanctioned Russian Oligarchs
At least five superyachts owned by Russian oligarchs have docked in Turkey since the start of the war in Ukraine, marking an attempt by the nation's ultra-rich to avoid Western sanctions.
For months, Russian oligarchs have scrambled to relocate their assets, including luxury yachts and private jets, to avoid having them seized by the United States and European countries. Turkey has since become a safe haven, as the nation has yet to impose its own sanctions against Moscow for its ongoing invasion.
The latest superyacht, a $400 million luxury vessel dubbed the Flying Fox, arrived in Bodrum, Turkey, on Sunday morning, according to Insider. That ship is owned by Dmitry Kamenshchik, chairman of Moscow's Domodedovo airport.
Other yachts that have sailed to Turkey belong to former KGB agent Vladimir Strzhalkovsky, steel mogul Alexander Abramov, and billionaire Roman Abramovich. As Newsweek previously reported, Abramovich sent a $600 million yacht named Solaris to Bodrum on March 21. A day later, he sent a second superyacht, which is worth $700 million, to the resort city of Marmaris.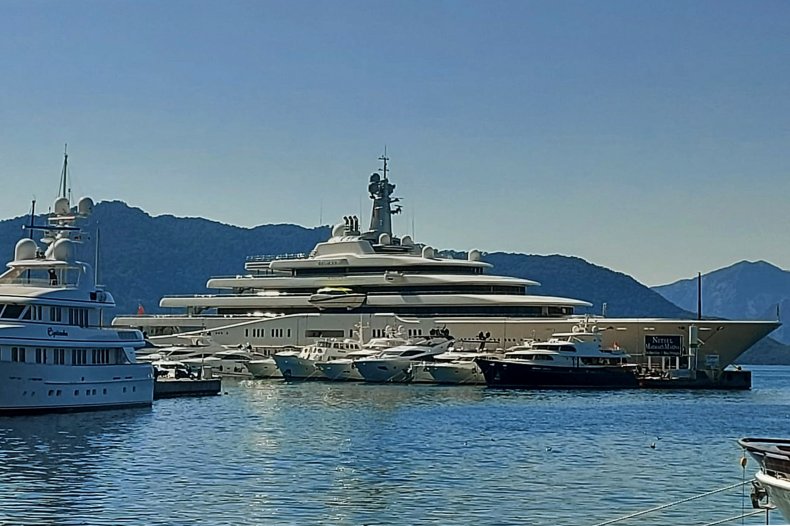 Each of the five superyachts range in price from $85 million to $700 million, according to Insider. Their new locations in Turkey also makes them generally safer than in other parts of the world. However, a lawyer who specializes in superyachts, said the vessels are not necessarily immune to future sanctions.
"Ultimately, the fate of the new Turkish fleet depends on the beneficial owners' relationship with the Turkish government," Benjamin Maltby, a partner at Keystone Law, told Insider. "The EU and the US will just have to wait for the political winds to change, and that wait may be a very long one."
Wealthy Russians have also sought to move their money into Middle Eastern real estate to avoid punishment from the West. In late March, Newsweek reported that real estate companies in Turkey and the United Arab Emirates (UAE) sold multiple properties to Russians who paid with cash or gold.
Other nations such as Israel, Spain, Italy and the United Kingdom have severely cracked down on oligarchs and seized millions of dollars worth of assets. Last week, the U.S. Department of Justice (DOJ) announced that it seized a 348-foot luxury superyacht owned by Russian oligarch Suleiman Kerimov in Fiji. The vessel marked the largest American seizure from a Russian oligarch since the war began in late February.
The DOJ said that Kerimov is among the oligarchs who "profit from the Russian government through corruption and its malign activity around the globe."
"This ruling should make clear that there is no hiding place for the assets of individuals who violate U.S. laws. And there is no hiding place for the assets of criminals who enable the Russian regime," Attorney General Merrick Garland said of the operation.
Late last month, President Joe Biden also urged Congress to pass a new aid package for Ukraine, and proposed legislation that would allow the U.S. to further seize Russian oligarchs' assets and crack down on sanctions evasion.
"We're going to seize their yachts, their luxury homes and other ill-begotten gains," Biden said, and use the proceeds "directly to remedy the harm that Russia has caused."