U.S. Seizure of Russian Oligarch's Superyacht is Biggest One Yet
The U.S. Department of Justice (DOJ) said on Thursday that it seized the Motor Yacht Amadea, a 348-foot luxury vessel owned by Russian oligarch Suleiman Kerimov, in the largest seizure since Russia invaded Ukraine in late February.
In a statement, the DOJ said law enforcement officials in Fiji "executed a seizure warrant freezing" the $300 million yacht after a U.S. court issued a warrant "which found that the Amadea is subject to forfeiture based on probable cause of violations of U.S. law, including the International Emergency Economic Powers Act (IEEPA), money laundering and conspiracy."
The DOJ said that Kerimov is among the oligarchs who "profit from the Russian government through corruption and its malign activity around the globe."
"Last month, I warned that the department had its eyes on every yacht purchased with dirty money," Deputy U.S. Attorney General Lisa O. Monaco said in a statement. "This yacht seizure should tell every corrupt Russian oligarch that they cannot hide—not even in the remotest part of the world. We will use every means of enforcing the sanctions imposed in response to Russia's unprovoked and unjustified war in Ukraine."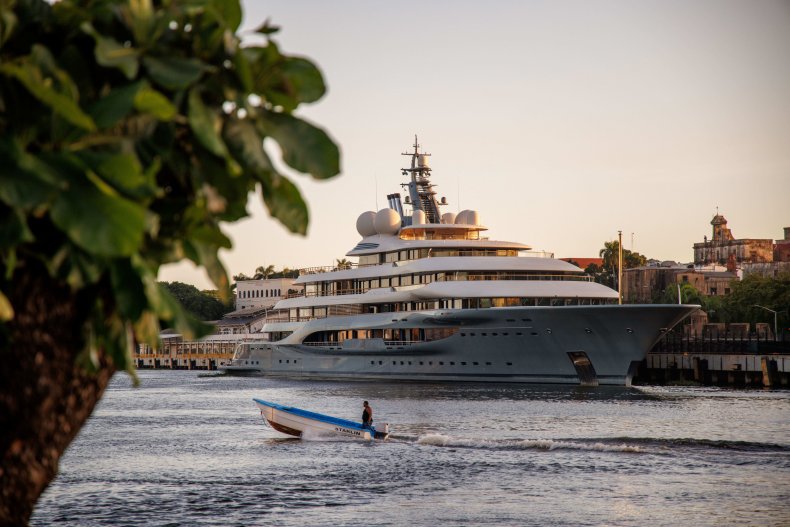 In April, U.S. agents and the Spanish Civil Guard seized a mega-yacht valued at about $120 million owned by Russian oligarch Viktor Vekselberg.
Governments have seized even more expensive yachts amid the war in Ukraine. In March, Italian authorities seized a vessel worth $578 million from a Russian billionaire who was sanctioned by the the European Union.
Also in March, the German government seized a luxury yacht linked to Russian billionaire Alisher Usmanov valued at more than $700 million.
U.S. President Joe Biden has called on Congress to pass a $33 billion aid package for Ukraine, and also urged lawmakers to pass provisions allowing the U.S. to seize oligarchs' assets and use proceeds to help the Ukrainians in their fight against the Russians.
"We're going to seize their yachts, their luxury homes and other ill-begotten gains," Biden said last week.
Newsweek reached out to the DOJ and the Russian Foreign Ministry for comment.
In a statement on Thursday about the seizure of the Motor Yacht Amadea, U.S. Attorney General Merrick Garland said: "This ruling should make clear that there is no hiding place for the assets of individuals who violate U.S. laws. And there is no hiding place for the assets of criminals who enable the Russian regime."