U.S. Ally Turkey Gets Even Closer With Russia, Building Military Ties Across Europe and Asia
Russia and Turkey have ramped up their military cooperation in a series of events that has further showcased the United States' strained ties with the critical Eurasian region.
Turkish Defense Minister Hulusi Akar told the official Anadolu Agency's editorial board Friday that his forces would begin deploying Russia's coveted S-400 Triumf anti-missile and anti-aircraft defense system in October, a move he said was meant to "protect our 82 million citizens." Though the deal was signed back in September 2017, the U.S. has repeatedly tried to stop Turkey—a fellow member of the NATO Western military alliance—from going through with it.
State Department deputy spokesperson Robert Palladino and General Curtis Scaparrotti, who serves as both NATO Supreme Allied Commander Europe and head of U.S. European Command, both issued warnings earlier this week suggesting that Ankara would forfeit its right to state-of-the-art the F-35 Lightning II fighter jet series and other U.S. systems should it install the S-400.
Following up, acting Pentagon press secretary Charlie Summers told reporters Friday that "if Turkey takes the S-400, there would be grave consequence in terms of our military relationship."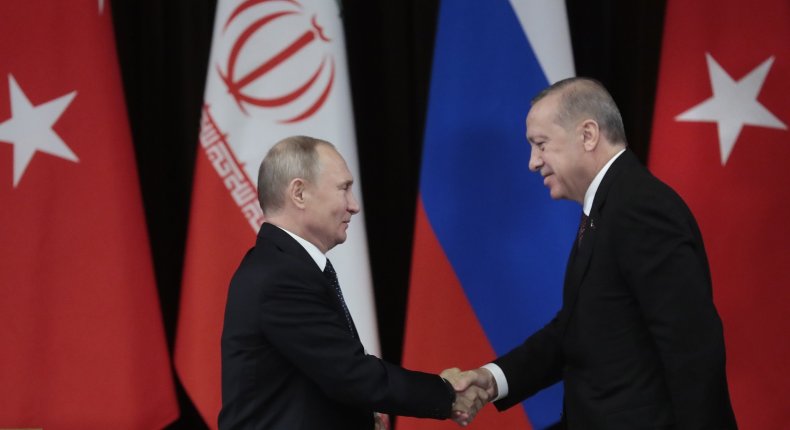 Turkey has attempted to balance its ties to the U.S. and Russia as relations between the leading military powers have deteriorated in recent years. Turkey was a staunch supporter of the Syrian opposition also backed by the U.S., Israel, Qatar and Saudi Arabia as a 2011 rebel and jihadi uprising threatened the rule of Syrian President Bashar al-Assad, an ally of Russia and Iran. Tensions between Ankara and Moscow nearly hit a breaking point after a Turkish F-16 shot down a Russian Sukhoi Su-24 near the Syrian border in November 2015, shortly after the Russian intervention in support of Assad.
Around the same time, however, the U.S. began to cut ties with an increasingly Islamist-led insurgency and struck a partnership with the Syrian Democratic Forces, a largely Kurdish group dominated by the People's Protection Units (YPG)—considered a terrorist organization by Turkey due to its alleged ties to the Kurdistan Workers' Party (PKK) waging an insurgency at home. The Syrian Democratic Forces would vanguard the U.S.-led coalition's ground campaign against the Islamic State militant group (ISIS), but Turkey felt Kurdish separatists posed as great, or an even greater, threat than Sunni Muslim jihadis.
Turkey would go on to stage its own limited, pro-opposition intervention in Syria during summer 2016, beating back both ISIS and the Syrian Democratic Forces. As other Syrian insurgents lost out to the Syrian military and its Russian and Iranian allies, Turkish President Recep Tayyip Erdoğan ultimately entered into trilateral talks with Russian President Vladimir Putin and Iranian President Hassan Rouhani, a move that would reshape the geopolitical landscape of the Syrian civil war.
As of last year, the Syrian opposition retained only the northwestern governorate of Idlib. Erdoğan and Putin struck a deal in September to avoid an all-out government assault on the renegade province. Russian and Syrian officials have voiced frustration, however, at the pace at which Turkey was routing Idlib-based militant groups as promised. On Friday, Akar announced that Turkish forces had begun joint patrols with Russian military personnel, calling the development "a significant step for continuing the ceasefire and ensuring stability."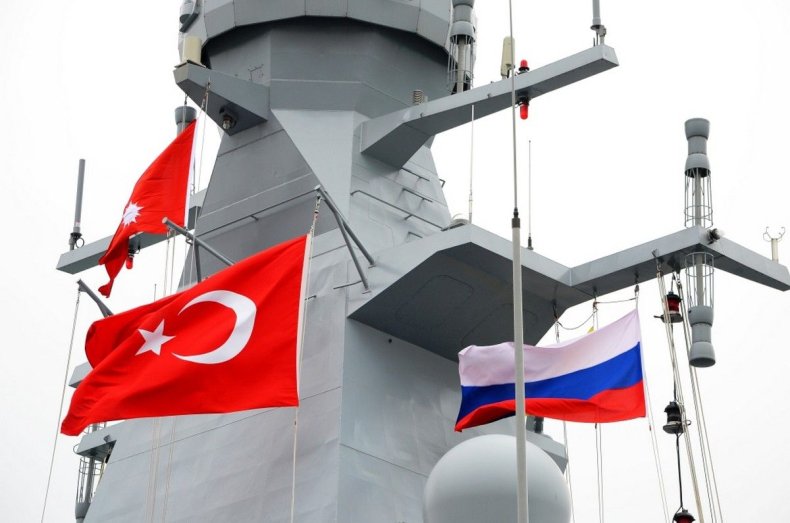 Though Ankara and Moscow have expressed very different positions on Syria's future political landscape, the two have increasingly converged on one thing—the need for U.S. troops to leave. President Donald Trump made his sudden December withdrawal announcement days after speaking over the phone with Erdoğan, who reportedly convinced the president that Turkey could guarantee regional security.
Turkey's overarching enthusiasm to combat U.S.-backed Kurds—a goal that has already produced clashes between the Pentagon-backed Syrian Democratic Forces and once-CIA-backed rebels, as well as threats of direct Turkish-U.S. military confrontation—has raised major doubts in Washington, however. As Moscow has pressured Ankara to eradicate Sunni Muslim militants among the Turkey-sponsored groups in Idlib, Turkey has called on the U.S. to disarm and abandon YPG elements across the northern and eastern territories they control.
In order to ensure a lasting influence in the wake of the anticipated U.S. exit, which planned to leave some 400 troops behind, the Trump administration has asked Turkey, Arab and European partners to contribute to "safe zones" in northern and eastern Syria. However, Washington and Ankara's visions have so far failed to align, and Trump's recent decision to strip Turkey of its preferred trade status has not helped.
The Middle East was not the only region where heightened cooperation between Russia and Turkey could prove problematic for the U.S. Also on Friday, Russian and Turkish warships participated in joint drills in the Black Sea, where Moscow's navy seized three Ukrainian ships and their crew in November, sparking fresh frictions between Russia and the U.S., which has provided military assistance to Ukraine in its four-year war against eastern separatists accused of receiving direct Russian backing.