Turkey's HDP Leader Demirtas: Erdogan Prolonging Refugee Crisis to Blackmail EU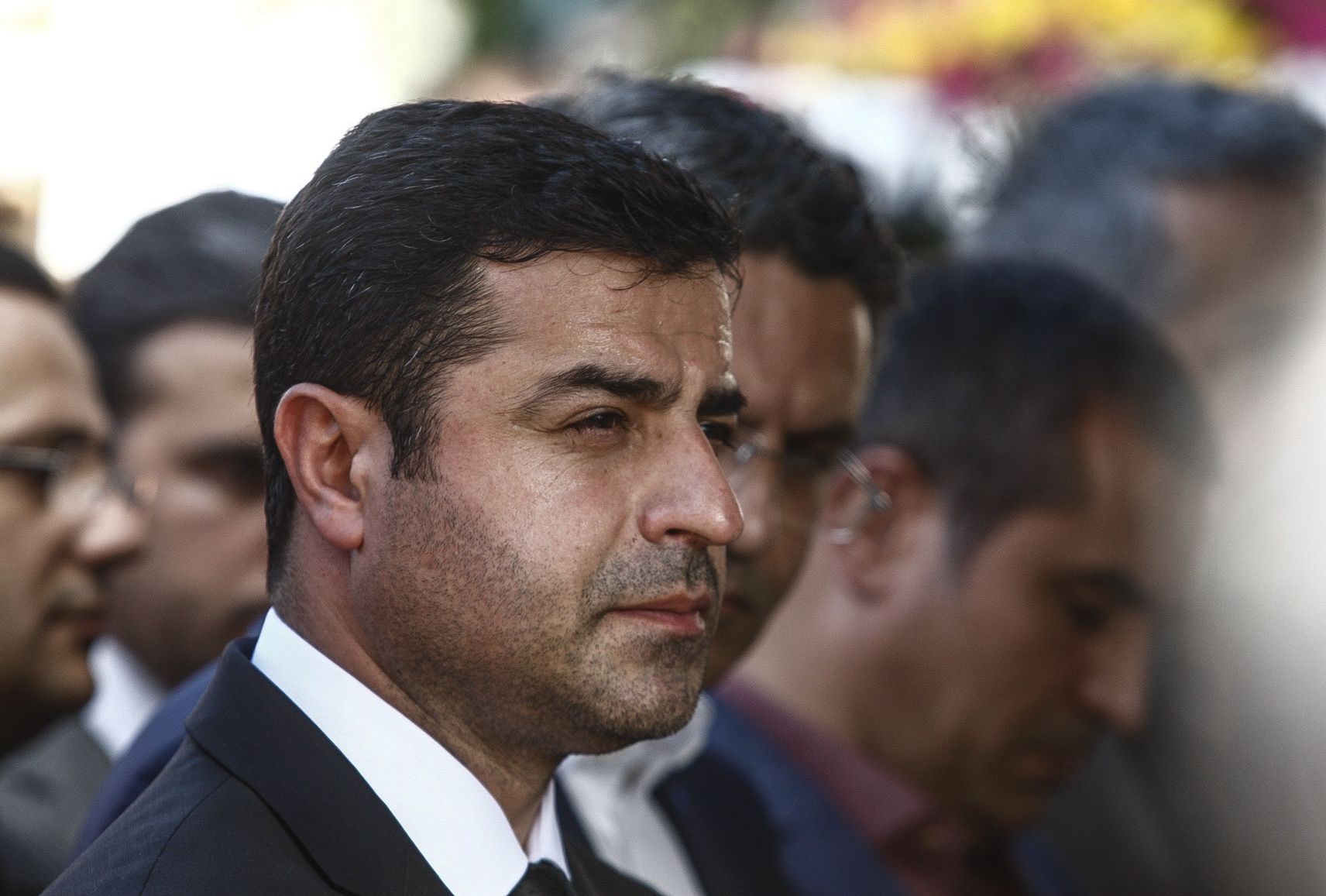 Selahattin Demirtas, leader of Turkey's third-largest party, the Peoples' Democratic Party (HDP), is the country's burgeoning political star. His meteoric rise was cemented last year when he led the pro-Kurdish bloc into the Turkish parliament after the general election, handing the Kurdish minority its biggest representation in history.
The result placed the youthful opposition leader at odds with longtime Turkish strongman, President Recep Tayyip Erdogan. It dismantled the Turkish leader's hopes of a majority that would allow him to change the ceremonial role of president into that of a chief executive, as in France, Russia and the U.S. Erdogan subsequently launched a verbal and legal offensive on Demirtas's party, using a resumption of conflict with Kurdish militants as leverage to call new elections in November.
The Turkish premier called on voters to choose "domestic" candidates, a slight towards the Kurdish politician, at what he called an "anti-terrorism rally" ahead of November's vote. He also accused Demirtas' HDP party of being linked to the separatist Kurdistan Workers' Party (PKK) group, which wants autonomy for the Kurds and is designated as an extremist organization by Turkey, the EU, and the U.S. This nationalist rhetoric worked and, in the snap vote, his Justice and Development Party (AKP) regained its parliamentary majority.
A former human rights lawyer, Demirtas, 42, now finds himself trapped in the middle of an increasingly authoritarian Turkish leadership and militant Kurdish groups in the country's southeast, a conflict that restarted last July after the collapse of a fragile two-year ceasefire. He is adored by the Kurds, a stateless people, that in Turkey represent some 15 percent of the country's population, and has become the most important Kurdish politician in the country.
In an exclusive interview with Newsweek, Demirtas continues his war of words with his political nemesis Erdogan, who he has not met face-to-face for more than three years, lambasting his reaction to the refugee crisis rooted in the war in Syria, bomb attacks in Ankara and Istanbul, and Kurdish advances in northern Syria.
"After the general election, Erdogan has revealed his dictator regime, he has put it into use," says Demirtas. "We knew that this would happen. He has declared anyone who opposes him as the ones that commit treason against the homeland."
Turkey has absorbed more than two million people fleeing the conflict since 2011, and the EU has pressed the country to do more, offering it $3.3 billion in financial aid in return for it acting as a bulwark to stem the waves of refugees entering the bloc's borders. But, the funds are yet to reach Ankara and Erdogan has threatened to send refugees on to the EU. Demirtas says that Erdogan decided not to act earlier for nefarious reasons.
"I believe that he does not intend to solve the refugee crisis. He is using this to blackmail the European Union and the EU countries," he says, speaking through a translator by phone from a cultural center in the historic city of Sur on Wednesday.
"He wants them to be obligated to him. That's why he has lengthened the crisis as long as he could," he adds, without offering his solution to the crisis.
The Kurdish leader says November's election win has emboldened Erdogan, making him more authoritarian, with a crackdown on freedom of expression in the months following the election. Since his win, authorities have detained academics for criticizing Turkish military action against Kurdish militants, journalists for publishing evidence of the state's weapon-smuggling to Syrian rebels and filed criminal complaints against opposition leaders on charges of "insulting the president."
Erdogan's legal team has issued 1,845 lawsuits against opponents, including journalists and schoolchildren, for alleged insults against him since 2014 while anti-Erdogan journalists have been attacked in the country. "It wouldn't be wrong to say that everyone is in great danger in Turkey but we are not scared. We are only scared for the safety of our own people," says Demirtas.
Does he believe that it is Erdogan's goal to create an Islamist state where Kurds will be increasingly marginalized? "That is his ideological approach to this. He is using Islam but it is not the real Islam. His real wish is [for Turkey] to become the caliphate of the Islamic world," he says, in reference to a state governed by the laws of Islam. Turkey is currently a secular republic.
Critics, including Russian President Vladimir Putin, have said that Erdogan is pushing an Islamization agenda in Turkey. He is accused of installing greater Islamic content in the country's schools, building thousands of mosques, imprisoning opponents and making moves to install himself as a virtual-dictator of the country. In the early years of Erdogan's rule as AKP leader, he was viewed as a moderate Islamist that was installing democracy to Turkey, making it the shining star of the Middle East.
Demirtas's link to an Islamic state, a new tactic, has earned him Erdogan's public and legal ire. After using the term in a speech on Saturday, Erdogan's lawyer filed a criminal complaint against the pro-Kurdish leader, again for "insulting the president," at the HDP meeting in the southern Turkish province of Mersin.
"I just explained my thoughts and spoke the truth," he says in response to the criminal complaint. "I criticized him and that's my right. Apparently, he's not very comfortable with criticism."
Demirtas also condemns Turkish military operations in Kurdish-majority areas in southeastern Turkey and in northern Syria. Turkish authorities have imposed round-the-clock curfews and prevented entry and exit access into Sur—including other areas such as Cizre—since December, cutting off thousands of civilians from vital supplies and medical care. Demirtas calls it a "war crime."
Ankara says it is conducting the operation for security reasons but pro-Kurdish activists say the military is placing the city under siege, killing dozens of civilians. Human rights groups, such as Amnesty International, have condemned the Turkish government for creating a humanitarian crisis in these areas. The Kurdish leader says that "the world has stayed quiet on what is happening in Kurdistan, especially the European governments and the European Union."
He argues that Erdogan used last month's suicide bombing in Ankara, which left 28 people dead, as a pretext to begin shelling of Syrian-Kurdish forces fighting against the Islamic State militant group (ISIS) and the Al-Qaeda affiliated Nusra Front in northern Syria. The AKP said it was a Kurdish YPG fighter who carried out the bomb attack but a Kurdish group in Turkey known as the Kurdistan Freedom Hawks (Tak) later claimed responsibility.
"He is trying to find every excuse possible to attack the Kurds in Syria. In the bomb attack in Ankara, he claimed that it was done by the Syrian Kurds. He said that he would take revenge for that but then it was later revealed that it was another group that committed it."
Despite Demirtas's concerns about his own personal safety, Erdogan's operations against the Kurds in both Turkey and Syria, and what he calls an ongoing dictatorship, the Kurdish political leader still believes that the will of the Turkish people will overcome the man nicknamed "The Sultan of Turkey" after more than a decade in power.
"The power of the people, it is strong enough to stop the AKP and Erdogan. In the struggle against him, this power is of increasing importance. He will not last forever."
With the conflict between Turkish forces and Kurdish militants ongoing in southeastern Turkey, the threat of extremist attacks to Turkish cities ever-present, and the prospect of an executive Erdogan ahead of the next election in 2019, the battle between Demirtas and his political foe—and their competing peoples—is set to headline Turkish politics for the foreseeable future.