Turkey's Syria Intervention: A Sign of Weakness Not Strength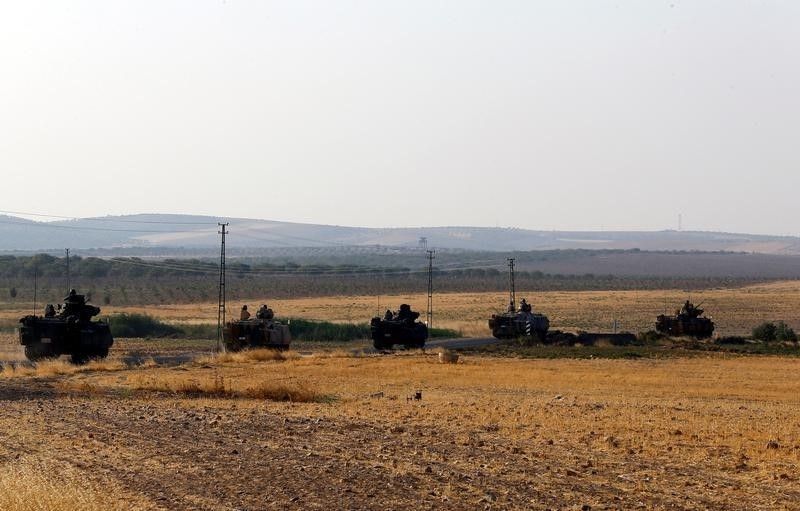 Last month, Turkey intervened directly in northern Syria, sending tanks and troops in support of Syrian rebels. Operation Euphrates Shield targeted the Islamic State militant group (ISIS) after the deadly Gaziantep suicide bombing but Ankara made little secret of its desire to simultaneously engage another enemy, the Democratic Union Party (PYD), Syria's affiliate of the Turkish Kurdish separatists the Kurdistan Workers' Party (PKK). Turkey has swiftly established a buffer zone free from both ISIS, the PYD and its allies. Yet, while some pro-government commentators in Turkey have claimed this intervention is a display of strength, Ankara finally flexing its muscles to achieve its objectives in the long-running civil war, the reverse is closer to the truth. This military action represents the failure of Turkey's Syria policy.
For Turkey the Syrian civil war has been disastrous. Five years ago, when peaceful protest against Syrian president Bashar al-Assad began as part of the Arab Spring, Turkey looked set to benefit most from the anticipated regional shift. The ruling AKP's 'zero problems' policy had transformed Turkey's economic and political ties with the traditionally hostile Middle East. Premier Recep Tayyip Erdogan's party was hailed by western leaders and regional activists as a model for Islamic democracy, the economy was booming and moves towards resolving Ankara's long-standing unrest with its Kurdish population were cautiously being made.
Today, the picture is very different. Erdogan, now president, is widely condemned for his creeping authoritarianism. Crackdowns on journalists and academics have grown steadily as the AKP founder tightened his grip on power, and accelerated sharply after an attempted military coup against him in July. The PKK's insurgency has resurfaced in the East, while the economy has been affected by the arrival of 2.7 million Syrian refugees and a decline in tourism following a string of ISIS and Kurdish terrorist attacks. Regionally, Turkey's dreams of playing a leading role in a post-Arab Spring Middle East seem to be in tatters.
Turkey's policies in Syria have played a major role in weakening its position. Determined to topple Assad, Ankara facilitated the flow of foreign funds and weapons to disparate groups in the rebellion, often turning a blind eye and even encouraging the rise of radical jihadists such as ISIS. This contributed to the division and weakness of the opposition, helping prolong the war, and allowed ISIS to form cells in Turkey that it would later activate against Ankara.
Similarly, Turkey used its influence with the rebels and international powers to exclude the PYD. This reinforced the Syrian Kurdish group's mistrust of the rebels prompting them to stand alone and carve out their own autonomous territory, known locally as 'Rojava,' in northern Syria. As a result, Turkey now faces what it considers a PKK proto-state along its southern border, offering strategic depth and inspiration for attacks inside Turkey. Indeed the reigniting of violence in Turkey's Kurdish regions was initially prompted by outrage at Ankara's policies towards Rojava.
Turkey's regional position was likewise hit. Its historically close ties with the U.S. was strained by Obama's unwillingness to intervene directly against Assad despite Erdogan's assumption that he would, due to Turkey's initial reluctance to join the anti-ISIS campaign and then over Washington's support for the PYD in its fight against the jihadists. Moscow's foray into the war backing Assad also ruptured what had been close links between Erdogan and Putin, especially after Turkey shot down a Russian jet in November 2015, leading to the death of a Russian pilot. Relations with Saudi Arabia also temporarily frayed on Syria because of Turkey's closeness to the Muslim Brotherhood, Riyadh's enemy.
Turkey has therefore spent the past few months trying to repair some of the damage from its Syria policy. In May, Prime Minister Ahmet Davutoglu was suddenly dismissed with Erdogan's supporters blaming the departing premier for what were often the president's Syria policies. Soon afterwards, alongside improving ties with Israel and Egypt, a rapprochement with Russia was sought, and Erdogan publicly apologized to Putin for the Russian pilot's death. Tensions with Washington were also eased.
These rapprochements all facilitated Turkey's Syria intervention in August, which would not have been possible without U.S. air cover and Russian assurances not to respond. Washington similarly ordered its ally, the PYD-dominated Syrian Democratic Forces, to remain east of the Euphrates—the limit of Turkey's incursion. There were also domestic reasons for the move. Erdogan, in his bid to change Turkey's constitution to give greater powers to the presidency, is courting the votes of right-wing nationalists by portraying himself as tough on Kurdish militancy. Similarly, with the country rocked by the attempted coup in July, a foreign campaign is a welcome distraction for an anxious public and a military uneasy at the purges of alleged plotters currently underway.
However, this is no sign of strength. Erdogan has invaded northern Syria after all else has failed. He could not persuade the U.S. to intervene against Assad and proved unable to help forge a united and effective rebel force to overthrow the Syrian dictator. Instead he has had to send in Turkish troops directly, not to achieve his initial goal in Syria from 2011—toppling Assad—but to deal with new problems—ISIS and the PYD—that emerged partly as a result of his own policies. Moreover, with no clear exit strategy outlined and 10 troops already killed in the first month, a sharp contrast to the total of 20 lost by Russia in a year of operations, this move could yet turn into a quagmire and another costly Turkish failure on Syria.
Christopher Phillips is Senior Lecturer at Queen Mary, University of London, associate fellow at Chatham House and author of The Battle for Syria: International Rivalry in the new Middle East.