Will Twitch Ban Alinity? Streamer Throws Cat on Her Channel But Platform Remains Silent
Natalia 'Alinity' Mogollon has angered the internet and pet lovers everywhere after a clip of her throwing her cat while streaming on Twitch. While playing Apex Legends, her cat Milo walks in front of her keyboard and Mogollon throws the feline over her head. The clip quickly spread around Twitter, reddit and other social media sites with other clips surfacing of her feeding the cat vodka, putting a sticker on its mouth, and launching Milo earlier in the stream.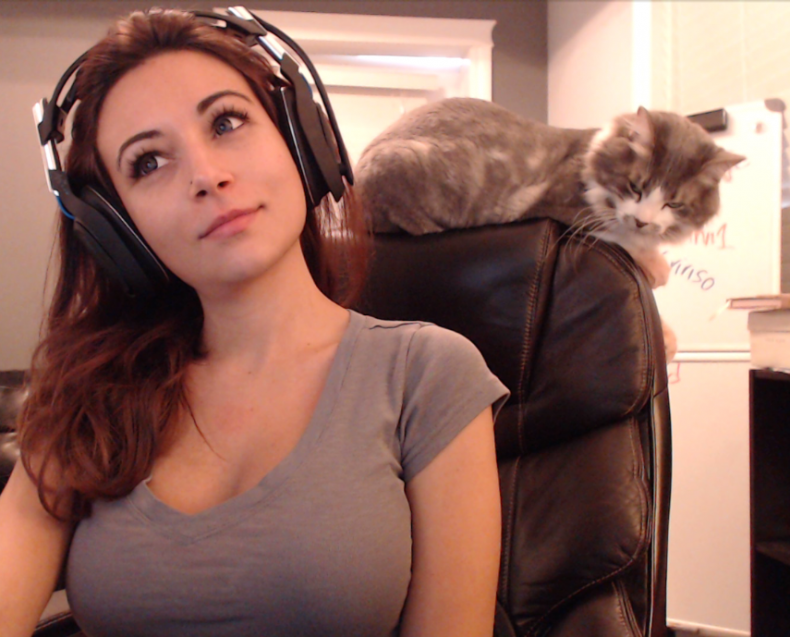 Will Twitch Ban Alinity?
Many online, including streamers Kacyetron, Jenna and even traditional celebrity Ricky Gervais called for the content creator to receive a ban on the platform. Organizations like PETA have condemned Mogolon's actions, with the Saskatoon SPCA filing a formal complaint with their "animal cruelty" department.
Marcus "djWheat" Graham, the director of creator development at Twitch, said on Twitter that he would "like to see a ban" but has no control over the platform's moderation process.
Twitch moderators have the right to ban users for breaking their Terms of Service and Community Guidelines. The Guidelines prohibit "hateful conduct" and "violence," which some argue this clip demonstrates. Twitch can ban users for seven days, thirty days or indefinitely, depending on their discretion and the level of the broken rule.
Mogollon has avoided bans in the past with her controversies. A clip of hers was included in a Felix "Pewdiepie" Kjellberg video in May of 2018, and was "claimed" by a company Alinity worked with. When a YouTube video is claimed, the ad revenue goes towards the claimer, which rubbed Kjellberg the wrong way. A clip of Mogollon saying "can we copy strike PewDiePie" went viral with a series of videos, apologies and controversies following over the next few weeks. Many called for Mogollon to get banned after this incident, but she avoided any form of punishment from Twitch.
It's unclear if Twitch will ban Mogollon after this cat incident. The streaming platform does not comment on individual streamer bans, so there's no way of knowing what the company is discussing internally. Twitch has been known to issue bans if enough bad press piles up.This was the case with Australian streamer Luke Munday, who went by MrDeadMoth, and received a 30-day ban after a clip of him hitting his wife on camera went viral. Before the streamer was arrested and indicted, he tried streaming again with an unbanned account. It took days of internet and press attention, but eventually Munday's account was permanently deactivated.
Newsweek has reached out to Alinity for comment, and will update this story with any new information.