San Francisco Stabbing of Two Asian Women Waiting For Bus in 'Horrific' Attack
Two Asian women were stabbed in broad daylight while waiting for a bus in San Francisco on Tuesday.
Officers responded to 4th and Stockton streets at around 5 p.m. and found the injured women, who were aged 65 and 85. The pair were transported to a local hospital, Zuckerberg SF General, on Tuesday.
KPIX-TV named the 85-year-old as Chui Fong Eng. She was seriously injured with stab wounds in the chest and arm, the station reported. The other woman has not been named.
Witnesses told the station that a man clutching a knife approached a bus stop, stabbed the women, and then fled.
Drew Eng, Chui Fong Eng's grandson, told KPIX-TV: "She didn't know the other victim, and they were both at the bus stop and both stabbed there," he said. "I think the other lady was stabbed first."
San Francisco's District 6 Supervisor Matt Haney tweeted that the suspect in the attack was arrested later on Tuesday evening.
A 54-year-old San Francisco man was arrested on suspicion of committing the attack, a police spokesman told KPIX-TV. He has not been named.
"Disgusting and horrific attack on Market St this afternoon of two Asian seniors," Haney wrote.
"I've been closely in touch with the SFFD and SFPD. The suspect was just arrested. The victims are at the hospital."
In another tweet, he added: "Nothing more sickening than stabbing an 85 year old woman while she waits for the bus. Horrific."
In a later tweet, Haney said both women were out of surgery and in a stable condition.
Police did not say whether the woman were specifically targeted or if the stabbing might be a hate crime, but are reportedly not ruling it out. San Francisco Police Department has been contacted for additional comment.
There has been a rising number of unprovoked attacks on Asian Americans in the U.S. during the coronavirus pandemic, with #StopAsianHate protests taking place across the nation in recent months.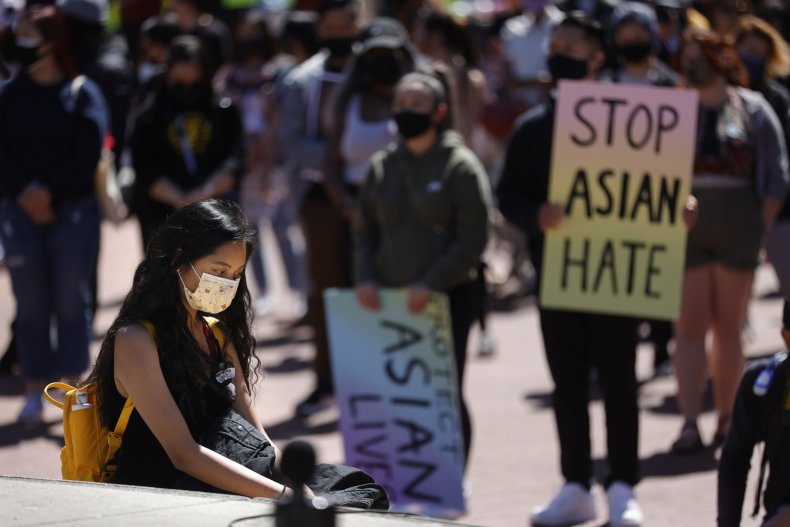 Earlier this week, two Asian women were hospitalized after being attacked by a man with a cement block inside their Baltimore business.
Also this week, a Chicago man was charged with attempted murder after allegedly striking a woman with his truck moments after shouting anti-Asian remarks.
Over the weekend, two Asian women were walking down the street in New York City when a suspect demanded they remove their masks. Video posted by the New York Police Department's Hate Crime Task Force showed one of the women, a 31-year-old, was then struck with a hammer.
Anyone with information about the stabbing is urged to call the San Francisco Police Department's Tip Line at 1-415-575-4444 or Text a Tip to TIP411 beginning with SFPD.